Frascold renews its participation in Euroshop 2023, the largest retail event involving sector-based professionals that is held every three years. Taking place in Düsseldorf fr om 26 February to 2 March, the trade fair is a global hotspot wh ere you can learn about innovative projects and the latest technological trends. An event during which the Frascold stand (Hall 15, stand A39) will be showcasing commercial and industrial refrigeration solutions with an increasingly sustainable approach without sacrificing performance.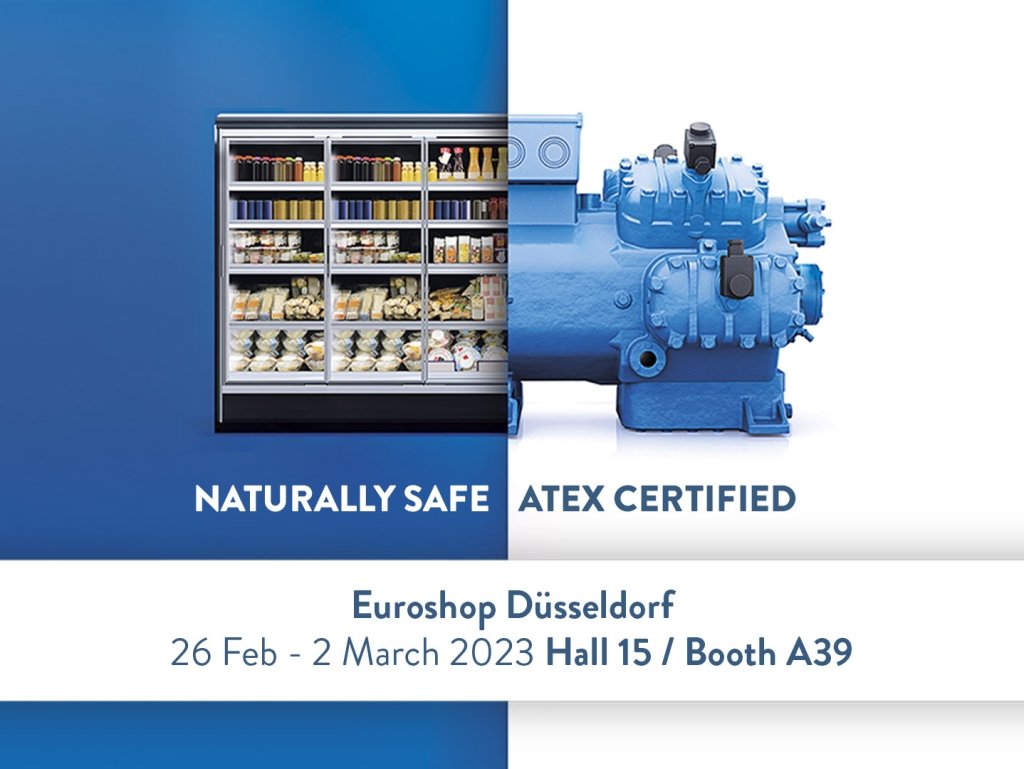 "This year, the focus will be on natural refrigerants in their various fields of application: from food production and their storage with CO2, to their preservation in retail settings using hydrocarbons. Leading the way will be the TK and SK3 ranges, for transcritical and subcritical CO2 applications respectively, along with the ATEX piston compressor family, designed to make HCs safe to use. Over the course of the five days, our team of experts will welcome visitors and be on hand to share their know-how and expertise." says Livio Calabrese, Frascold's Sales Director. "Recent studies have, in fact, confirmed that, in 2022, there was an increase in the refrigeration demand for low-GWP solutions. A trend influenced by multiple factors, including international regulations, such as the renowned F-Gas regulation, a benchmark for the transition from HFCs to environmentally friendly options. The implementation of point-of-sale energy management strategies is also contributing to the increase in natural alternatives. These often include the retrofitting of obsolete systems with new, high-performance equipment designed with components that ensure a lower carbon footprint." He ends by saying, "Companies like Frascold demonstrate on a daily basis how the use of climate-neutral gases leads to excellent efficiency, with maximum safety, whatever the context."

Frascold Enhances CO2
Europe is leading the transition towards natural refrigeration, wh ere the use of CO
2
is gathering pace. According to data compiled by ATMOsphere, as of September 2022, there were a total of 55,000 stores in Europe using transcritical CO
2
, plus 18.4% of the food retail market, while the industrial sector accounted for around 2,000 installations, with a growing demand for large-scale facilities. A result made possible thanks also to the development of technologies and components capable of ensuring the performance of CO
2
in all weather conditions.
It is in this scenario that Frascold presents its range of solutions for transcritical and subcritical CO
2
systems, developed for an efficient cold chain, starting with cold logistics. For the first type of application, the spotlight at Euroshop 2023 is on the Z-TK, the latest addition to the TK family. A semi-hermetic piston compressor which is ideal for distribution and storage centres, hypermarkets and grocery stores, with a volume flow rate of up to 38 m3/h. The Z-TK is designed to minimise leakage while ensuring adequate protection and lubrication of all moving parts for continuous operation. Smooth running is also achieved through a reduction in pulsations, for maximum noise reduction and long-term reliability. In addition, the component can also be used under stringent EMC requirements thanks to the mechanical capability check.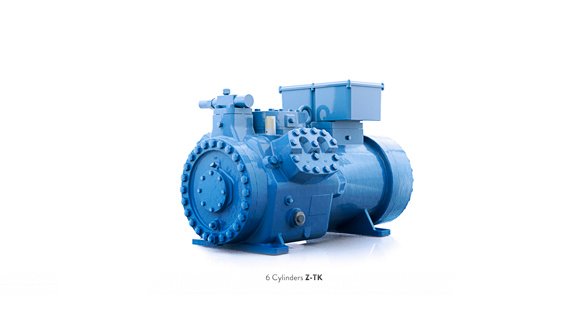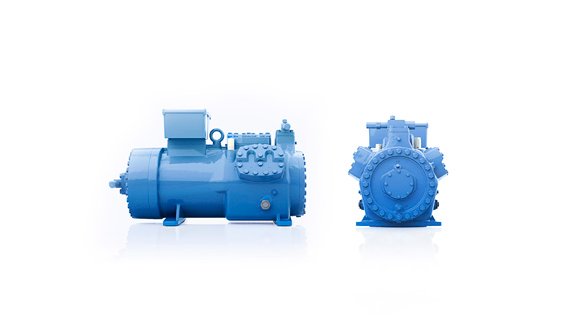 Pic. 1 - Frascold's Z-TK semi-hermetic piston compressor
For a comprehensive range aimed at sustainable and energy-efficient installations, Frascold will present the new models of the SK3 piston compressor series for subcritical CO
2
installations. Boosted to offer customers an even wider operating range - the complete portfolio also includes the brand-new S-SK3 models, featuring volumetric flow rates ranging from 28 up to 47 m3/h. The highlight of the solutions is the three-way rotating delivery valve, which allows for a high degree of flexibility in system design and installation.
Pic. 2 - Frascold's SK3 piston compressor
Both the Z-TK and the S-SK3 models feature a hallmark robust and compact design, ensuring the correct handling of low pressure at standstill, regardless of weather conditions. As such, the former operates with a standstill pressure (PSS) of up to 100 bar, and the latter up to 80 bar. This ensures perfect maintenance and a quick restart, without the need for active or passive systems.
Hydrocarbons and Atex Open Up New Opportunities
Hydrocarbons, along with CO
2
, are gradually emerging as possible replacements for HFCs in the retail sector, in particular, following the revision of the IEC 60335-2-89 safety standard. The latter consists of an increase in the maximum charge limits in built-in furnishings from 150 g to 500 g. An upgrade that opens up new horizons. It is, in fact, estimated, that in 2025, HCs will represent 83% of the refrigeration segment in all its formats. Their non-climate-altering power (zero ODS and GWP below 5), combined with their thermodynamic properties, make them comparable to, or in some cases better than, synthetic options.
With its proven experience and technical knowledge of hydrocarbons, Frascold joins the field to support retailers with its range of ATEX piston compressors, which, as the name suggests, are certified for use in hazardous areas. A family designed with reliability in mind, which also contributes to the freshness of the products on show. The W model will be on display with a volume flow rate of 228 m3/h and a 70 HP motor. The solution features a revolutionary RSH head, i.e. a capacity control system, patented by Frascold, to optimise the design of the refrigeration system through reduced suction heads and the use of inverters. An added benefit in terms of both energy consumption and safety, thanks also to the numerous performance tests carried out directly in the laboratory. Lastly, its design minimises the space required for installation, allowing for a wide flexibility of use.
Pic. 3 - Frascold's W model
"We are excited about showcasing Frascold's innovations at Euroshop both on our stand and through our partners. What do we expect from this edition? To set increasingly ambitious standards in terms of performance and sustainability." says Livio Calabrese, who concludes, "A space will also be dedicated to ammonia during the event. Visitors will also be introduced to the new Aluminium screw compressor range, equipped with an IPM permanent magnet motor and aluminium winding, a material that is compatible with this refrigerant. A line featuring a built-in 2-level Vi control system for high energy efficiency at both partial and full load, thanks also to the use of an external inverter. Frascold's goal with the Aluminium models was to further expand the range of products for commercial and industrial refrigeration, with the aim of encouraging an increasingly urgent and mandatory switch to environmentally friendly alternatives."
Please share the article