Hundreds of innovative products were on display at EuroShop, the world's leading retail trade exhibition. This prestigious event was held at Messe Düsseldorf, Germany, from 26 February to 2 March. There were 1,830 exhibitors and more than 81,000 trade visitors.
Over 60% of the exhibition space of 103,362m2 was occupied by exhibitors from Germany, Italy, Turkey and China. The number of Turkish companies exhibiting, 132, was up by 39% on the 2020 figure, with an average stand area of 80m2. Notable exhibitor absentees this time were the Carrier group, AHT (part of the Daikin group) and Hauser.
The content of the article
Main exhibitors by country at EuroShop by numbers and % total exhibition space
| | Country | Exhibitors | % |
| --- | --- | --- | --- |
| 1 | Germany | 507 | 28.7 |
| 2 | Italy | 300 | 16.4 |
| 3 | Turkey | 132 | 10.4 |
| 4 | China | 200 | 4.9 |
| | Total | 1,139 | 60.4 |
Source: EuroShop/Messe Düsseldorf
Refrigeration companies were exhibiting in four of the halls. There were 196 exhibitors from the refrigeration sector, down 11.3% from the figure of 221 in 2019. They accounted for 24,329m2 of exhibition space, down 3.7% on the 2020 figure of 25,261m2. The average stand size of the refrigeration companies was 124.1m2, up by 8.6% on the 2020 figure.
In the refrigeration sector of EuroShop, 47 Italian companies were exhibiting this year, 24% of the total. They accounted for the largest floorspace, 24,329m2, some 35% of the total exhibition area devoted to refrigeration. Italy provided half of the top 10 refrigeration exhibitors by stand area.
Main refrigeration exhibitors at EuroShop (by stand area in m2 and country of origin)
| | 2023 | 2020 |
| --- | --- | --- |
| 1 | Arneg Group (Italy) | Arneg Group (Italy) |
| 2 | EPTA (Italy) | EPTA (Italy) |
| 3 | Viessmann (Germany) | Carrier (USA) |
| 4 | Istanbul Ferrous (Italy) | Viessmann (Germany) |
| 5 | Pastorfrigor (Italy) | AHT (Austria) |
| 6 | Kaplanlar (Turkey) | Hauser (Germany) |
| 7 | ISA (Italy) | Pastorfrigor (Italy) |
| 8 | Frost-Trol (Spain) | Kaplanlar (Turkey) |
Source: EuroShop/Messe Düsseldorf
Arneg's stand was the biggest in the entire exhibition and the company celebrated its 60th birthday at the event. The company created a little corner of Italy on its stand. It brought in over 30 catering staff from Italy to serve guests and visitors during the show with the very finest of Italian fayre. The stand of Arneg's leading competitor, EPTA, was also one of the biggest at the show.
Transport strikes caused problems
EuroShop 2020 was affected by stormy weather and concerns about the Corona virus. Visitors to this year's event faced different challenges. There was an airport strike on the second day. A strike by local bus and tram workers from the union Verdi on the third day resulted in no local transport except for trains. On the fourth day a strike by a smaller union meant that only one tram line was operating in Düsseldorf, the U78 service from the main station to the Messe. I walked over 60km during the exhibition and lost over a kilogram in weight, so owe some thanks to those strikers!
A solitary U78 tram at the Messe tram stop on 1 March 2023
Erhard Wienkamp, managing director at Messe Düsseldorf, commented: "We are delighted that EuroShop met its remit as the world's leading retail trade fair, offering guidance and orientation."
He added that the innovations of the exhibitors had again proved a magnet for visitors.
Main refrigeration talking points
I spoke in depth to ten companies at EuroShop, five of them Italian. These included three compressor manufacturers, one rack company, one controls company and five refrigerated cabinet producers. Since the previous EuroShop in 2020, it is clear that CO2 refrigeration systems have grown markedly in importance in Europe. It is possible that hydrocarbon refrigerants might start playing a greater role over the next few years. The USA is lagging far behind, with next to no CO2 systems in place, as is the rest of the world. Energy efficiency and energy savings are a major preoccupation of the European refrigeration companies at present, especially with the increased costs of energy. Sustainability and going green are also becoming more and more important for European companies.
According to data from the organisation ATMOsphere, Europe had a total of 55,000 transcritical CO2 rack systems in place in September 2022, some 18.4% of the food retail market, while the industrial sector had about 2,000 installations. There is plenty of scope for further market growth, also for the replacement of older refrigerants in older refrigeration systems.
A is for Advansor
With 196 refrigeration companies exhibiting at EuroShop, it was difficult to know where to start. I began alphabetically with the Danish company, Advansor, which specialises in CO2-based rack systems. I noticed that its stand was much bigger than the one in 2020. I spoke to Kristian Breitenbauch, the managing director, who is also the company's sales director. He has driven much of the company's growth since he joined Advansor five years ago. Kristian was called away during our discussions, but his colleagues stepped in for him.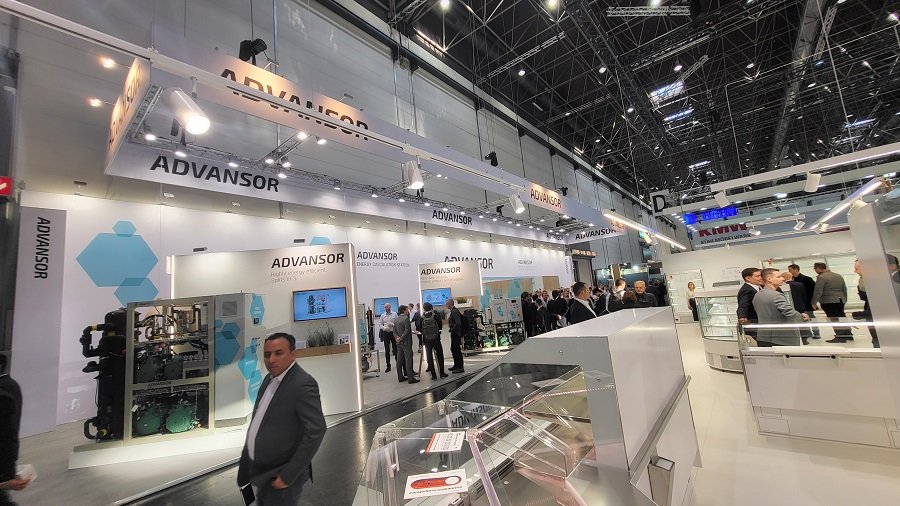 Since Kristian joined Advansor, he has set up a new sales engineering department, responsible for developing new business. All the staff have a good command of English. There are now also 12 sales managers working from home in 12 countries, mainly in Europe. Two years ago, Advansor started doing business in Latin America and already has customers in Mexico and Costa Rica. Demand for its products is so high that the company occasionally has to reject a project, due to its complexity or the location.
In contrast to 2018, when the majority of Advansor racks were used for cooling, 70% of those sold now are for cooling and heating. The heating can be used to heat the store or to sell on. The company wants to help the environment and to provide more environmentally friendly solutions. Advansor has a lot of standardised platforms and customers can chose particular options, although they rarely specify the compressors.
Advansor has its own laboratory to test rack components. It also holds some patents for its rack designs. The large standardised rack displayed on Advansor's stand can provide 450 kW of cooling and 600 kW of heating. It is suitable for big retailers, small industry and distribution centres. Kristian's colleagues told me they were arranging a surprise 5th birthday party for Kristian later on, so I hope he got back in time for that! Meanwhile I moved on to join another birthday party.
Find out more about Advansor on the Global Refrigeration Directory.

Arneg celebrates its 60th birthday at EuroShop
The Italian Arneg Group is present globally through its Arneg, Oscartielle, Intrac and Incold brands. It has 21 production plants and 20 international offices. Arneg was founded on 3 April 1963 by Roberto Marzaro and Luigi Finco and remains owned by the families of these two men. The joint owners of the EuroShop trade fair, Messe Düsseldorf and EHI Retail Institute, presented Arneg with a barrel of Schumacher Altbier (a locally made dark beer) at an early birthday party on the Monday evening of the exhibition.
The 60th birthday gift of a barrel of Schumacher Altbier about to be gezapft (opened up)
The Arneg stand displayed photos of the company's history over the last 60 years. Among these was a photo taken on the company's 50th birthday in 2013 of the seven family members who occupy the senior positions within the company. I am pleased to report that all seven gentlemen are still very much alive ten years later.
Top executives at Arneg, all from the two founding families:
Seated (L-R): Roberto Marzaro and Luigi Finco, founder members
Standing (L-R): Daniele Marzaro, CEO Foreign Subsidiaries Arneg Group; Stefano Marzaro, CEO Intrac SpA; Filippo Marzaro, CEO Arneg SpA; Filippo Finco, CEO Incold SpA; Alessandro Finco, COO Incold SpA
On the occasion of Arneg's 50th anniversary, the company published a 242-page book about its history in Italian and English. It makes for fascinating reading. A friend of the two company founders came up with the name Arneg from an abbreviation of arredamente negozi, meaning "furnish shops".
Arneg has had a stand at every EuroShop since the third exhibition took place in 1972. The company sees it as the top exhibition for the world of retail and the opportunity to bring together all affiliates and to strengthen team spirit. Last, but not least, thanks to the questions, ideas and suggestions received from visitors to the stand, Arneg gets plenty of inspiration for further product improvements.
Arneg presented several new products at EuroShop. These included exclusive, patented technology for "hot above, cold below" vertical cabinets. These are unique and combine hot and cold displays in the same cabinet, without the need for heating elements in the hot food section.
Other new products included Arneg's new Globo and Globo+ refrigeration units are sustainable, powerful and ideal for small stores. They combine NT and LT circuits in the same frame and use CO2 as natural refrigerant.
Find out more about Arneg on the Global Refrigeration Directory.
CAREL celebrates its 50th birthday
Like Arneg, the controls company CAREL, is based in Padova, a city of 200,000 inhabitants in Northern Italy's Veneto region. CAREL employs more than 2,000 people and has sales of over EUR 545 million. I spoke to Alessandro Greggio, CAREL's group chief sales and marketing officer for refrigeration. Its stand at EuroShop was focused on sustainable and innovative solutions and services to increase energy performance.
Q: When was CAREL founded?
AG: The company was founded in 1973 when it started making electrical panels. It later diversified into making controls systems for HVACR and also humidification equipment. Commercial refrigeration is one of the biggest parts of our business.
Q: Is CAREL family-owned?
AG: It was originally owned by two families. Since 2018, it has been listed on the Italian stock exchange.
Q: And this evening you are celebrating 50 years as a business?
AG: The celebrations officially started at the beginning of the year (with the launch of a dedicated section on CAREL website and many interviews about the Group history), but CAREL was actually founded in October 1973. The president of CAREL will be leading the birthday celebrations this evening and there will be a presentation to the manager of our German office, who represents one of the first branches abroad.
Q: How long have you worked for CAREL?

AG: I joined the company in 1999 and was actually born in Padova.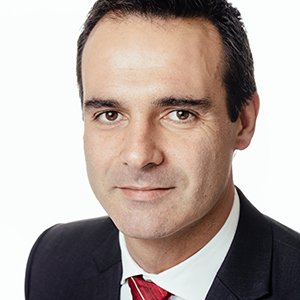 Q: How come there are so many refrigeration companies in the region surrounding Padova?
AG: There are also air conditioning companies, as Climaveneta, now part of Mitsubishi Electric, is based in this region too. A few key companies started up here many years ago, then some employees left and started their own companies and so it went on. Emerson, Swegon and Schneider Electric have all bought companies in this region of Italy in recent years.
Q: CAREL has become a big company?
AG: Yes, we now have 38 subsidiaries all over the world. We had our first subsidiary in France and Germany followed soon afterwards. Now, Mr Hicks, I think we have to join the birthday celebrations!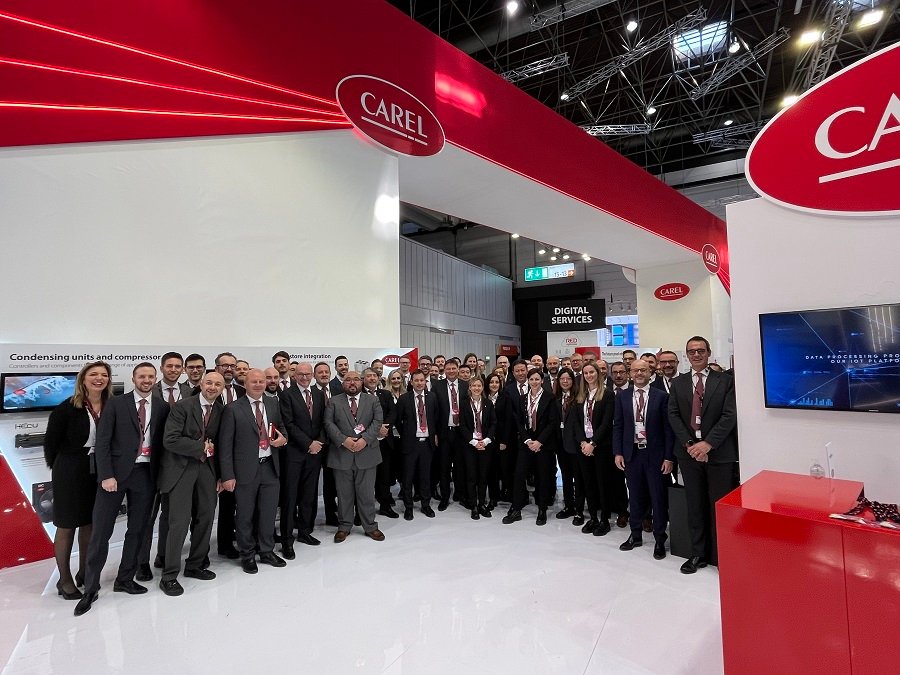 CAREL's stand at EuroShop 2023

Find out more about Carel on the Global Refrigeration Directory.

Dorin still going strong at 105 years old!
I talked to Giovanni Dorin, a board member of Dorin SpA, which is based in Florence, and some of his colleagues at its stand at EuroShop. Dorin is one of the oldest refrigeration companies in Europe, if not the world.
Q: Buongiorno, Signor Dorin, please could you tell me about Dorin's history?
GD: My great grandfather founded the company on his own in 1918. The business started out as a car and engine repair business. He later used an engine as a compressor to compress gas and produce refrigeration. He made his first open drive compressor in the early 1920s and then developed further types of piston compressors with his son. Dorin has specialised in piston compressors since then and has also pioneered the use of inverters with compressors. Dorin compressors have always been deep blue, which I think is more elegant than black and other colours. Our compressors can go up to a capacity of 245 cubic metres per hour (HFC/HFO, R290) and the engines up to 90 horsepower.
Q: Is your company still a family business?
GD: Yes, Dorin is still owned by our family. When my great grandfather died, my grandfather took over the business with his brother and sister. Today, the company is mainly run by my father, myself, my brother and the two cousins of my father. My father, Mario, is 76 and still very active in the design and commercial sides of our business. Before joining Dorin, I got some commercial experience working for another company.
Q: Do you have close links with other refrigeration companies?
GD: The founder of Arneg was a very close friend of my grandfather and my great grandfather. We were taught by my father and grandfather to maintain close relationships with all of our customers.
Q: Your company has a good track record of innovation.
GD: Yes, we were the first company in the world to develop transcritical CO2 compressors in the early 1990s. Our first sales were to Japanese companies for use in heat pumps. Everyone was laughing at us at the time, but then started copying us from 2000. This is the way the market for supermarket refrigeration has been moving very strongly in Europe since then.
Q: Can you tell me about some of Dorin's other innovations?
GD: In the early 1990s, Dorin was the first company in the world to develop and sell transcritical CO2 compressors. Everyone was laughing at us and thought we were mad. In fact, we were very much ahead of the game, thanks to our long experience in the market. Many of our compressors have an external manifold, unlike our competitors, which makes the crank case colder and the oil temperature lower. It helps the compressor run more smoothly with less vibration. Our large compressors have six cylinders, whereas our competitors have eight. Our next big compressor for transcritical CO2 will have a capacity of 99 cubic metres per hour.
Q: Are there other areas where Dorin has been an innovator?
GD: Of course. We are offering a range of two-stage compressors for CO2 transcritical operation. All of our compressors are coated with a special paint, which we have developed with an Italian paint company. It is heat and water resistant and certified to be seawater resistant for 1,000 hours. Our competitors offer a similar service, but you have to pay extra for it.
Q: Are there any tests you do on your compressors?
GD: All our transcritical compressors are put through a real CO2 refrigeration test for 20-30 minutes, using many parameters, before we sell them. In most cases where there is a compressor failure, it occurs in the first 30 minutes of performance. Everyone else only does a one-minute test at present.

Left to right: Uwe Seemann and Giovanni Dorin on the Dorin stand with one of the company's six-cylinder compressors.
Read the interview with Giovanni Dorin "DORIN celebrates 100th anniversary".
Frascold still batting well at 87 not out
The Italian company, Frascold Spa, was founded in 1936 and is based in Rescaldina, some 30km North West of Milan. It specialises in semi-hermetic compressors. I met the global sales director, Livio Calabrese and area sales manager, Fabrizio Diotallevi on their stand.
Q: Signor Diotallevi, Is Frascold at EuroShop for the first time?
FD: No, this is our second time here. We have decided to come back after such good feedback from the 2020 event, when we presented our new series of semi-hermetic compressors. These comprised the ZTK, suitable for transcritical CO2, and the FVR, designed for the commercial and industrial sectors.
Q: Where else do you exhibit?
FD: Chillventa, Refrigera are among the other significant exhibitions on the agenda, due to our product range. Our most important products are reciprocating and screw compressors, for refrigeration, air conditioning and heat pumps. We also make compressors for large heat pumps for district heating, especially in countries such as Denmark. We focus on natural refrigerants for the European market, although it is different outside Europe.
Q: What is your focus here at EuroShop?
FD: On compressors that use natural refrigerants. These include our TK and SK3 ranges, for transcritical and subcritical CO2 applications respectively. Also, our family of ATEX piston compressors, designed to make the use of hydrocarbon refrigerants safe.
Q: What manufacturing facilities does Frascold have?
FD: Frascold's head office and main manufacturing plant is in Rescaldina, some 53,000 square metres in size. We also have newer manufacturing facilities in China, for the Chinese market, and India (for condensing units intended for the Indian market), as well as a sales office in the USA. Our Chinese company has been operating since 2017 and is already one of the market leaders.
Q: Signor Calabrese, may I turn to you, now? How long have you worked for Frascold?
LC: I joined the company in 2017. Thanks to my background, my initial role was to develop Frascold's business with natural refrigerants. In 2018, I was appointed as the group's sales director, to develop the emerging markets and new technologies business. In 2019, I joined Frascold's board of directors, also with responsibilities for coordinating the sales branches in India, the USA and China, so as to implement Frascold's international growth.
Q: What is the focus of Frascold's refrigeration business?
LC: The focus is on industrial and commercial applications, as well as on the residential sector with heat pumps. We are also involved with process and transport cooling. This year at EuroShop, we have decided to talk about natural refrigerants and their fields of application: from food production and storage, to their preservation in retail settings using hydrocarbons and CO2.
Q: What developments do you expect at the next EuroShop?
LC: The recent trend in Europe has been strongly towards CO2 systems, and we expect a rise also in propane-based solutions. We have both types of compressors on our stand here. A partner of ours has a water-loop propane system with our compressor on display on its stand. I would expect more propane systems like this one at the next EuroShop.
Q: How important are the smaller companies in this business?
LC: We have been working with companies of different sizes and we have noticed a more dynamic approach in the small to medium ones. These are often the first to try out new technology in our experience. The bigger companies then follow if the technology works well. For example, with one of our partners, we have developed propane systems for process cooling. The findings from these collaborations are helpful when it comes to convincing potential customers about new technology.
Q: Are compressors rated for energy efficiency like refrigeration cabinets?
LC: No. However, it is important for us to belong to ASERCOM, the Association of European Refrigeration Component Manufacturers. A compressor company like ours can get its products tested by another member, often a competitor, and vice versa, and the results are then used to produce an ASERCOM certification about its performance.
Frascold CO2 compressors on display at EuroShop, the Z-TK and S-SK3 models

Appearing left to right: Livio Calabrese, Global Sales Director; Ilaria Guzzetti, Trade Marketing & Event Specialist; Giovanni Gonzato, Sales Area Manager & Application Engineer; Fabrizio Diotallevi, Sales Area Manager
Find out more about Frascold on the Global Refrigeration Directory.

EPTA focusing on energy efficiency, sustainability and natural refrigerants
EPTA is an independent global player specialised in commercial refrigeration, with annual sales reaching EUR1,367 million in 2022. EPTA strengthened its position in the USA through its acquisition in 2019 of the North American company, Kysor Warren. It is also eyeing up further acquisition opportunities. EMEA (Europe, Middle East and Africa) currently accounts for some 70% of EPTA's total sales. The size of EPTA's stand at EuroShop was 1800m2 again, but the layout was completely new to focus on its core message: Innovation Reloaded. The EPTA Sustainable System.
Sustainability and energy efficiency are key areas for EPTA's R&D. Energy efficiency labelling came into effect for refrigeration cabinets in 2021. The class categories are much harder to meet than for domestic refrigerators. The average for the market is C class. EPTA is meeting much higher standards, with a wide range of remote and integral refrigeration cabinets, as well as plug-ins, in A and B classes, many on display at EuroShop. Its built-in positive unit, Tango Ultra, achieves the A class in specific configurations, with 40% energy saving compared to the previous model in the B class.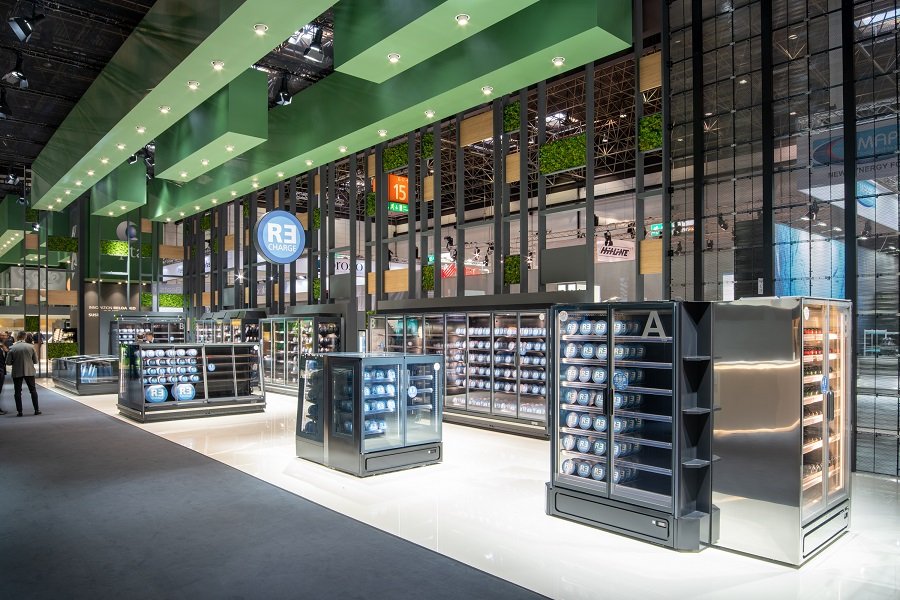 EPTA's best-in-class refrigerated cabinets displayed on its EuroShop stand
EPTA is researching into how it can make its products in more sustainable ways. It has a new plug in, called "The UNIT", of which 95% can be recycled. It is easy to disassemble, which is not usually possible with cabinets. EPTA presented for the first time at EuroShop and wanted it to provide a talking point for new ways for future refrigeration.
EPTA employs some 270 staff in R&D and holds more than 170 patents, 11 R&D departments around the world, of which one is its Innovation Center based in Milan, the company headquarters. Rosmery Serrao Mendes, EPTA's Innovation Centre Manager, explained more about The UNIT to me. She has led its development within EPTA. Pre-stressed cork and orange skin has been used for the assembly. No refrigerant is used, as cooling is based on the Peltier system, commonly used to convert electrical energy into thermal energy. It is a modular product and it is used as a bottle or can cooler. There are only two sizes available, one for 34 cans and one for 50. Bigger systems are not possible currently.
Rosmery Serrao Mendes, EPTA's Innovation Center Manager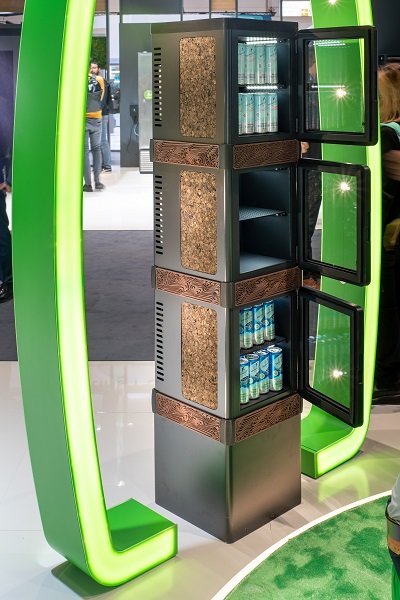 EPTA's novel cooler, The UNIT
BITZER stands for CO2 compressors and capacity control
The German compressor company, BITZER, operates globally as an independent specialist in refrigeration, air conditioning and heat pump technology. It was founded in 1934 and had sales of EUR 928 million in 2021. It has over 3,900 employees and R&D expenditure of EUR47 million. BITZER operates 72 sites in 38 countries. The company was owned for many years by Peter Schaufler, until his death in 2015. Since then, his widow, Christiane Schaufler-Münch, has owned 51% of the BITZER shares and the Schaufler Foundation, set up by Peter Schaufler in 2005, owns the remaining 49%.
I visited BITZER's stand to talk with Jörg Wittmann, Market Sector Manager Supermarket and Commercial.
Q: Guten Tag, Herr Wittmann. What has been the most important trend since the last EuroShop?
JW: The rapidly growing importance of CO2-based refrigeration systems in food retail all over Europe. CO2 systems have become the standard system for refrigeration in supermarkets and mid-size cold stores. In recent years, thanks to innovations like ejector technology, CO2 is also becoming the new norm in warmer parts of Europe such as Spain. More smaller CO2 systems are being installed than previously. End users are committed to invest in long-term solutions or are retrofitting existing installations with low GWP refrigerants. Since EuroShop 2020, LSPM motors for high efficiency have entered the portfolio of most compressor manufacturers.
Q: What does BITZER offer with its CO2 compressors?
JW: We have long experience in CO2 compressors since 2003 and combine this with capacity control systems and intelligent components that improve efficiency and meet environmental requirements. In 2016, we introduced the LSPM motor technology and Varistep capacity regulation and there is high interest in it. So far, more than 300.000 trans- and sub-critical BITZER compressors have reached the market. Some 1.100 BITZER compressors are also running with high efficiency as lead compressors with Varistep and IQ Modules. The IQ Module. connected to an advanced rack controller or directly linked to the BITZER Digital Network (BDN). enables users to view and analyse compressor operating data. This makes it easy to check and optimise the operation.
Q: And what are your highlights for EuroShop?
JW: We have two highlights here. Firstly, our Ecoline+ reciprocating compressors for transcritical CO2 applications. The compressors are equipped with permanent magnet motors and achieve a seasonal energy performance ratio (SEPR) of up to 14% higher annually. Optimised for CO2, they offer high refrigerating capacity with minimal energy requirements. The equipment with the OLM-IQ (Oil level management via IQ Module) maintains a stable oil level in the compressor and prevents a lack of oil in the compressor. Additionally, the historical oil level data can be found in the data log of the IQ Module. This makes troubleshooting of oil supply problems much easier. The optional Varistep mechanical capacity control provides continuous operation under low part-load conditions and increases the system efficiency, especially in sub-critical operation at low ambient temperatures. Our Varipack frequency inverters ensure a high degree of user-friendliness, reliability and energy efficiency.
Q: And the second highlight?
JW: Definitely our new transcritical BITZER Ecoline 8-cylinder CO2 reciprocating compressor, for refrigeration and heat pump applications. It offers capacity of up to 99 m³/h, the biggest displacement on the market. These compressors are up to 10% more energy-efficient than smaller compressors. They are also designed for operation with frequency inverters and are equipped with Varistep mechanical capacity control. The integrated IQ module enables particularly simple system integration, operation and maintenance.
Q: What support do you offer to your customers?
JW: BITZER has a strong reputation for its well-trained specialists and multiple levels of support to customers. We also have the Schaufler Academy and global training centres, which offer training on our products, handling of refrigerants and so on. Last year, 10,000 digital, personal and online visitors participated. In addition to that, we offer services for our products along the whole lifecycle with our global GreenPoint Service Centres.
Q: How are customer needs changing?
JW: Retrofitting of glass doors on supermarket cabinets is creating challenging part-load conditions. Heat recovery is increasingly applied. Now that smaller stores are installing CO2 systems, customers increasingly ask for the smallest rack footprint and this requires fewer compressors. All these trends result in increasing requirements for capacity control. We need to cover low part load and ramp the cooling capacity up and down smoothly to prevent inefficient on-off cycling operation of compressors. LSPM motor technology with permanent magnets can be the perfect addition by creating even higher efficiency in full and part load.
The BITZER stand at EuroShop 2023: Jörg Wittmann (right), Market Sector Manager Supermarket at BITZER, showing Brian Hicks (left) the latest and largest Bitzer CO2 compressor to date, the ECOLINE 8-cylinder reciprocating compressor
Find out more about Bitzer on the Global Refrigeration Directory.
Watch the speech of Jörg Wittmann on our webinar.
Turkish company Çağlayan focusing on more energy-efficient products
Çağlayan produces refrigerated cabinets, cooling systems and cold rooms. I was able to savour some Turkish delights at the Çağlayan stand, which was the tenth largest of refrigeration companies exhibiting at EuroShop. I talked to Mustafa İzzet Ötgün, production and planning manager at the Turkish company, Çağlayan Soğutma AS, and his colleague, Ali Yildiz, the R&D manager.
BH: Iyi günler beyler! How old is your company?
CAG: Çağlayan was established 45 years ago as a small shop specialising in refrigeration repairs. It is still a family-owned business, but with a strong management structure and management systems in place. It is probably the second-largest Turkish company of its kind, behind Kaplanlar. The company's factory and offices are based in the city of Konya, in the centre of Turkey. The company is doing quite well, despite the situation with Covid. It has about 240 employees.
BH: Where do most of your sales go?
CAG: Only about 25% of our sales are in Turkey and the rest are exports. Exports are continuing to grow. About 40-50% of our sales are in Europe. As yet, we have no subsidiaries outside Turkey.
BH: Who do you see as your biggest competitors worldwide?
CAG: Undoubtedly EPTA and Arneg. These two companies set the standards for our company and for the industry as a whole. We have strong R&D teams with our accredited testing facilities designated for new product developments. We also have good production capabilities which enable us to deliver high-quality products speedily and at competitive prices.
BH: What new products are you currently developing?
CAG: More energy-efficient and flexible cabinets, which we are introducing here and also at the next EuroShop. We have some new ones which are in efficiency class B. It is very hard to get an A classification and few companies have achieved this. Every company tests its own cabinets for energy efficiency at present. However, we would be very much in favour of an independent authority or scheme to do this certification. There is currently a lot of scepticism about the accuracy of labels.
Çağlayan stand at EuroShop 2023
Left to right: Ali Yildiz, R&D manager, Çağlayan, Brian Hicks, Mustafa İzzet Ötgün, production and planning manager, Çağlayan
Martek Refrigeration increases its presence at EuroShop
One of the leading and older established Turkish refrigeration companies is Martek Refrigeration Systems, based in Istanbul. I met with the general director of Martek's German office, Erzat Özçelik, sales engineer, Umutcan Esendemirm, and Ayfer Özçelik.
Q: Iyi günler beyler. How often have you exhibited at EuroShop?
Martek: We have had a stand for the last 15 years. It has always been in the same place every time, although it has grown in size. This time we have separated our stand into Martek LF, which is mainly involved with bakeries, and a second section, dedicated to supermarket refrigeration.
Q: How old is your company?
Martek: We have been in the refrigeration market for 22 years. At our first EuroShop, 80% of our sales were domestic and 20% exports. Today, some fifteen years later, 85% of our sales are exports and we are now also very active in West Asia. We established a German subsidiary in Mannheim during the Covid epidemic and this is now responsible for our European sales. Right now, we are selling to 34 countries, including the UK where we make 3-5% of our sales.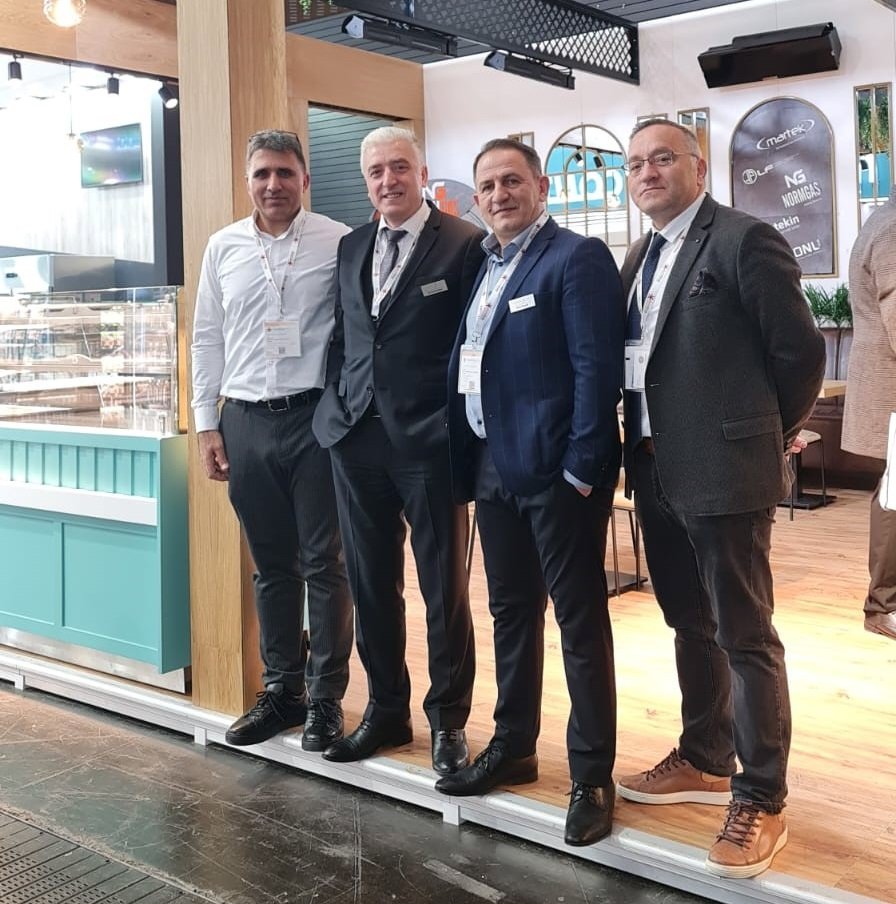 Martek Refrigeration stand and staff at EuroShop 2023
Left to right: Mr. Yasin Cihangir; Co-Founder & Technical Manager, Mr. Ali Kemal Akkan; Co-Founder & General Manager, Mr. Erzat Özçelik; Director of Germany Office, Mr. Cemal Akkan; Co-Founder & Sales Manager.
Crystal clear after factory fire
It is not easy for Greek companies to compete with their Turkish counterparts when it comes to producing refrigeration and freezer cabinets for supermarkets. However, one Greek company trying hard to do so is Crystal, based in Kilkis, 26 km from Thessaloniki. I spoke to Panos Lirides, its export sales manager:
Q: How long has Crystal been making coolers and freezers?
PL: We started in 1954 and now we are one of the top two Geek producers with sales of EUR 13-14 million. About 75% of our sales are exports, which we started developing in 1990. There are about 15 producers like us in Greece. This is the third time we have had a stand at EuroShop.
Q: Are there many Greek companies exhibiting here?
PL: There are eight here, mostly in the shop-fitting sections. One other company is in refrigeration like us. We introduced some new lines for supermarkets two years ago. Crystal suffered a major setback in 2017 when our factory was totally burnt to the ground. All the shareholders somehow found the strength of soul to recover and rebuild, supported by the banks.
Q: How long did it take?
PL: It took 18 months to restart production. Now all the loans from this time have been paid off and the company is blooming again, thanks to the confidence in us from our customers.
Q: Where do your exports go mainly?
PL: After Europe, where we sell to nearly all the countries, the Middle East is our main market, followed by Cyprus. We also sell to North Africa, South Africa, USA, Canada, Mexico and Australia.
Q: Are there any issues with dealing with the Turkish sector of Cyprus?
PL: Not at all, as Turks and Greeks are much closer to one another now, especially after the earthquakes. Crystal also buys components from Turkish companies.
Q: Does Crystal exhibit at other trade fairs?
PL: Yes, we exhibit at an ice cream equipment trade fair in Milan, the hospitality show, Internorga, in Hamburg, and the ice cream show, Gelatissima, in Stuttgart. We would also have liked to exhibit at the international food and drinks manufacturing exhibition, IFE, in London at the end of March this year. However, there was not enough time to do this as it was too close to our participation in EuroShop.
Panos Lirides with Crystal's upright freezer, the CRV1300 model
Polish company JBG-2 growing rapidly
The Polish company JBG-2 had the seventh largest stand amongst the refrigeration companies at EuroShop. I talked to Andrzej Lipus, its area sales manager.
Q: How old is JBG-2?
AL: Our company is a family-run business and was founded in 1989. It was located originally in Katowice, Silesia. In 2001 the company had to move its production and offices to a new location.
Q: Has your business grown a lot since EuroShop 2020?
AL: Yes, it has, and Covid did not affect us much. Five years ago, we opened a second factory, which makes refrigeration cabinets and glass for use in making them. With the advent of Covid, we had to slow down production due to restrictions and there were also some supply issues. In 2021 we had to increase production capacity again due to the high demand. We have been selling a lot of refrigeration systems based on CO2, glycol and hydrocarbons. We are supplying refrigeration cabinets to customers around the world. They appreciate our creative approach, flexibility and commitment to the successful completion of every project.
Q: Where is your second factory?
AL: It is only five minutes away from our original factory, but in a different city.
Q: Does JBG-2 have any other business interests?
AL: Yes, we also make cryospace chambers for healthcare, heat pumps, solar PV systems and LED lamps but our main business is refrigeration equipment. Glass manufacturing is our newest activity and we might sell some of this to other refrigeration companies and industrial sectors.
Andrzej Lipus in front of the JBG-2 stand
Auf Wiedersehen, EuroShop and Düsseldorf!
When you consider the prominent role of Italian family-owned companies in the history of compressors, refrigerated cabinets and controls, the inevitable questions that arise are how and why? My own feeling, after talking to many of these companies at EuroShop, is that it has been due to the deep reverence Italians hold for family, food and drink, as well as their natural design and engineering flair.
I have known my close Italian friend Bruno for 40 years now. Every company he has worked for has provided him and his colleagues (and sometimes me) with a tasty and nourishing three-course meal and drinks at lunchtime, all free of charge. Now I understand why my father always wanted to retire to Italy, but never quite made it.
The next EuroShop exhibition will be held in Düsseldorf in 2026, the 60th birthday of this event. Maybe Arneg will present the organisers with some magnums of Italian wine or a barrel of Peroni beer, to reciprocate their kindness this year!
For more information, visit www.euroshop-tradefair.com.
Brian Hicks, the author of the article
The author, Brian Hicks, is an Oxford science graduate and freelance journalist. He is fluent in German and French and proficient in Italian. Brian lived in Düsseldorf for nine years and in Reading for over 20 years and holds dual UK and German citizenship. He has often written about the special relationship between the city on the Rhine and the town on the Thames. Brian has reported on the last three EuroShops.

© Brian Hicks
Please share the article