Hall 15, Stand D59.

At EuroShop 2023, AiFO Components will showcase a broad range of refrigeration solutions and components for commercial refrigeration, food service and retail. Moreover, main theme of AiFO in EuroShop will be energy-efficient solutions and components.
Magnetic gaskets
Magnetic gaskets are an essential component of every refrigerated furniture. They ensure tight-fitting of the door and maintain the right temperature in the chamber. Welded magnetic gaskets are AiFO Components main production area. The brand will present new gasket models and new solutions. Visitors will be able to see the gaskets, their cross-sections and receive the necessary information.
Experienced advisors will explain the production process, talk about specific applications and help to match the right profile and gasket. Magnetic gaskets, glass gaskets, profiles for glass covers, profiles for sliding and hinged doors, profiles for elimination of thermal bridges, base profiles for gaskets, and other profiles and gaskets – these are some of the products that will be presented in EuroShop.

Copper tubes bending
Copper tube machining and bending is a new process in AiFO Components range. It's an offer manufactured according to customer specifications. Using modern cnc machines, the company also offers endforming – the process of forming the ends.
In addition, AiFO Components will present wide range of their products: condensers, evaporators, heating elements, monoblocks, thermoformed components, glass doors, lift-up systems.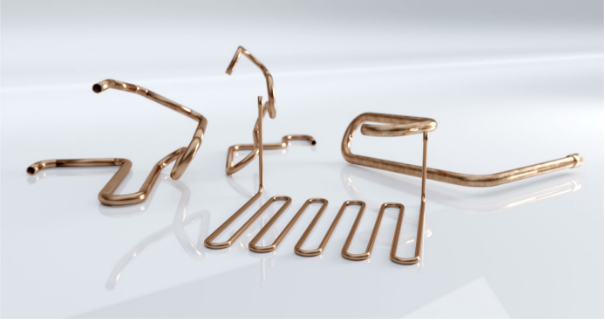 Gold partner of Refrigeration Industry

Hall 17, Stand D59
BITZER will be at EuroShop 2023 in Düsseldorf from 26 February to 2 March, showcasing products and solutions relating to energy efficiency and low-GWP refrigerants. There will be a focus on capacity control systems and intelligent components that can be used to fulfil efficiency and environmental requirements in refrigeration and air conditioning applications.
Energy-efficient and versatile: ECOLINE+ reciprocating compressor with VARISTEP capacity control

The 4-cylinder ECOLINE+ reciprocating compressor for transcritical CO2 applications. The compressors were developed with permanent magnet motors and therefore achieve a seasonal energy performance ratio (SEPR) of up to 14% higher (annual performance figure). Optimised for CO2 (R744) as a natural refrigerant, they offer high refrigerating capacity with minimal energy requirements. The equipment with the OLM-IQ electronic oil level switch helps to maintain a stable oil level in the compressor and avoid a lack of oil. The optional VARISTEP mechanical capacity control increases the system's part load efficiency, for example with low outside temperatures. Alternatively, equipment with VARIPACK frequency inverters enables precise adjustment of the system to the particular cooling demand. The capacity range between 6 A and 480 A is closely graduated, and the frequency inverters are suitable for indoor and outdoor installation. The frequency inverters ensure a high degree of user-friendliness, reliability and energy efficiency. A VARIPACK retrofit or conversion to an ECOLINE+ compressor with VARISTEP can also prove beneficial to the system's total cooling capacity, even for smaller expansions or store conversions.
For wide capacity ranges – the 8-cylinder CO2 reciprocating compressor

The new ECOLINE 8-cylinder CO2 reciprocating compressors provide high refrigerating capacity in large systems and heat pump applications, such as in food production. These will also be showcased at the BITZER stand (see the accompanying product profile for more information). The compressors are up to 10% more energy-efficient than smaller compressors currently available on the market. The new 8-cylinder CO2 reciprocating compressors are also designed for operation with frequency inverters and are equipped as standard with VARISTEP mechanical capacity control for part load operation and start unloading. The integrated IQ MODULE enables particularly simple system integration, operation and maintenance.
User-friendly and compact – expansion of ECOLITE condensing units

BITZER is presenting a new addition to its range of condensing units with the ECOLITE LHL7E (see the accompanying product profile for more information). The design provides a wider capacity range of up to 24 kW in medium temperature application and up to 6 kW in low temperature application. Whether for kiosks, convenience stores or supermarkets – the low-sound and compact models from the ECOLITE family offer flexibility for a variety of applications. The plug-and-play concept means that they are easy to install.
Semi-hermetic ECOLINE reciprocating compressors with VARISTEP mechanical capacity control provide efficient and reliable full and part load operation. The design of the condensing units focuses on aspects such as outdoor installation, low sound emissions and ensuring that all components are easy to access during maintenance. The LHL3E, LHL5E and LHL7E condensing units are approved for use with A1 refrigerants and for low-GWP refrigerants of the A2L safety group. They can therefore be used in a variety of both low and medium temperature applications across all climate zones – for example for cold stores at petrol station shops and fast-food restaurants. The option to easily integrate heat recovery also means that the system efficiency can be further increased and operating costs reduced.
Hall 16, Stand E01
CAREL will be participating at Euroshop 2023, celebrating its 50th anniversary with sustainable solutions and services to increase energy performance in the commercial refrigeration market.




Compatibility with natural refrigerants is one of the strengths of the CAREL product offering: this makes it possible to improve the performance of refrigeration systems while at the same time reducing the carbon footprint of the applications that these solutions are part of, further optimised by digital services and connectivity. Fr om the latest controllers for compact CO2 condensing units to a complete range of controllers for refrigerated showcases and the high-efficiency solutions used on semi-plug-in refrigeration units, both CO2 and propane, as well as water loop or air-cooled systems.

Right fr om the design stage and initial configuration, CAREL's experience and technology are available to support field installation through dedicated apps and local supervisors. Remote digital services allow end users to sustainably maintain the best performance and control of system management costs over time, through advanced data analysis and reports that pro-actively suggest the most effective improvement actions.




Danfoss
Hall 16, Booth C59


Centered around the theme, 'Unlock 360º of efficiency', visitors can expect to discover Danfoss' complete portfolio of food retail solutions dedicated to gaining total control of operations while working toward a more sustainable future.

Integrated solutions from sensor to cloud



At EuroShop 2023 visitors can discover how Alsense® IoT Food Retail Services offer scalable, digital, and expert-managed services through the Alsense® IoT Cloud—a secure and future-proof portal for optimizing the performance of your food retail operations.

Visitors to Danfoss' booth will also experience the newest version of Heat Recovery Unit—an integrated, plug-and-play solution designed to eliminate the technical challenges of managing heat recovery and reusing it for space heating, hot tap water, or even to send back into the local grid. When used together with Danfoss hydronic balancing solutions, food retail customers can maximize the benefits of their heat recovery solution.

From small stores to hypermarkets: Solutions for end-to-end efficiency

At EuroShop 2023, Danfoss showcasing solutions for stores of all sizes. Danfoss Smart Store solutions—helping food retail owners overcome challenges and create opportunities.

Visitors will also learn about Danfoss Smart Store To-Go, the one-stop-shop for cost-efficient, plug-and-play energy and monitoring solutions to optimize operations, boost bottom line. Extensive range of components, solutions, and support is tailored for refrigeration equipment in convenience store chains—and visitors at EuroShop 2023 will see new products ranging from the iCO2 condensing unit to our Prosa IoT telemetry device and ProsaLink App solution

New groundbreaking Smart Store

EuroShop 2023 also marks the unveiling of a groundbreaking project, the brand-new supermarket in Nordborg featuring a complete portfolio of Danfoss Smart Store solutions. And in summer 2023, a Danfoss Application Development Center connected to this project will open, enabling further testing and innovation.




Dorin

At booth D74, Hall 17, Dorin is ready to present its latest high efficiency solutions, focused on improving energy saving, performance, sustainability and connectivity in the HVAC&R industry.

The first company in the sector worldwide to invest in innovative CO2 technology (since 1991),at Euroshop 2023, Dorin will exhibit its new arrivals in the CD compressor range. The revolutionary CD4 and CD400 , with permanent magnet motors, its new transcritical CD600, 6 cylinders and displacement up to 72 m3/h , the super compact CD0 and the innovative partialized CD4. The new Dorin HEX models for heat pumps complete the novelties.



Delta Electronics

Hall 15, stand A23

Delta is showcasing its complete range of commercial refrigerator fans for the retail industry at EuroShop 2023. Delta's comprehensive refrigeration solutions combine innovative EC fan technologies with high efficiency to ensure the highest safety compliance and reliability for use with perishable goods. The complete solution ranges from small DC fans up to nine-inches EC models and EC motors.




Innovative EC fan technologies

Delta motors are electronically commutated (EC) and benefit from an integrated AC to DC inverter driven by a brushless DC motor. This design can reduce energy consumption by as much as 70% compared to conventional AC fans. They maintain the ability to operate from existing AC inputs, without sacrificing performance. This provides a long-term energy benefit for users. The universal voltage models are compatible with both 115 V and 230 V applications. This provides OEMs with additional flexibility. Delta's fans also offer higher motor performance and impeller efficiencies when compared to conventional AC fans.

Complete product portfolio for all commercial refrigerator applications

Delta has been synonymous with high-quality and innovative Thermal Solutions for decades. Its complete product portfolio includes DC to EC fans in sizes up to nine inches. Delta also offers programmable fans, which greatly optimise the efficiency of the entire cooling system. Instead of continuous consistent operation and consuming power more than necessary, programmable fans can be configured to reduce output during low system load periods. This results in energy saving and less refrigeration-related noise on the supermarket floor.

Highest levels of safety compliance and reliability

As a global leader in DC brushless fans and one of the top suppliers to the commercial refrigeration industry, all of Delta's EC models are compliant with ATEX 2014/34/EU. This is an important standard for systems installed in the EU. It offers an additional layer of protection against explosions in the event of a refrigerant leak. In addition, Delta's fans offer ingress protection that meets the IP67 standard. This ensures its completely resistant to dust and water.


ebm-papst

Bronze partner of Refrigeration Industry.

Hall 15, booth F39

At the EuroShop ebm-papst will be presenting energy-efficient solutions for a wide range of refrigerated cabinet requirements in hall 15 at booth F39.




Robust and ATEX-certified

The new ebm-papst compact fans from the AxiACi series in sizes 92 and 120 are available for commercial refrigerated cabinets, such as service counters in supermarkets. Refrigerated cabinet manufacturers benefit from their potential operating temperatures down to -40°C (including when starting up), DIN EN 60335-2-89 approval, ATEX certification (DIN EN 60079-7 (Group 2A, T4)), and resistance to salt spray, water jets or dust (IP65). The power consumption is up to 83% lower than that of comparable AC fans with the same air flow. This means that they pay for themselves after just a few months. The compact fans are also extremely quiet and are suitable for international use thanks to their broad voltage input.

Simply replacing fans one-for-one

ebm-papst has developed the iQ-one EC motor for easy one-for-one replacement of existing Q or shaded-pole motors of up to 5 watts. Compared to conventional Q motors, it operates with a significantly higher efficiency of up to 50% and is extremely quiet, even at full power. It is designed for all typical supply voltages and can therefore be used worldwide. The iQ-one can be combined with different fan impellers in sizes 154, 172 and 200 mm. As standard, the new motor meets the European standards EN 60335-2-24 (Household appliance standard - Particular requirements for refrigerating appliances, ice-cream appliances and ice makers) and EN 60335-2-89 (Household appliance standard - Particular requirements for commercial refrigerating appliances and ice-makers) and is suitable for today's natural and flammable refrigerants.

Energy efficiency in refrigerated display cases

Even more energy can be saved in refrigerated display cases with energy-saving fans from the ESM series. They operate at efficiency levels of over 70% at just 10 % of the power consumption of comparable shaded-pole motors and offer demand-based speed control and networking options. As a compact complete plug-and-play system, the individual components, such as the impeller, motor and electronics, are perfectly coordinated.


Emerson

Hall 16, booth E56

Emerson's Climate Technologies business will feature its comprehensive offering of integrated retail solutions for commercial refrigeration, heating, and cooling, including compressors, electronics and valves at EuroShop 2023. With a clear focus on natural refrigerants, digitalization and IoT.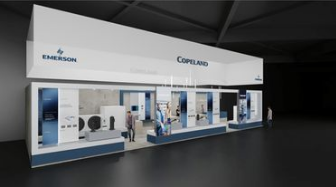 Copeland Technologies for Sustainable Refrigeration in Food Retail and Food Service

The commercial refrigeration portfolio is tailored to different store formats and includes sustainable solutions for centralized and decentralized refrigeration architectures and integral display cases.

Commercial Refrigeration with CO2

CO₂ can now be used easily and is cost-efficient in all climates. CO₂ can now be used easily and is cost-efficient in all climates. With its innovative CO₂ scroll technology integrated into a solution for transcritical booster systems and into refrigeration units, the Copeland portfolio serves centralized and decentralized systems for various store formats from 600 to 2,500 square meters.

Copeland CO₂ refrigeration units for decentralized refrigeration systems

The newly launched Copeland CO₂ refrigeration units for small and medium applications feature a modular design with a detachable gas cooler and a smart control concept with pre-configured parameters for fast plug-and-play commissioning. The modular design enables different ways of installation and is the perfect choice for urban environments and retailers expanding their shops' refrigeration capacity wh ere space is limited.

Copeland CO₂ scroll compressor solution for centralized refrigeration systems

The Copeland CO₂ scroll compressor solution for booster systems serves medium-temperature, low-temperature, cooling and heating needs for shops from 600 to 2,500 square meters. Irrespective of the climate zone, the booster system's complexity and applied cost is significantly reduced thanks to the Dynamic Vapor Injection (DVI) technology and the smart control concept integrated in the CO₂ scroll solution.

Electronic controls

Besides the compressor technology offering, Emerson will also display a broad portfolio of electronic controllers to optimize compressor packs, units, and display cases. All these controllers are integrated inside a smart environment – the Dixell XeCO₂ system – a complete solution for the retail industry to help optimize the efficient management of CO₂ plants. The XeCO₂ system includes a wide range of high-efficiency controllers connected and monitored over one platform.

Commercial Refrigeration with Propane

To provide customers with the best possible refrigerant choice for their application needs, Emerson will also exhibit its Copeland R290 horizontal scroll solution for single-circuit integral display cases using the natural refrigerant R290 with a refrigerant charge of up to 500g.

Eliwell

Hall 16, Stand A01

Eliwell and Schneider Electric are present at the 2023 edition of Euroshop from the 26th of February to the 2nd of March (Düsseldorf, Germany), with a complete and integrated range of products for connectivity, remote control and monitoring of refrigeration systems in the Food Retail world.
The new solutions TelevisGo v10 and TelevisAir 3.0, preview in Düsseldorf that confirm the company's commitment towards the development of technology that facilitates installers, producers and end users in their daily work by enabling the connectivity of systems, data centralisation and the integration of all available data to improve efficiency and reduce the carbon footprint.




TelevisGo v10, can be integrated onto the Schneider Electric EcoStruxure platform

For supermarkets Eliwell is presenting the completely redesigned version of TelevisGo, the refrigeration supervisor that combines simplicity of configuration with the possibility of optimising the system operation as well as to easily integrate refrigeration into building supervision thanks to the Schneider Electric EcoStruxure with a new cloud-based system, the Integrated Management Platform: the platform is able to manage information from all assets of an entire supermarket chain and provide immediate information and tools to intervene promptly on efficiency and maintenance management of all systems.




Plug-in refrigeration cabinets connected via the cloud with Eliwell TelevisAir 3.0

For Small Food Retail, that is small retail businesses, Eliwell is previewing the new generation of connectivity TelevisAir 3.0 for plug-in refrigerators that is completed with the new AIR EDGE device. This is a solution that aims to provide interesting advantages for both manufacturers of refrigeration equipment (OEM) as well as for installers and end users, such as the owners of pastry shops, butchers and in general shops with plug-in refrigeration equipment.

The new AIR EDGE hardware is capable of enabling cloud connectivity of Eliwell compatible controllers using local Wi-Fi or Ethernet networks. Access to the cloud makes it possible to remotely manage the permanently connected controllers both to read (for data analysis and monitoring) and to write (to modify parameters or send commands for user management), by interacting from a pc using the TelevisAir service and visualising them with the Eliwell AIR App, thanks to the availability of a guided procedure (wizard) to configure the local network.

With the geolocation function manufacturers can set up tracking of the refrigerated cabinets installed to analyse their efficiency or to monitor the operation of certain components to study possible improvements to be made during the construction phase; they can also evaluate their replacement with more efficient versions by differently sizing compressors based on real field performance.

Likewise installers can receive data remotely and streamline their operations: it will not always be necessary to travel to the site to work on a refrigerator but they can do it remotely by communicating with the owner of the business wh ere the counter or cold room is installed.

For end users AIR EDGE has another plus: if automatic recording of HACCP data is already possible with the HACCP Module device, Eliwell has made it even more systematic, automated and accessible remotely. In addition to the possibility of downloading reports on HACCP data on the machine using Bluetooth technology and the Eliwell AIR App, it is also possible to obtain the same data remotely using the cloud. For any anomalies it is no longer necessary to be near the refrigerator or the cold room: data consultation can also be done remotely. It is also possible to receive alarm notifications and monitor the equipment to prevent waste, malfunctions and loss of products.

Epta

Hall 15, stand C24 and C42

The Group presents the main product innovations of its Costan, Bonnet Névé, Eurocryor, Misa, Iarp and Kysor Warren brands, as well as the turnkey projects of the EptaConcept designers, equipment and complete refrigeration systems branded EptaTechnica and the renewed offer of after-sales assistance provided by EptaService.




At Euroshop 2023, the pioneering and proactive soul of the Group, INNOVATION RELOADED will introduce 7 engaging areas of the stand: REcharge, REdiscover, REthink, REset, REstyle, REdesign and REfresh, which connect to the beating heart of the set-up, the GREEN FACTS AREA. In this space, Epta presents its sustainable innovations through tangible examples comprising of products, technologies and services, real Green Facts.

Epta is ready to present a new system of refrigeration: XTE, Extra transcritical efficiency, a patent pending system which is efficient in all environmental conditions, including extreme events like those generated more and more often by the climate changes underway, in the name of natural refrigeration with reduced energy consumption all year round.

Epta is able to launch on the market best-in class display refrigerators in terms of Energy Labelling which guarantee a performance well above the baseline. These are remote and plug-in display refrigerators branded Costan, Bonnet Névé and Iarp which reach the top classes A and B and are Eurovent certified, as further proof of transparency and reliability.

These and many other Green Facts will be back under the spotlight inside the Talking Epta Arena. Different talks are scheduled over the five days: Epta experts will alternate with international personalities such as Sophie Geoghegan, from the Environmental Investigation Agency, Claudia Horbert and Ulrich Spaan, from EHI Retail Institute, Cristina Lazzati, journalist with Mark Up and GDOWeek, Olivier Dauvers, Retail Expert, Armando Garosci, Editor of Largo Consumo, and Laureano Turienzo Esteban, President of the Asociacion Espanola of Retail.



Frascold S.p.A. Platinum partner of Refrigeration industry

Hall 15, Booth A39


Sustainability, energy efficiency and natural refrigerants will be the featured themes of Frascold - through its series of reciprocating compressors, specially designed for use with CO2 and hydrocarbons.


Specifically, the ranges for transcritical and subcritical CO2 systems will be presented to the public, with the Z-TK and S-SK3 compressors being the first. Two solutions dedicated to the commercial and industrial sectors that contribute to making plants sustainable and energy efficient.

Specifically, Z-TK provides high flexibility and refrigeration capacity, featuring unique piston design, minimal oil carry-over and maximum suction-side pressure of 100 bar. The ability to operate in a frequency range from 30 to 70 Hz allows for superior energy efficiency, ensuring smooth running.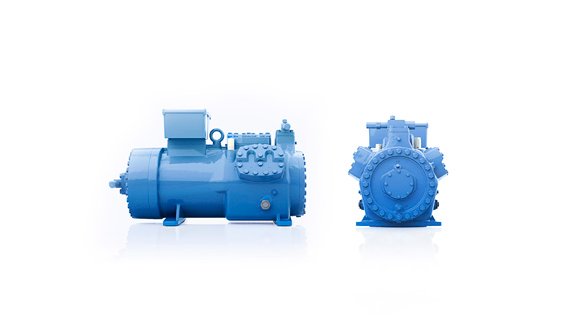 The subcritical range will be extended with the brand new S-SK3 series, designed to resist the high pressures of plant stop with a standstill pressure of 80 bar. Four new models with power ranges from 15 to 30 HP and volumetric capacities from 28 to 47 m³/h are now available, ready to be easily integrated into any booster and cascade systems thanks to highly flexible design with 3-direction discharge valve.




Frascold will showcase also some technologically advanced systems, capable of making the use of hydrocarbons safe for the entire commercial sector, such as the wide range of ATEX-certified compressors. This range will be presented through the W model, a reciprocating compressor equipped with 4 RSH heads, which ensure efficient partial load operation.




FREOR will be presenting its New Design Line of commercial refrigeration equipment with environmentally friendly and energy-efficient cooling solutions operating on R290 refrigerant, including its newest extremely energy-efficient technology – Continuous Cooling.

Spotlighting Continuous Cooling and energy efficiency
As a result of its non-stop work to improve the energy performance of its commercial refrigeration equipment, FREOR will unveil its highly energy-efficient Continuous Cooling.

The new technology features an innovative algorithm for temperature control which ensures temperature stability inside refrigeration equipment and helps achieve high energy efficiency. Compared to traditional control systems for commercial refrigeration equipment, this Continuous Cooling can save approximately 50% more energy.

The technology will be available for all refrigeration equipment from FREOR that operates on Plug&Play or any Hydroloop systems and use natural propane (R290) gas as a refrigerant.



Panasonic Heating & Cooling Solutions

Hall 6, Booth D19

Panasonic Heating & Cooling Solutions will be exhibiting its range of advanced solutions for retail refrigeration and indoor air quality at EuroShop 2023.




Across the five-day show, Panasonic will be highlighting its innovative HVAC-R solutions for the retail sector. Booth highlights include the Panasonic Cold Chain Condensing Units which deliver reliable and sustainable refrigeration using the natural refrigerant R744 (CO2). On display will be Panasonic's 2HP Cold Chain unit with a live demo, which utilises naturally occurring R744 which has a low Global Warming Potential (GWP) of 1, reducing harmful impact on the environment. R744 is the ideal refrigerant to help reduce the carbon footprint of any business, particularly food retailers, whilst also keeping food fresh without any contamination risk. Visitors will also be able to see first-hand the CO2 Refrigeration Designer, Panasonic's useful calculation tool designed to support engineers, installers, and technicians to quickly make computations when specifying solutions for commercial refrigeration systems.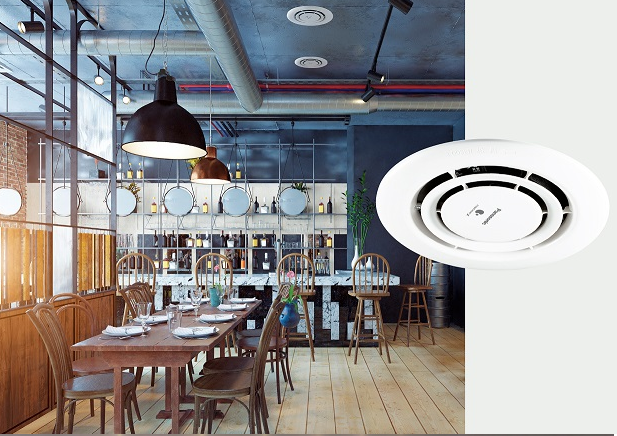 Alongside this will be Panasonic's innovative air-e, its first stand-alone, ceiling-mounted nanoeX generator, for improved indoor air quality. A live demonstration will be available on the stand for visitors to see the benefits. air-e has a low power consumption and is ideal for a wide range of retail applications wh ere indoor air quality is a priority. The maintenance-free nanoeX technology produces hydroxyl radicals (also known as OH radicals) – up to 4,8 trillion per second. Abundant in nature, hydroxyl radicals have the capacity to inhibit certain pollutants, viruses, and bacteria to clean and deodorise – nanoeX technology has been tested in a laboratory environment showing that it can inhibit the novel coronavirus (SARS-CoV-2) and the Influenza virus H1N1 subtype by up to 99.9%. nanoeX technology can bring these incredible benefits indoors so that hard surfaces, soft furnishings, and the indoor environment can be a cleaner and pleasant place to be, 24 hours a day, 7 days a week.


Rivacold

Hall 17, Stand D01

Rivacold is delighted to attend this edition of Euroshop 2023.

There will be two main innovations, the further development of the packaged unit with the presentation of the BEST ceiling version and the variable-rotation version of the wall-mounted one, and the new range of UNICA sound-proof condensing units.

The new R290 ceiling packaged unit completes the BEST range, following the wall-mounted model already in distribution. BEST is confirmed as the flagship product in the historical packaged unit segment for small and medium-sized cold rooms up to 50 m3. The new packaged units, both ceiling and wall, mark a decisive step forward in the company's product innovations and, at the same time, a clear choice of continuity in terms of sustainability.

This new "motor", combined with the hardware system significantly called RIV-OLUTION, ensures maximum precision and stability in temperature control and significant energy savings, up to 21% compared to the previous generation of products and 40% in the variable speed version.

The second premiere presented at the show is the new range of UNICA sound-proof condensing units. An innovative project involving some of the most commercially successful product series for Rivacold over time.

The new range of shrouded units includes four machine sizes, hermetic, scroll, scroll digital and semi-hermetic compressors, power ratings up to 17 kW and multi-gas solutions including synthetic and A2l refrigerants. New electronic control and customised software, electronic fans and safety valve make these new machines high performing, safe and silent, and can be installed outdoors in any situation. It was precisely on installation and maintenance that the designers' efforts were particularly focused. The new units will be stackable and easy to inspect, on three sides, thanks to hinged doors with a ¼ turn key. This means maximum accessibility to all components. The new shrouded units enter the digital world and the My Vision remote control service.

Finally, Rivacold dedicates a large exhibition area to CO2 natural refrigerant solutions, a sector to which the company has been dedicating special attention for more than ten years now, and presents a new range of compact transcritical compressor packs, in which the dimensions are optimised and the small overall dimensions, ideal for installation in narrower spaces, still leaves room for configuration with 2 medium-temperature and 2 low-temperature compressors. Power up to 75 kW medium temperature and 30 kW low temperature in the dual temperature version, up to 54 kW in the low temperature only version.


Smeva

Hall 16, Stand E71

Royal Smeva is launching its sustainable and innovative refrigerated counter with unique glass design during EuroShop 2023. The new, patented Arrondi counter will be delivered to the first national and international customers this spring.



360 ̊ shopping

Although the counter is closed, it is transparent and you can walk around it, and open it from all sides. Smeva is taking a big step with this "360° shopping", says Henk Dibbets (director of Smeva). "It's all about the produce inside the cabinet, and how we can optimise its visibility. The beautiful, unique and round glass design with integrated lighting displays the products beautifully."

On average 35% less floor space

Because Arrondi combines up to four units in one refrigerated counter, the unit is much more compact than the traditional refrigerated islands set ups in supermarkets. According to Robert Derks (International Sales Manager at Smeva), Arrondi helps retailers save an average of 35% floor space, not compromising the amount of display surface. "The vertical space-saving shelf presentation means optimal use is made of the available floor space."

Over 50% more energy-efficient

Arrondi not only helps you save on floor space, but on energy costs as well. After all, saving energy was central to the development of Arrondi. Robert: "This counter has been extensively tested in various setups. And all the studies showed that we could save at least 50% energy compared to an open island setup." "A true game changer!" according to Robert.


Viessmann Refrigeration Solutions

Hall 16, Stand E21

Through the exhibition theme of 'We care for life', Viessmann Refrigeration Solutions will showcase some of the newest offerings that are helping to reshape the grocery retail at EuroShop 2023.

ESyCool green is the total energy solution for fossil-free stores

ESyCool green offers the perfect fit to support food retailers' sustainability efforts in enabling ways towards net zero operations of food retail markets. The award-winning ESyCool green is Viessmann's total energy solution for food retail. It offers up to 20% energy savings compared to traditional systems, alongside improved reliability and integration, combining store heating and cooling, refrigeration and energy management.

New Tecto IS7 freezer island outperforms in energy efficiency

Viessmann's new Tecto IS7 freezer island enables food retailers to present a high volume of goods within an attractive display cabinet while saving energy and lowering their stores' CO2 footprint. Additionally a high degree of prefabrication speeds up installation time in stores.

New Tecto SV8 PI product line meets the needs for various product promotions

Tecto SV8 PI is a new product line that runs on environmentally friendly natural refrigerant R290 (propane). It is especially targeted for check-out area promotions and its vast range of refrigerated and dry shelf units ensures limitless possibilities for shopfittings.

Viessmann's cold and freezer rooms bring 18% more energy savings

Viessmann's energy-efficient TectoCell cold and freezer rooms with new environmentally friendly refrigeration units are the choice for energy savings. In an independent market analysis by TÜV Süd Viessmann cold rooms outperformed market average cold rooms with 18% better energy efficiency. The high insulation quality over the lifetime of a cold room of up to 20 years reduces life-cycle costs and helps food retailers to save energy and lower their carbon emissions.

Convenience stores of the future use instant walk-in and walk-out technology

Automated stores powered by AI, cameras and sensor-technology help food retailers to operate stores more efficiently, save footprint for valuable grocery sales and learn to optimize their in-store operations and assortment with the support of real-life data. Digitalization will play an important part of the future in food retail. At EuroShop 2023 Viessmann Refrigeration Solutions together with Pixevia present Express Store - an example of a convenience store with integrated 'walk-in, walk-out' technology in combination with Viessmann's refrigeration solutions.

Nano Fulfillment Center brings automation for online grocery deliveries

Automatization plays an important part in the future of food retail. Viessmann Refrigeration Solutions presents a Nano Fulfillment Center (NFC) co-developed with Noyes Technologies, the first supplier of an automated and highly flexible nano-storage system. NFC provides fully automated, compact and modular warehouse solutions which can be easily integrated into the food retailer's existing stores, logistics hubs or external locations.