Address by Kevin Glass (FInstR)
Incoming President of the Institute of Refrigeration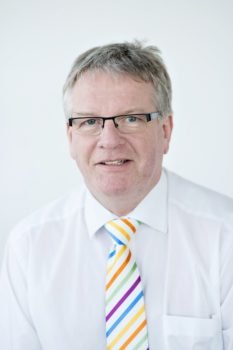 As I prepare to take up my duties as your new president, I would like to express my thanks and gratitude to past presidents and all those who have worked, and continue to work to build up the Institute and our industry in its service to society. Thank you to Institute members and the Board of Trustees for putting your faith in me. Being elected unanimously and unopposed is humbling. I hope I am able to meet your expectations over the coming two years. I shall certainly strive to do so.
In taking up the role, I am conscious that – in the words of Sir Isaac Newton – I stand on giant's shoulders. In particular, I would like to thank our immediate past president, Stephen Gill, for his work and contribution. I am sure you will agree that Steve has brought a fresh, creative approach to his tenure over the past two years, and set in motion some positive initiatives that will benefit the Institute and the wider industry in the years to come. In particular, I would highlight formation of the Women in RACHP Group. For many years, there was a large group of industry members who didn't feel part of the industry. Today, however, this new group is building a support network and opening up new opportunities that widen our appeal as an industry and make us more relevant to each other and society. It can only strengthen our collective endeavours as it develops in the months and years to come, and will continue to have my full support.
Refrigeration and air conditioning matter. They are vital to modern, civilised life. Without them, and equally without the men and women who design, make, install and service cooling systems, society would be plunged back into the dark ages, when life, in that memorable phrase, was "short and brutish". Refrigeration, and its application in air conditioning, is a great blessing for humankind. The benefits it brings in terms of economic prosperity, health and the quality of life are incalculable. A lot of excellent work has been done in recent years on raising the industry's profile, and expanding the public's understanding of the role and importance of RACHP technology to modern life. It was heartening to see refrigeration included – rightly – among the greatest inventions of all time in the BBC television series. Antibiotics may have been voted number one, but refrigeration was up there alongside the jet engine, the mobile phone, the steam engine, and television. It's hard to argue with antibiotics taking the crown, although as a refrigeration and air conditioning man I can't help reflecting that without mechanical cooling, the commercial production of antibiotics would not be possible.
The BBC's final citation for our industry sheds a penetrating light not only on the multifarious contributions our technology makes to society's wellbeing, but on its contribution to the progress of civilisation itself: "This single invention has put man on the moon by super-cooling spacecraft; it has air-conditioned cities in the most inhospitable locations on Earth; it has eradicated diseases by the mass transportation of vaccines; it is uncovering the origins of all life by ensuring the Large Hadron Collider doesn't explode; and it allows exotic foods to reach us in perfect condition. Simply put, the fridge is the unsung hero of the modern world." I think we can all raise a glass to that.
Of course, there remains more to do. However, I believe we have come a long way since our predecessors rued that refrigeration, the silent service, was one of the world's best kept secrets. The secret is now out, and the task we have is to build on it. It will always be painful when the industry finds itself in the public spotlight, associated with negative headlines. But there is to some degree an inevitability about this, given the nature of the technology and the critical role it plays. The reality is our industry touches or in some way connects with some of the most important and controversial issues of our time: the environment, climate change, energy efficiency, food safety, air pollution, quality of life issues, not to mention health and safety in relation to those we employ and the public at large.
In this light, it is not surprising that we often find ourselves in the public spotlight and at the nexus of new legislation. In the face of this, I believe the industry has risen to the many challenges with which we have been faced and acquitted ourselves well in terms of our response. Few sectors, I would suggest, have faced such an onslaught in recent years and responded so swiftly and decisively to address multiple issues. The industry's proactivity and positive approach are a credit and reasons for optimism, I believe, as we continue to work on today's challenges.
On that front, going forward I believe that one of the most important issues facing our industry and, indeed, the nation as a whole, is Brexit. With negotiations coming to a head over the next few months, the final settlement between the UK and EU will have consequences and continue to reverberate for decades to come. The shape and nature of Brexit will be decided during the period of my tenure as president. I am acutely aware of the importance of the issue and what is at stake.
Given our industry's historic trading relationships and the interdependency between the UK and our European partners, it is vital that frictionless borders are retained, in as far as this is possible, post Brexit. Our ability to maintain the nation's critical cooling infrastructure depends on the vital flow of equipment, components and services. We should be under no illusion about the potential negative impact of a so-called hard Brexit, and interruption to flows of goods and materials at our borders. The nation's food chain, medicine and healthcare, critical industries and our ability to maintain our cities as productive places to live and work, all depend on an efficient and fully functioning "refrigeration economy".
This in turn depends on the free flow of goods and services between producers, installers and end users across the continent.
We all know the importance of speed in dealing with cooling plant breakdowns. The nation simply cannot afford the cost and disruption to vital services that would ensue if vital replacement plant was routinely quarantined at the docks awaiting processing of paperwork. If workable customs practices for trade post-Brexit can't be agreed, there is a strong argument for special fast-track arrangements for critical equipment such as refrigeration and air conditioning plant, on grounds of national security and the economic well-being of the nation. This sounds dramatic and some outside the industry may consider it scare-mongering. However, those of us who know how important mechanical cooling is to the productivity and health of the nation have a duty to highlight this issue. There is reason for genuine concern, and the clock is ticking.
Depending on the detail of the agreement and its implementation, Brexit may also have implications for the cost of plant and materials. There is also the question of F-Gas quotas, and how these will relate to the UK once we leave the EU. There are various possible scenarios, and the UK government has recently issued guidance on what will happen in the event of a "no-deal" Brexit. However, this still leaves considerable uncertainties around how a quota system would work, in the circumstances of both an agreed Brexit and a no-deal Brexit.
These are just some of the immediate and pressing issues to be resolved in relation to our own industry. When you consider the number of different sectors affected by Brexit, the uncertainties multiply a thousand-fold. It gives some sense of the daunting complexity of the process whose strands have to be drawn together over the coming months. (Given our industry's proven track record in dealing with complex legislation, I was tempted to say that if we had been put in charge of Brexit negotiations, we would have got it sorted by last November.)
Top of the industry's unresolved technical issues and challenges list remains refrigerants. I am sometimes asked if I believe there is a "silver bullet" yet to be discovered. The simple answer, of course, is no. Everyone wants a return to simplicity and a settled order in relation to refrigerants. However, of necessity we continue to navigate our way through a multiplicity of options. Just when the focus appeared to be narrowing, a new left-field option recently sprang into view and we have a new possibility on the table, and a new validation challenge.
Whenever compounds not previously used in refrigeration and air conditioning are adopted, it inevitably involves a lot of uncertainty around materials compatibility. All that has yet to be worked through and this takes time. However, materials compatibility testing and validation have to be thorough and systematic; there really are no short cuts. Huge potential investments in plant and manufacturing infrastructure depend on it.
At this stage, and subject to proper evaluation, the best that can be said is that recent developments and new formulations for refrigerants may turn out to be silver-plated bullets. It could also open the door to other, potential new options in the future. This is a promising area and has generated understandable excitement. However, time will tell if this offers a genuine new way forward.
One of the big opportunities opening up for the industry centres on the new generation of intelligent plant now coming on-stream. This offers the ability to capture and harness huge amounts of data. Following the electromechanical and then electronic control eras, the digital era we are now entering is another revolution in the making. The capabilities it opens up, which we have just begin to glimpse, are breathtaking and I believe will prove to be genuinely revolutionary.
For example, with intelligent compressors we already have the ability to automatically adjust internal slider positions to maximise efficiency across the whole application envelope, and at whatever current load conditions apply. This is equivalent to a highly skilled engineer fine-tuning the system 24/7, to optimise the compressor at intervals of a few seconds. To those of us who began in the industry before even the electronic expansion valve was invented, this is a mind-boggling development.
Step up a level, and it gets even more interesting and potentially transformational. Online monitoring and control of plant has been available for some time, and is often built into today's systems. However, it is not always used. This will change as understanding grows of the potential benefits. The power of this approach, of course, is not just in the ability to remotely control plant, but in the data generated and the uses to which it can be put. Data harvesting and analysis in our industry is in its infancy, but has huge potential to improve the service we deliver to customers and society as a whole.
Using remote diagnosis and intelligent analyses of anomalies in system performance enables true predictive maintenance and pre-emptive equipment servicing. This has the potential to save end users significant cost, in both downtime and the avoidance of consequential loses. The opportunities are almost limitless. Imagine that an end user receives a call from the service company to arrange a site visit to replace a component that is not working properly. The intelligent device has already advised the service company of the problem and the parts needed, and also the time-scale available in order to make the repair to avoid any further issues or a breakdown. The end user just has to program a short visit with minimal down-time to suit their business.
Moreover, based on analysis of operational data, the system could also advise the best time window for the repair to be made, as it would know when the plant was least required.
In the conventional approach, the service company would likely be responding to a call reporting a system failure, that would require an engineer to visit to diagnose the problem and identify the replacement parts required. These would then have to be sourced and delivered, normally at a later date. Instead of a possible period of plant downtime, with the intelligent approach the unit is repaired before it ever breaks down.
The savings in time and money could make a huge impact on the economics of operating plant, not to mention the reductions in human stress related to equipment breakdown. On all levels, I believe intelligent RACHP equipment with systematic data harvesting and analysis will play a huge role in the future, and – over time – transform the efficiency of our industry. Indeed, it is already beginning to do so.
Our ability to harness the potential of the digital revolution depends on having the people with the right skills and knowledge. We have struggled as an industry in the past to recruit and retain the talented people we need. It has been a pressing issue on the industry's agenda for as long as I have been employed in this industry. As alight-hearted illustration of the deep-seated nature of this problem, I have sometimes asked those attending industry meetings to raise their hands if they made a conscious decision to join the industry. It normally results in a good show of hands; I then ask those with their hands up who have relatives or friends in the industry to put them down. Seldom do any hands remain. It demonstrates that, despite all the good work and the evangelism over many years, we still have a huge challenge to recruit the diverse and talented intake of new blood we need to ensure a successful future for the industry.
It goes without saying that our potential talent pool for new industry entrants should not be limited to the friends and relatives of those already employed within it. As in most sectors, this is of course a perfectly good and valid starting point. However, we need to project our story and our appeal onto society as a whole, to capture the attention and imaginations of young people looking for stimulating and rewarding careers.
There is some great work being done by the Institute in promoting the industry in schools, and I applaud the initiative in taking this vital issue forward. The IOR Fantastic Fridges website is a great resource for schools, and I look forward to seeing the new expanded and updated website next year. The approach, which seeks to appeal to young people before they have made their career choices, has to be the way forward. The emergence of intelligent cooling systems and sophisticated data-driven approaches, as already touched on, opens up exciting new career paths for young people already comfortable with today's digitally-driven culture. With remote diagnostics, data capture and intelligent systems, we are emerging as a genuinely high-tech industry on a par with almost any you can think of – and one that underpins the quality of modern life. Our message is no longer, "We keep things cold". It is: "We are totally cool, join us!"
Institute and wider industry initiatives around young people include the IOR's new Young Engineers Network, currently being developed, and the reformulated RACHP Engineering Technician Apprenticeship Trailblazer programme. I fully support these schemes, and would encourage all members to inform themselves about the opportunities they offer young people to get involved and develop their careers in the RACHP sector. The digital revolution is opening up other exciting opportunities for developing the role our industry plays in the future. For example, our relationship with end user customers in the past has been, to a large degree, passive, in the sense that we have provided a service and dealt with customers' queries as they arose. We now have access to rich seams of data which, when analysed, can yield valuable insights about customers' buildings, plant and processes. Correctly applied, this has the potential to transform the performance and economics of a business.
As this field develops, I believe we have not only an opportunity but a duty to inform and educate end users with regard to what is now possible. In this way, we will increasingly operate also in a consultative capacity, not only delivering and maintaining mechanical cooling solutions, but actively participating in ongoing plant optimisation and energy management strategies. In the past, this has been something of a specialist niche; however, the digital revolution is democratising knowledge through the availability of data. The skill and the challenge, of course, is in interpreting the almost infinite flow of terabytes of raw information in order to extract actionable insights that will improve plant performance and efficiency.
Our Institute has always played a vital role in representing the industry's interests in discussions with other industry bodies and technical organisations, particularly through its membership of ACRIB, where all relevant associations meet. This is of course a vital and necessary aspect of its work, and I fully support this productive outreach. I believe there is an opportunity for even greater cooperation and coordination between the various industry bodies and organisations going forward, for the benefit of all. There have been examples in the past where better coordination between the relevant bodies would have achieved a better outcome. This is currently a particular issue in relation to refrigerants, where we have a multiplicity of very similar fluids, with different names and designations, competing for attention as viable alternatives. It is not helpful, to say the least, and makes the task of testing and validation much more complex that it should be. In an ideal world, there is a strong case for commercial interests to be put aside, so that a much-reduced number of genuinely distinct alternatives could be thoroughly tested and sensible conclusions drawn in a reasonable timescale. The problem, of course, is that the stakes for the refrigerant producers are high, and there is under way a pitched battle for competitive advantage. In the face of this, the industry is doing its best to test the major alternatives and provide the information everyone needs.
In all of this change, challenge and opportunity, the Institute provides a vital meeting point for us to come together as colleagues, fellow professionals and friends. Over the years, the IOR has constantly evolved to meet the emerging challenges of the time, and it continues this process today.
I would like to thank and pay tribute to the Institute's industrious and dedicated secretariat, headed by Miriam Rodway. Thank you for everything you do, and for going the extra mile on all our behalf's, so often unseen and unremarked. Your contribution and that of the Institute's staff to the work and standing of our organisation over many years is immense.
The recent IOR member survey provided some valuable feedback on current activities and possible future initiatives. The Institute is currently formulating detailed plans in response, but some highlights will include:
A goal of growing membership to 5000;
Continuing the process of updating IOR's image with modern communications and a new, more userfriendly website;
Raising our profile and activity within the rapidly developing air conditioning and heat pump sector;
Widening participation across the IOR membership, including support for the development of more active local branches;
Creation of special interest groups to cater for specific areas of RACHP technology and/or application;
Improving professional recognition of members – offering more CPD opportunities and extending the network of mentors/sponsors who can work with companies and individuals;
Improving technician-focused services by providing new information and guidance for colleges and students, and supporting take-up of new apprenticeships
I believe these initiatives, and others currently being developed, will help to further strengthen the Institute, extend our influence and contribution to society, and ensure members' evolving needs continue to be met. It is an exciting time to be part of our industry. Being a member of the Institute ensures that RACHP professionals have full access to the wealth of opportunities opening up – for professional advancement and for extending our service to the industry and wider community.
To conclude, I am looking forward to taking the baton from Steve and carrying forward the industry's message over the coming two years. To all who will listen, organisations and individuals at home and abroad, I will spread the word about the great things our industry does, and the huge potential it holds for the future. With your support, and through the good offices of the Institute, I hope to continue to build on the momentum generated by those who have held this office before, and who work in the IOR's dedicated committees and working groups. It is an honor and privilege to stand alongside you and serve our Institute and its members.
About the Author
Kevin Glass FInstR takes on the presidency of the Institute of Refrigeration from 8th
November 2018. He is Managing Director of Bitzer UK.