Choosing the right refrigerant has an impact on whether refrigeration, air conditioning and heat pump systems are efficient and eco-friendly, as well as on whether a leakage can make the system useless in a few years. BITZER helps its customers choose the appropriate refrigerant with a diverse range of product solutions, the Refrigerant Report, digital services and training courses.
In the interview, Dr Heinz Jürgensen, Director Application Engineering and Product Performance at BITZER, explains just how important it is especially now to choose the right refrigerant, and talks about how to use natural refrigerants.
Dr Jürgensen, what are the most important refrigerant regulations today?
In the EU, it's undoubtedly the revised F-Gas Regulation 517/2014. Outside the European Economic Area, we were also affected shortly thereafter by the Kigali Amendment to the Montreal Protocol, which in October 2022 comprised 139 member states. Proposed restrictions to per- and polyfluoroalkyl substances (PFASs) are being drafted through the EU's REACH chemical regulation.
How urgent are these regulations?
The revised F-Gas Regulation will soon enter the trilogue phase, which refers to negotiations between the European Parliament, the European Council and the European Commission. The European Parliament's Committee on the Environment only recently issued a statement on the Commission's draft, and we expect a statement from the European Council in the near future. Negotiations on the revision should be completed in the second quarter of 2023. The revision's initial far-reaching measures should then take effect in January 2024, which is earlier than originally expected on the basis of the current regulation. [See additional information about regulations at the end of the interview]
How does the revised F-Gas Regulation affect users?
Published in April 2022, the Commission's draft aims to further reduce the volume of emissions permitted. Manufacturers and operators can expect new or recycled refrigerants to be available for maintenance on and repairs to existing refrigeration systems for the next few years. For new systems, only refrigerants with a greenhouse effect (GWP) near zero may be used, thus ensuring that existing systems can continue to be serviced with increasingly limited and expensive fluorinated substances such as R454C, R455A and R1234yf and less and less frequently with R513A, R450A, R448A and R449A.
I'd like to circle back to the aforementioned statement issued by the European Parliament's Committee on the Environment, which states that refrigeration may no longer require any newly produced fluorinated substances from 2024 or, depending on the application, from 2027. These requirements are much more stringent. In terms of the ongoing negotiations, it's difficult to predict what the results will be. Recent surveys have revealed that many EU states support a more stringent regulation. The proposed PFAS regulations may once again reduce the range of potential solutions available, as they apply to many HFCs, including the newer unsaturated compounds with low global warming potential such as R1234yf and R1234ze. The idea is that these substances in particular will reduce the overall greenhouse effect.
How many systems will be affected?
We predict that at least several million refrigeration and air conditioning systems and heat pumps will be affected in the EU, with capacities ranging from individual kilowatts to megawatts. Most of these are not designed to accommodate a switch to the refrigerants that will be available over the long term.
The F-Gas Regulation is only applicable in the EU. What does it look like in the rest of the world?
The surrounding countries, states and regions are eagerly watching what's happening in the EU and will hopefully learn from it. On a global basis, the Kigali Amendment to the Montreal Protocol will also help reduce the volume of fluorinated greenhouse gases emitted. However, the phased plans are somewhat delayed compared to the EU regulation. Many states have already developed their corresponding action plans.
Many companies are hesitant to switch to natural refrigerants. Why do you think that is?
My impression is that many refrigeration system operators – most notably, smaller supermarkets, restaurants, bakeries and butchers – are unaware of how quickly and extensively these changes will affect them. They have limited exposure to the flow of information regarding the F-Gas Regulation and other refrigerant regulations. For them, the refrigeration system is a tool that needs to operate as efficiently and inexpensively as possible, which ultimately reduces the demand for long-term solutions in the market. It's quite possible that people are unaware of just how urgent the regulation timeline is. If people would only consider today which refrigerants will still be available for system maintenance and operation in 15 to 20 years, the demand for CO2, propane and ammonia solutions would certainly increase.
In just a few words, what do people need to know about the naturally occurring substances carbon dioxide, propane and ammonia when used as refrigerants?
Propane, or R290, is a suitable refrigerant for commercial refrigeration. It has a boiling point of -42°C and can evaporate at temperatures of -40°C and higher. Much like R404A, propane can accommodate fluctuating temperatures without issue when compressing. As a hydrocarbon, propane is extremely flammable and therefore requires an expanded risk assessment for work environment as well as implementation of the corresponding risk minimisation measures. Especially when it comes to maintenance and repair, safety rules need to be carefully and strictly observed. At BITZER, we've been using propane, for example, with reciprocating compressors for many years and can accommodate the full capacity range from 2-cylinder to 8-cylinder compressors. Even compact screw compressors for air conditioning and process cooling as well as semi-hermetic screw compressors for compound systems operate with propane and the similar refrigerant propylene.
Carbon dioxide, or R744, is already a very common refrigerant. It's not flammable, but requires a much higher pressure level, with potential back pressures of 90 to 130 bar, which means the entire system design, control and maintenance are different. For two-stage CO2 systems, the BITZER portfolio features specially adapted compressors for low and medium temperature stages. This type of system design initially requires comprehensive training, which we offer at the SCHAUFLER Academy. Systems with CO2 compressors can be quite competitive, especially when medium to higher capacities are required in commercial refrigeration.
---


The BITZER 8-cylinder reciprocating compressor for transcritical CO
2
applications is around 10% more energy-efficient than the smaller 6-cylinder compressors currently available on the market.



8-cylinder reciprocating compressors for transcritical CO2 applications

Full cooling capacity for large systems and heat pump applications – with fewer compressors than before: the new 8-cylinder reciprocating compressors for transcritical CO2 applications enhance the ECOLINE CO2 series for even larger capacity ranges with CO2 as a refrigerant in refrigeration and heat pump applications. They're around 10% more energy-efficient than the smaller 6-cylinder compressors currently available on the market, which reduces energy consumption and emissions. BITZER developed the 8-cylinder CO2 reciprocating compressors for systems with a larger capacity range which were once developed for use with HFC refrigerants and ammonia.

Designed for frequency inverter operation, the BITZER 8-cylinder CO2 reciprocating compressors are available in two motor variants with displacements between 69.4 and 99.2 m3/h. They're also equipped with start unloading as well as with VARISTEP mechanical capacity control for part load operation. The 8-cylinder CO2 reciprocating compressors boast low gas pulsations, vibrations and starting currents. Improved gas guidance minimises internal pressure drops, whilst the oil carry over rate achieves the low values typical of BITZER. Thanks to the IQ module and OLM oil management, the compressors are easy to integrate, install, operate and service.

BITZER has sold more than 270,000 CO2 compressors since 2003, primarily for commercial refrigeration systems, and that number is only growing. Demand is also on the rise for transport, heat pump and industrial applications. The new, variable BITZER ejectors for CO2 applications are suitable for the 8-cylinder CO2 reciprocating compressors and fulfil the most stringent requirements.
---
Ammonia is typically used as a refrigerant in large systems with a capacity of more than 100 kW, but generally not in the vicinity of the general public. With steel pipes, flooded evaporators and insoluble oils, the proven system technology for ammonia is not a suitable solution for typical commercial refrigeration applications. In addition, a few safety factors need to be taken into account. Due to the high charged amount, the price of ammonia is much lower than that of other refrigerants, which is also a winning argument when it comes to large refrigeration systems. BITZER has years of experience in this application range as well as new, highly efficient screw compressors in its portfolio.
---
Open drive screw compressors for OS.A105 ammonia refrigeration systems

With the new OS.A105 open drive screw compressors, BITZER is expanding its portfolio of ammonia screw compressors for industrial ammonia refrigeration systems. Three displacement volumes – 1,400, 1,700 and 2,000 m3/h at 2,900 rpm – are in the pipeline and will result in cooling capacities of 950 kW to 1,400 kW at 2,900 rpm in the traditional medium temperature application with an evaporation temperature of -10°C.

Because the compressors are designed for use with external frequency inverters, the displacement – and therefore the refrigerating capacity for each compressor – can be increased by another approximately 40%. The new OS.A105 open drive screw compressors are equipped with the IQ module, which can be used to efficiently operate the double slider for mechanical capacity control and Vi adjustment. The sliders enable stepless adjustment of the cooling capacity between 10 and 100%. The compressors are also equipped with an integrated check valve as standard, making them suitable for compound operation without adaptation. The new compressors combine high refrigerating capacity with reliability and smooth operation. The integrated IQ module simplifies commissioning, operation and maintenance in equal measure. The OS.A105 compressor will be launched in 2024 after the current pilot production phase.
---
In your opinion, do the refrigerant regulations also offer opportunities?

It's likely impossible to cover all applications with a single refrigerant. Most importantly, the refrigeration system needs to be specially designed for the application in question and the appropriate refrigerant of the future, thus minimising emissions to the highest degree possible throughout the system's service life. Still, new compressors and components offer high energy efficiency and thus the potential to reduce costs. At BITZER, we added propane compressors to our portfolio in 1987 and have been optimising them ever since. As far as we know, our newest large-scale ammonia screw compressors are truly the most efficient in their performance class. Carbon dioxide applications call for dedicated designs. Because carbon dioxide often requires two-stage operation, we offer specially adapted compressors for both the lower and higher pressure stage. As a result, we can create the affordable, potential combination of motor, pressure drop, cylinder head design and valve plates, and thus ensure that they're highly optimised for the application in question.
---
Bundled refrigerant expertise

SCHAUFLER Academy training courses

The SCHAUFLER Academy in Rottenburg offers refrigeration specialists a wide selection of digital and in-person training courses on a variety of topics, including how to use different natural refrigerants.

www.trainings-events.bitzer.de

The online edition of the BITZER Refrigerant Report

Since 1992, BITZER has offered the industry a reliable reference in the form of the Refrigerant Report, which outlines all key information about refrigerants. Featuring a comprehensive refrigerant table with filter function, the new, much more comprehensive edition is available exclusively online and therefore always up to date in terms of regulations and requirements.
---
In your opinion, what needs to happen to fundamentally increase acceptance of natural refrigerants?
Refrigeration system operators need to recognise the importance of taking action, meaning it's essential to inform them of what's to come. Refrigeration technicians and mechatronics engineers should also learn to work with natural refrigerants. In both cases, we need to provide support in the form of information, training courses and our suitable products. I see that as our responsibility.
Thank you for the conversation!


An overview of key refrigerant regulations
EU F-Gas Regulation
EU Regulation 517/2014 on fluorinated greenhouse gases has been in force since 2015 and bans the use of certain substances based on factors such as their GWP value. The phase-down scenario is a key tool for reducing the total volume of fluorinated greenhouse gases emitted. It represents a defined phase-down of total emissions in carbon dioxide equivalents between 2015 and 2030. A revision to the regulation is expected in 2023. The corresponding draft from April 2022 indicates a much higher number of banned applications and more stringent limits for the maximum volume of emissions permitted. That's why it's so important now to develop and build refrigeration systems and heat pumps with refrigerants which are sure to be available over the long term.
Compare with the image:
Comparison of the 517/2014 regulation phase-down stages in percentage points (in light green), beginning at 100% in 2015, and the draft phase-down (in dark green) from 2024. In light green: volumes of imported products not included in the basic volume.

Kigali Amendment to the Montreal Protocol
Adopted in 1987, the Montreal Protocol now has 197 members worldwide and represents an agreement to restrict substances that deplete the ozone layer. The amendment expanding the Montreal Protocol was passed in October 2016 in Kigali, Rwanda, and focuses on regulations to reduce the volume of fluorinated greenhouse gases emitted. The phase-down scenario is based on the example set by the EU F-Gas Regulation, but features stages adapted for four different groups of members and a deadline of 2050 or later. As of October 2022, 138 members had ratified the amendment. Each member will determine a 100 % value in defined years and develop an action plan for fulfilling the scenario. In this way, changes in refrigerant similar to those in the EU will be implemented worldwide.
Compare with image 2: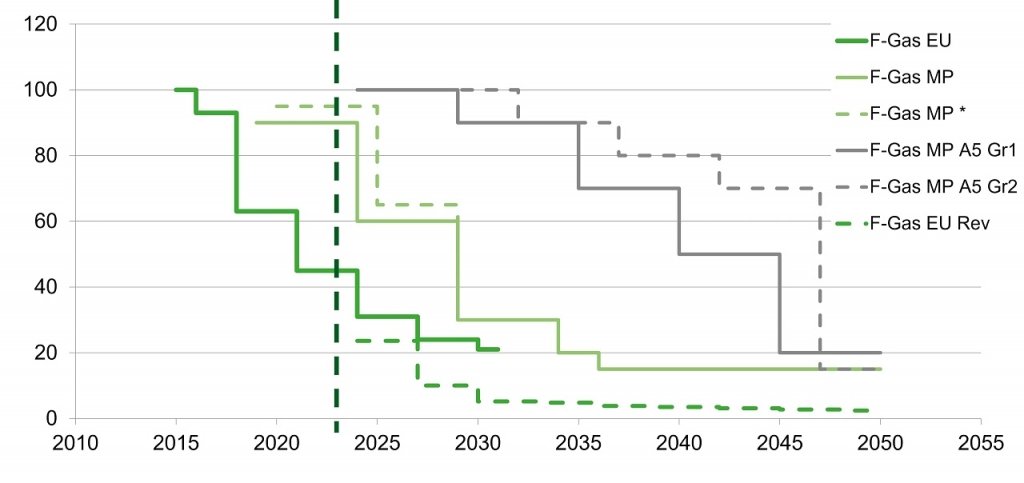 The Montreal Protocol (MP) phase-down stages in percentage points for fluorinated greenhouse gases for four country groups – standard member.
European Green Deal
The European Green Deal should make the European Union much more eco-friendly. One aspect of this objective is to generate net zero carbon emissions as of 2050. One of the intermediate goals is to reduce emissions by 55% compared to the base year of 1990 by 2030. Heat pumps and heat recovery can play a key role, as carbon emissions can only be reduced if much less fossil fuel is burned to provide heat. Heat pumps are ideal for the largest range of heating applications. If operated with electrical energy from renewable sources, they generate zero emissions. When recovering heat from refrigeration systems or using industrial heat pumps to recycle process waste heat, it's difficult to present the life cycle assessment in a clean and credible way. The technology will make some systems more complex, but is also important for achieving the Green Deal objectives.
Please share the article