The ATMOsphere Japan will take place in Tokyo on 20 February 2017. Acknowledging Japan as the innovation hub for the latest technologies in the business of natural refrigerants, shecco decided to organize the country's very own ATMOsphere Japan conferences from this year on, encouraged by the tremendous success of its previous events.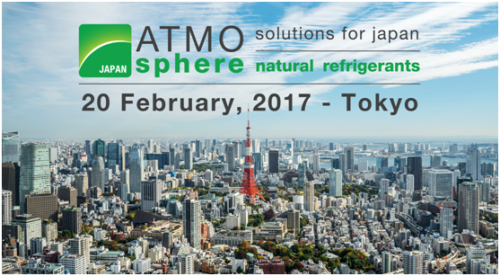 The event is perfectly-timed to be held right after the Supermarket Trade Show (February 15-17), where suppliers will be showcasing their CO2 technologies, especially designed for convenience stores. ATMOsphere Japan 2017 will be a unique opportunity to discuss global and Japanese market trends with government representatives, end users, domestic and foreign manufacturers and other experts, offering unparalleled networking opportunities with top industry professionals. Next year's conference will feature the new international supplier panel where the multinationals will discuss some of the challenges and opportunities they face in the Japanese market. ATMO is proud to announce that many organisations have already confirmed their participation, including METI, MOE, Lawson, Coca-Cola and Japanese Consumers' Co-operative Union. With simultaneous translation available throughout the conference, the improved program will offer participants end user and supplier panels, policy, market trends and technology case study sessions. The conference will address the highly anticipated discussion on the continuation of government subsidies and discuss the emerging signs of a healthy technological competition. The program also includes latest developments and case studies from commercial and industrial refrigeration, and heat pumps as well as training and standards for natural refrigerants. Registration for the event is now open and participants are invited to register before 15 December to take advantage of the early bird special to save ¥5000. As always, end users are invited to join ATMOsphere Conferences free of charge.

Please visit atmo.org/Japan2017 to learn more about ATMO Japan 2017 and you may click here to register now.
Please share the news