CO₂ is emerging as the go-to solution in the food retail market as traditional HFCs are phased out and retailers look for new ways to reduce their carbon footprint. Danfoss launched the Mobile CO₂ Training Unit in September 2016 to provide easy-to-access, hands-on training for the thousands of installers, service technicians, and OEM engineers worldwide that want to take full advantage of the natural refrigerant.



The Mobile CO₂ Training Unit makes both the technology and understanding of CO₂ refrigeration immediately available to industry professionals through a 2-day training session. By attending, you will learn:
TC system design(Booster , Parallel and Ejectors)
Commisioning of CO₂ systems
Set up of pack and case controls
Service procedures
Troubleshooting and correction
Danfoss CO₂ experts will present CO₂ systems and solutions, which include simple gas-bypass systems as well as more complex parallel compression solutions, with or without heat reclaim. They will also introduce our new ejector technology that can enhance the energy efficiency of systems by up to 20% on the hottest day of the year, enabling the use of transcritical CO₂ systems in much harsher climates.
Where to Find the Training Unit in 2017: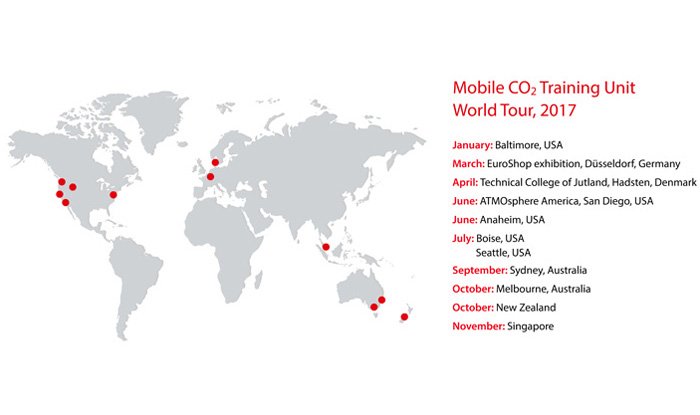 Unable to Attend the Training in Person?
You can still get an introduction to CO₂ as a refrigerant by visiting the Danfoss Learning website -
Learning.Danfoss.com
. There, you can participate in eLessons about CO₂ as a refrigerant.
Please share the news