Epta Norway takes up the challenge of its first project, carried out for Coop in Nærbø. A pretty large store, compared to the average size in the Norwegian market, was completely redesigned by Epta Norway and renovated with Costan-branded solutions to accommodate high aesthetic cabinets with a product-oriented focus that respects the environment. A turnkey installation has been done in synergy with Epta International and Epta UK.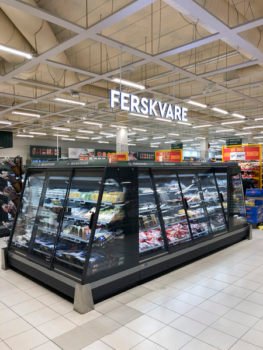 Functionality and the clean lines of the design find their maximum expression in the fresh food and bakery areas, characterized by structures that confer dynamism, colour and vitality to the layout with notable visual impact for the best valorization of the items. The absolute protagonist is the GRANFIT Costan range, which with its LED lighting and innovative materials contributes to improving the shopping experience by exploiting original display methods.

The sales outlet was designed to provide a 360° view of the fresh and frozen foods departments. This has been achieved by a skilful play of heights positioning large-windowed Tortuga tub units and Aeria Next cabinets (in Open and Closed versions with sliding doors), in the heart of the store.Horizontal and semivertical solutions are able to emphasize the products contained, enhancing the visibility of the food in Open and Closed Granvista Next vertical chilled cabinets, in the GranBering frozen food display cases and in the traditional assisted service Rossini Evolution cases located along the walls. An original layout that supersedes the aisle display concept to offer to the shoppers a new overview of the area and stimulate their active involvement.

Finally, the outlet is equipped with a transcritical CO2 system with heat recovery for tap water, which translates to lower environmental impact. The Epta offer foresees the remote monitoring system by EptaService, for the optimization of energy consumption and a constant support to the Client in order to maximize the installation's efficiency.

Please share the news