Vacuum cooling is a rapid cooling technique, which is used for porous products that have free water, and it works on the principle of evaporative cooling. Technavio's market research analysts have predicted that the food industry vacuum cooling equipment market will register a CAGR of close to 7% by 2022. This research report provides a detailed analysis of the market's growth based on segmentation's such as application (baked products, meat products, fruits and vegetables (F&V) and readymade food) and geography (the Americas, APAC, and EMEA).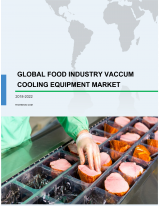 Global Food Industry Vacuum Cooling Equipment Market Overview
Increasing emphasis on maintaining quality of food is one of the key driving forces helped in increasing the demand of vacuum cooling, thus encouraging the growth of the market. With the increase in need for maintaining the quality of food products worldwide, there is an increase in demand for vacuum cooling machine. By evaporating a part of water from the food products, vacuum cooling machine achieves rapid evaporative cooling. Vacuum cooling also helps in preserving the freshness of various food products and keeps them crisper than conventionally cooled products. vacuum cooling is used for cooling various food products such as meat products, F&V, baked products, and readymade food. This type of cooling is conducted in controlled conditions, which helps in reducing the impact of microorganisms on food products.
Companies covered
The food industry vacuum cooling equipment market appears to be moderately fragmented with the presence of a considerable number of companies. With all players constantly focusing on improving their revenue shares, the level of competition among the companies in this market is quite intense.  By offering a complete analysis of the market's competitive landscape and with information on the products offered by the companies, this vacuum cooling equipment industry analysis report will aid clients identify new growth opportunities that will improve their positions in this competitive market.
The report offers a complete analysis of a number of companies including:
Aston Foods International
BVT Bakery Services
Dongguan Coldmax
Revent
ULVAC
Weber Cooling
Food industry vacuum cooling equipment market growth based on geographic regions
With a complete study of the growth opportunities for the companies across regions such as the Americas, APAC, and EMEA, our industry research analysts have estimated that countries in the Americas will contribute to the major growth of this market throughout the forecast period.
Food industry vacuum cooling equipment market growth based on application
Baked products
Meat products
Fruits and vegetables
Readymade food
According to our market research experts, the bakery products segment will account for the major growth of the market. The rise in need for baked products with increased quality in consistent volumes is a major factor driving the demand for vacuum cooling equipment from this market segment.