Searle Gf Gas Coolers For Co2 Refrigeration Systems – Smaller Heat Exchanger Tubes For Increased Heat Transfer
Less refrigerant content, a smaller footprint, and significantly reduced weight – Kelvion has enabled all this with its redesigned Searle GF gas coolers for transcritical CO2 refrigeration systems. These gas coolers, equipped with AC or EC motors, profit from the new heat exchangers with tube diameters of only 5 mm. The reduced diameter tubes – which are ideal for CO2 as refrigerant, with its favorable thermal properties – allow cost-efficient solutions for applications with high pressures. Kelvion developed its Micro Tubes with the aid of numerical flow simulation and optimized them in prototype tests in a wind tunnel. These tests revealed that a non-equilateral tube configuration represents an optimal solution. The result is heat transfer that is 18 % greater than the most efficient Kelvion heat exchangers until now. As a result, smaller heat exchanger surface area is required for the same cooling duty – which means in turn a reduction in cost, size, and weight. The use of Micro Tubes and CO2, in addition, reduces the refrigerant charge to approx. half of that in standard coolers. GF gas coolers are available with stainless steel or copper tubes, or with tubes made of copper alloy. Before delivery and installation, the tubes are tested for pressure strength at over 170 bar.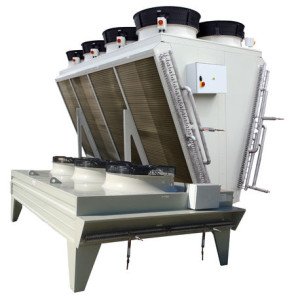 Powerful And Quiet: The Küba Sg Industrial Air Coolers From Kelvion
The Kelvion air coolers of the Küba SG industrial range have been designed for the applications from approx. 5 to 156 kW cooling duty (depending on refrigerant). Their guide vane assure equalized air flow, which enables air throw up to 68 m. In combination with great cooling duty, this allows fast temperature control of freshly stored goods down to the desired temperature. These characteristics make Küba SG industrial air coolers ideal for storage rooms and logistics centers, fast-cooling rooms in slaughterhouse plants, and for cold stores – i.e., for virtually any industrial application in which room temperatures between -40 °C to 45 °C are required. As soon as a reduction in air flow is necessary – e.g., during stocking phases without goods turnover – speed-controlled fans assure sufficient air movement with low energy requirements. Compared to the conventional, non-controlled fan drive system of earlier generators, these fan drives require up to 70 % less power. In addition, these fans are up to 16 dB(A) quieter than previous models. Enhanced heat exchanger geometry and the aerodynamically optimized fan system likewise contribute to greater efficiency. Injection numbers, according to the specific application, result in greater performance under various operating conditions. In areas such as production and logistics of food and beverages, additional characteristics – such as the easily accessible, simply cleaned components – also make positive contributions. The drip tray, for example, is hinge-mounted and the fans can, as option, be swiveled to the side to clean the heat exchanger. This allows free access to the heat exchanger. Küba SG industrial air coolers are available in various sizes and model versions. The user's choices, for example, include the number of fans (1 to 5 are possible), diameters (from 500 to 800 mm), and different types of fin spacing (4.5, 7, 10, or 12 mm).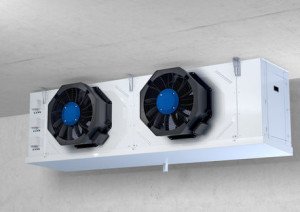 Küba Gastro Slim Fm: Slim Technology For Refrigerated Food And Beverage Display Units
With its range of Küba gastro FM, Kelvion had already included in its portfolio compact, high-performance coolers for refrigerated counters, catering counters, and other refrigerated food and beverage display units. These products could be used at a side wall (with air outlet to one side) or behind the unit center column (with air outlet to both sides). The new range Küba gastro slim FM gets by with even less installation space. It features installation width of only 75 mm and therefore fits behind the center column of virtually any refrigerated counter. The patented air straightener guarantees uniform temperature distribution in refrigerated display units and significantly reduces cool-down times. For application temperatures down to -30 °C it is possible by a simple procedure to retrofit an electric defrost unit. As a result of its high-quality and food-safe powder coating, the Küba gastro slim FM is ideal, even for open-displayed or acidic goods: for example, for marinated food. The unit is available in three model sizes, with cooling duty from 0.11 to 0.23 kW. In the standard model, the units for CO2 are prepared for a pressure level of 60 bar for applications in transcritical ranges and for above-freezing cooling.


Please share the news