Vertical multideck display unit suitable for self-service, a modular and multiplexable solution. This display unit, branded Pastorfrigor, is available in two versions: with and without folding front.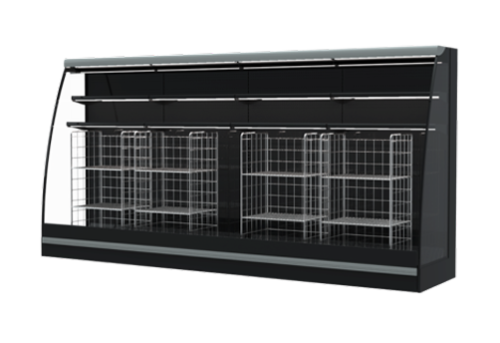 Modules It is a 2-tier shelving unit equipped with non-toxic plastic-material price holder. There is also a further price holder all along the entire lower front panel. The upper lighting is made of a row of LEDs. Technology Climate class performances, according to European Standard UNI EN ISO 23953-2 (class 3 + 25°C and 60% Relative Humidity), are: • 3M2 for cold cuts and dairy products • 3H fruit and vegetables. It is possible to display steel or galvanized-iron trolleys or even wooden pallets of milk directly inside the refrigerated cabinet without front panel. And it helps customer to save considerable time. The version with gas-spring folding front panel, like a car boot, results in a piece of furniture perfectly integrated with the other traditional units in the supermarket. The version with front panel for fruit and vegetables is equipped with a special integrated humidification system which allows continuous humidification by means of specific water-spray valves.






Design

The slim shape of the top has been specifically designed to convey a sense of verticality to the cabinet, allowing an easy integration in the layouts of the large-scale retail channel; its ultra-panoramic side walls allow a wider lateral view on the product.
Please share the news