Global Cooling Expert Cubigel was proud to launch its Energy Savings+ product matrix at the Chillventa Exhibition in Nuremberg, Germany, from 11-13th October 2022. Celebrating the 60th anniversary of the brand, Cubigel joined hundreds of customers and suppliers from around the world to witness the latest R&D achievements focussing on Huayi Group's latest developments and new industry trends of Light Commercial Refrigeration.

This year, when Cubigel celebrated the milestone in the 60th year of its Spanish factory, it officially launched its "1.2.5" new product matrix strategy with its "Energy Efficient+" system solutions.
The Launch of the "Energy Savings+" Product Matrix With a Focus on the "1, 2, 5" Strategy
Cubigel has accumulated decades of experience in the Refrigeration Compressor Industry. As a global refrigeration expert, Cubigel is deeply involved in the refrigeration field and is committed to providing the market with efficient solutions that are superior in performance and more environmentally friendly. A strong brand with 60 years of refrigeration history and customer trust, two innovative ranges and five classic ranges upgradedbased form the "1.2.5" new product matrix strategy for the industry's highly concerned "energy efficient +" .
"1": A Strong Brand With Over 60 Years of Experience
Cubigel has 60 years of industry experience. The brand's "Global Cooling Expert+" status is well established, enjoying worldwide recognition. The "+" conveys the brand's concept. As a strong brand, Cubigel upholds the principle of "reliable products and services, comprehensive product lines, environmental protection, and technological innovation". Combining the enormous advantages of dual R&D centres in China and Europe and global manufacturing bases, Cubigel remains focused on the industry and constantly pursues technological breakthroughs and provides an extremely broad product matrix and comprehensive solutions,
"2" and "5": Two Innovative Ranges and Five Classic Ranges Upgrades
Closely following market trends and new regulations on energy consumption, Cubigel focuses on developing high-efficiency solutions. An example of these includes the Variable Speed Compressor Range combined with R290, which can reduce energy consumption by up to 30% and reduce CO2 emissions. DC Compressor Range and Variable Speed Compressor Range. Among numerous high-efficiency models, the Variable Speed Compressor range has the most outstanding performance and can reduce the energy consumption of devices by up to 30% and reduce CO2 emissions. Environmentally friendly with high performance, DC range products are ideal for mobile applications and medical refrigeration.
The results of Cubigel's unrelenting pursuit of technological breakthroughs are also reflected in improved performance in five classic product ranges. Notably, the S2 range has achieved yet another breakthrough in larger displacement, while the B2,U2,X2, and P2 ranges, with a higher COP, can provide industry-leading performance indicators, comprehensively improving products.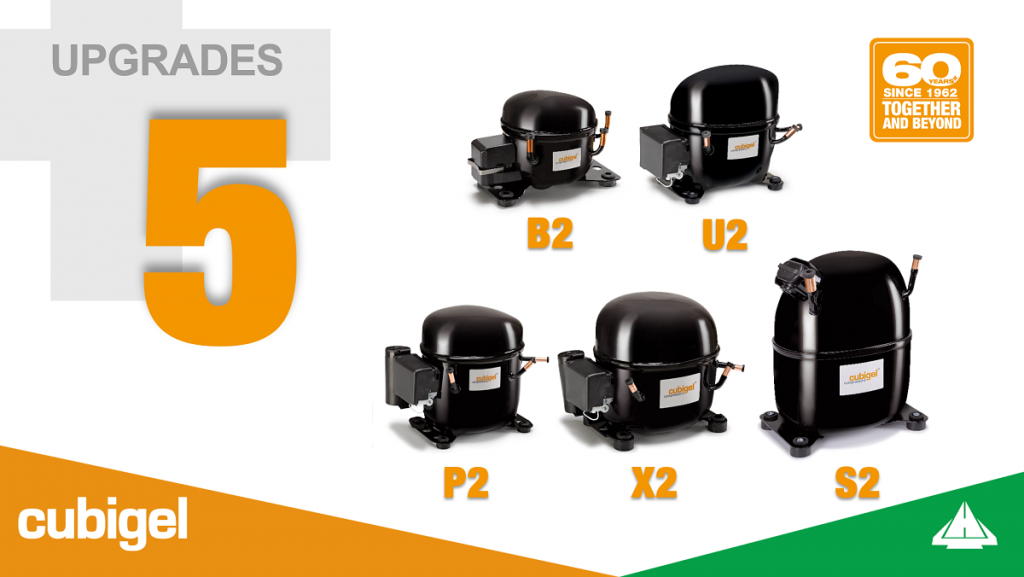 60 Years of Global Trust
At the Energy Savings+ Product Release Conference, Cubigel joined many customers hailing from various countries, in a spectacular event, to witness the latest high-efficiency and energy-saving solutions that are leading the commercial refrigeration industry. During the conference, an in-depth introduction to the latest brand strategy and product range was given under the Cubigel's team, they conducted a detailed technical analysis of Cubigel's latest commercial refrigeration solutions. Afterwards, the conference progressed into the final reception phase, coming to a close in a pleasant and relaxed atmosphere.
Extensive R&D and Supply Chain Development; Unshakeable Industry Status
Over the years and in pursuit of unmediated breakthroughs, Cubigel , relying on its R&D centres and a colossal team of R&D experts, has invested heavily in manufacturing process technology, comprehensive product performance and efficient environmentally-friendly solutions. During the exhibition, Cubigel , as an industry representative, was once again invited to give a magnificent presentation on the latest R&D achievements at the Official Expert Forum. In addition, Cubigel held in-depth discussions with representatives of many research institutions and professional media outlets in the industry.
Due to ever-changing industry challenges, especially the instability of global supply chains in the post-pandemic era, requirements have risen regarding enterprise integration services. Throughout the years, Cubigel's manufacturing centres in China and Europe have built an extremely loyal and strong supply chain with impressive peak season delivery capabilities, serving as a strong backbone to satisfy the demands of a large global customer base.
James Yang, General Manager of Huayi Compressor Barcelona, S.L., stated: The steady development of the commercial compressor industry in recent years is evident to all. As industry leaders, the development of Cubigel is inseparable from the company's 60-year-old European roots and Huayi Group's intelligent and powerful Chinese manufacturing superiority. Only with the integration of Chinese and Western understanding and the adherence to a strategy of steady and sustained development, can the bold objective of everlasting dominance be achieved. Cubigel concentrates its efforts on moving forward, and pursues continuous self-innovation based on industry requirements, thereby ensuring steady and positive contributions to industry development.
Huayi Compressor Barcelona S.L.
www.huayicompressor.es, info@huayicompressor.es
+34 93 710 60 08

Antoni Forrellad, 2 - 08192
Sant Quirze del Vallés
Barcelona - Spain
Please share the article