New products of refrigeration and air condition equipment at AHR Expo 2018
The leading international companies presents new products at AHR Expo, Chicago, Illinois, USA. Read summary in this article.
Calmac
,
Carel
,
Carrier
,
Danfoss
,
Dorin
,
Embraco
,
Emerson
,
Güntner
,
Johnson Controls
,
KeepRite Refrigeration
,
LG
,
Modine
, Parker,
Sanhua
,
SPX Cooling Technologies
Send us
your release about new products at AHR Expo 2018.

Look pictures from AHR Expo 2018
Read more about
Winners of Innovation Award AHR Expo 2018
.
Read more about AHR Expo 2020
CALMAC
Booth 4516
CALMAC Showcases Thermal Energy Storage System Technology at AHR Expo
Attendees of AHR Expo can learn how Kings County Courthouse was transformed into a more sustainable civic landmark with new IceBank energy storage system. CALMAC ice storage tanks are integrated with Trane commercial heating, ventilation and air conditioning (HVAC) systems to take pressure off of the energy grid. The ice storage tanks store energy, similar to a battery, and use that energy to cool commercial buildings during times when the cost of energy is high. This reduces the strain on public utilities, reduces operating costs for building owners and allows for better use of renewable forms of energy. At the expo, attendees can learn about application of the CALMAC system at the new Kings County Courthouse building in Hanford, Calif., which resulted in reducing energy costs by 26 percent, which equates to more than $100,000 in energy savings annually.
CAREL
Booth 5377
Spotlight on wireless connectivity in CAREL's solutions
CAREL presents the American and international markets a number of innovative solutions based on wireless connectivity to simplify human-machine interaction using Applica: CAREL's new smartphone app.
One of the new solutions that CAREL will be exhibiting for the first time at AHR Expo is μChiller, the new controller designed for complete management of air/water and water/water chillers and heat pumps with on-off and/or DC compressors. Its distinctive feature is complete control of high-efficiency units through integrated management of devices such as electronic valves and brushless DC compressors. The range of models includes wireless connectivity with NFC (Near Field Communication) as standard, as well as Bluetooth on dedicated models, allowing interaction with mobile devices using the APPLICA app, making it easier to configure parameters and commission the unit in the field. The solutions to be presented in Chicago also include the première of MPXone, the new CAREL controller for remote showcase management in supermarket applications. MPXone is designed to guarantee all the typical functions of these applications, as well as the possibility to integrate modulating devices so as to cover a wide range of solutions, from entry-level to high-efficiency. Wireless connectivity, using NFC and Bluetooth technologies, revolutionises the way that users interact with the refrigeration units, simplifying operations via a specific app and support on the Cloud. This architecture means that contents, such as parameter configurations and documentation, and user profiles and related access levels, can all be synchronised, thus guaranteeing rapid commissioning.
Carrier
Carrier's Most Efficient Air Conditioner You Can Buy in America Meets the Climate Control Industry at AHR Expo
Groundbreaking energy efficiency, industry-defining technology, and maximum home comfort – Carrier is once again at the forefront of the heating and cooling industry with a residential climate control system capable of never-before-seen efficiency in North America. The new Carrier 9,000 BTUh single-zone ductless system is rated at 42 SEER, making it the most efficient air conditioner you can buy in North America.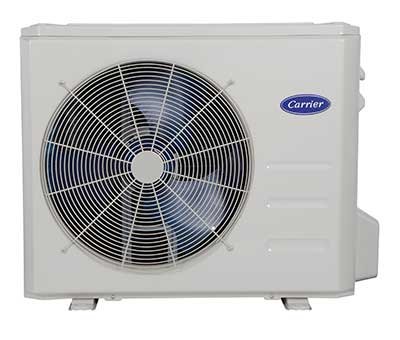 The best-in-class efficiency will help Carrier deliver greater flexibility to customers in colder climates, for example the 9,000 BTUh 42 SEER and 15 HSPF single-zone system can provide 100 percent cooling capacity down to -22 degrees Fahrenheit and 100 percent heating capacity down to -5 degrees Fahrenheit. The innovative system also offers an array of attractive home comfort consumer benefits. Its integrated relative humidity sensor controls humidity using a smart algorithm that targets a user defined humidity level together with temperature set point. This is a first for residential ductless systems in North America giving consumers enhanced operational control and more comfort in their home environment. An infrared sensor detects human movement to further reduce energy usage when a room is unoccupied or by making automatic intelligent decisions for a more comfortable home experience. For example, this function can set airflow to either follow or avoid people in the room or zone the system is conditioning. The system includes Wi-Fi as a standard feature, allowing homeowners to communicate directly with it through any Android or Apple connected device, eliminating the need to buy Wi-Fi accessory kits or third-party connected solutions.
Danfoss
Booth 2510
Danfoss highlights innovative solutions for chiller and rooftop optimization and differentiation
Danfoss showcases its ongoing — and intensifying — investment in the development of innovative high-efficiency air-conditioning solutions. For both chillers and rooftop units, Danfoss remains focused on providing technologies that address evolving energy-efficiency standards, a demand for additional energy savings, the conversion to lower GWP refrigerants, and the expectation of lower applied costs — helping OEMs to reduce system design time and applied costs, and supporting contractors and end users as they seek to minimize operating and maintenance costs.
A significative enhancement is achieved for oil-free chillers with:
Danfoss Turbocor® TTH/TGH high-lift compressors: Featuring the award-winning oil-free, variable speed, magnetic bearing operation of other Danfoss Turbocor® compressors, the new Danfoss Turbocor® TTH/TGH high-lift compressors offer outstanding full- and part-load efficiency, low vibration and sound, a small footprint, and reduced maintenance — while providing an expanded operating map suitable for high-lift applications like air-cooled chillers and heat recovery. Danfoss Turbocor® TTH/TGH high-lift compressors are the recipient of the 2018 AHR Expo Innovation Award, green building category. Danfoss Turbocor® TT/TG Series compressors for low-lift applications and TT Series compressors with R-513A refrigerant option: Danfoss has added to its portfolio of low-GWP (global warming potential) compressors an option to use R-513A, and expanded its operating map range to cover low lift applications for the TT/TG Series compressor family. R-513A is a low-GWP, non-flammable (A1) alternative refrigerant to R-134a that allows chiller manufacturers to meet future HFC regulations. The expanded low lift operating range of the TT/TG Series allows chillers to start and operate at low condenser water temperatures that are common during cold ambient temperature conditions and gives manufacturers the flexibility to eliminate the use of economizers on chillers. In addition, low lift capability allows for greater operating range for air cooled heat pump applications. Extended oil-free portfolio: To enable HVAC professionals to more easily take advantage of the many benefits of oil-free technology, Danfoss has developed the first ever oil-free program — Danfoss EXO. The EXO oil-free program offers a wide range of key components that, together, further enhance the reliability and efficiency of the new generations of oil-free chillers. Danfoss' oil-free portfolio includes ETS C electric expansion valves series; EKE superheat controller; AKS 32 pressure sensors; MPHE and MCHE micro plate and microchannel heat exchangers; MCX system controllers; system protectors such as the DCL filter driers, CHV check valves, GBC ball valves, and ICM controller displays; as well as the pioneering oil-free technology of Danfoss Turbocor® TT, TG, TTH, or VTT compressors. TurboTool® 2.0: Designed for technicians and OEMs, the new 2.0 version of Danfoss' versatile TurboTool® mobile app, available for iOS and Android devices, helps to simplify field service of Danfoss Turbocor® oil-free, variable speed, magnetic bearing centrifugal compressors. Service technicians can use the TurboTool® app to troubleshoot issues and resolve them quickly. TurboTool® also helps users quickly identify spare parts that may need to be replaced. By scanning the compressor serial number with a smartphone camera or by entering the part number or model number, the app can quickly display potential spare parts kits.
For scroll chillers and rooftops, the new developments include:
Danfoss Scrolls with IDVs 50TR: The range of Danfoss scrolls will be extended by early 2019 for air-cooled and water-cooled chillers up to 150 TR per circuit in manifold while traditional designs require quadros and more than two circuits. The technology has demonstrated system-wide energy efficiency gains, especially at part-load, and is widely adopted in the new generations of efficient and cost-effective chillers. Compact compressor dimensions fit standard chiller footprints and match the needs for the next generations of chillers at minimal redesign costs. A wide operating map matches a broad scope of applications. Danfoss Inverter Scrolls VZH: By mid-2018, Danfoss will further extend its range of inverter scrolls to include two new models (8 TR and 10 TR) for higher efficiency and stepless modulation in chillers, rooftops, and close controls. The prequalified compressor and drive package accelerates OEM time to market. IDV technology and permanent magnet motors are key contributors to premium energy efficiency levels. With a unique inverter scroll range from 4 to 26 TR, and up to 52 TR in tandem, Danfoss is striving to support equipment manufacturers' range strategy with best-in-class energy efficiency and precision cooling.
For various types of chillers, the new launches include:
Danfoss MPHE micro plate heat exchanger range with Z-design evaporators have been released to increase capacity and efficiency in chillers covering a range of 10 to 170 TR (using R-410A) in both single and dual circuit systems. Z-design technology offers water chiller and heat pump manufacturers the opportunity to improve the economic and environmental efficiency of their machines. The innovative Z-pattern channel plate technology enhances performance of the heat exchanger by fully mixing liquid and gas refrigeration through a "zigzag" flow. The heat exchangers are compatible with various low-GWP refrigerants. Danfoss ETS Colibri® electronic expansion valves: Designed for precise liquid injection into evaporators, Danfoss ETS Colibri® valves are now available. This new electronic expansion valve is the fastest electric valve, with a range of 20 to 140 tons (R-410A). Combined with Danfoss EKE superheat controllers, ETS Colibri® electronic expansion valves help to ensure low and stable superheat and save on operating costs. Danfoss EKE superheat controllers: Danfoss has introduced a new series of superheat controllers designed to help OEMs develop more efficient chillers faster to reduce development and operational costs by up to 20 percent. The savings are achieved through different dimensions: savings on energy consumption, higher system reliability, and easy installation. The EKE superheat controller delivers adaptive superheat control through several control algorithms. A fast start-up feature ensures optimal superheat in the shortest amount of time and avoids low-pressure cut-out during startup. With tuned-up software, EKE controllers deliver efficiency, ease of use, and system protection while safeguarding an HVACR system. New features in the EKE Series ensures longer compressor life and provide robust protection.
Dorin
Booth 4649 Dorin shows CD500 series for CO2 trans critical compression with motor power from 50 till 80 HP. Ideal for industrial applications and for large commercial applications. Highly efficient compared to HFC and serious and solid alternative to Ammonia and HC. DORIN Open Type compressors with 8 cylinders. Form 100-110VS models. They displace up 2880cm3. The great power for the great need for oceanic fishing trawlers.
Embraco
Booth 2524
Embraco showcases innovation in efficiency for commercial and aftermarket segments
Embraco presents innovative solutions for aftermarket and commercial segments, specially for food services and retail industries at AHR Expo. Attendees are able to see a live demonstration that allows them to interact with the new FMFT Bivoltage Compressor and observe how the compressor works when voltage changes.
As a multinational in the refrigeration segment, Embraco invests annually in its technology DNA to propose new solutions to customers. Daniel Campos, Director of Sales for the commercial segment at Embraco, reinforces: "We are constantly investing in research and development, with 3% to 4% of net revenue going towards creating the most innovative cooling technologies that contribute to people's quality of life. AHR Expo 2018 is an opportunity for the company to exhibit our global experience and expertise with solutions that feature natural refrigerants and how we are changing the industry to provide sustainable and energy efficient products."
Food Retail
: Embraco presents a product display specifically for the food retail market. One of the solutions is the Plug N' Cool, a complete cooling solution, available for cold rooms, reach-in freezers and refrigerators in the grocery and convenience stores and commercial kitchens. It features a modular, drop-in concept that simplifies the installation process and offers flexibility to the store layout. This refrigeration system is a self-contained design that eliminates the need for a machine room, enabling better space utilization for food retailers. Using R-290, this product is in accordance with the Environmental Protection Agency (EPA) and Department of Energy regulations, as well as compliant with the EPA GreenChill program.
Fullmotion
: Embraco showcases the FMFT Bivoltage compressor (FMFT413U), one of the most efficient compressors available today for the light commercial segment. Its variable speed technology improves the temperature control, and has much lower noise and vibration compared to the current solutions. A fast-cooling and energy efficient solution, this product is ideal for ultra-low temperature refrigerators, reach-in coolers and freezers, wine coolers, vending machines, ice cream machines and medical applications.
Aftermarket:
In the United States, Embraco has a specialized staff composed by technical and customer service professionals that supports the market with an expanded array of product lines combined with valuable and convenient service. To effectively compete in the aftermarket segment, the company counts on a main distribution center, located in Atlanta (GA), combined with quality service and relationships with master distributors, wholesalers, contractors and technicians. Through this structure, the company seeks to properly solve customers' existing and unmapped needs.
Residential & Undercounter
: Embraco offers a variety of cooling solutions when it comes to its residential and undercounter customers by providing reliability, durability and efficiency. The new models VESF11C and FMXA6C are ideal for reach-in coolers and freezers and provide temperature stability. The company also uses natural refrigerants for this solutions that are sustainable for the environment.
Food Services & Merchandise
: Embraco's new models SFMFT406U, NJX9260GS, and EMC3134U provide reliability in the food service and merchandiser industry. These new products are extremely energy efficient and include better temperature stability in the refrigerators, and also can be applied in bottle coolers, prep tables, and reach-ins and freezers.
Emerson
Booth 5310
Emerson Booth at AHR Expo to Showcase Tools and Technologies in Comfort, Cold Chain
Emerson's 2018 AHR Expo booth will focus on technology and tools that are redefining comfort, performance and efficiency all over the world. The company will be showcasing solutions in the areas of human comfort, cold chain and contractor support.
Emerson will be exhibiting the latest innovations from its industry-leading brands at AHR Expo booth 5310 in Chicago, including Copeland™, Sensi™, RIDGID®, ProAct™ and ASCO™. Starting Monday, January 22, visitors to the Emerson booth can gain insights into key industry trends and technologies with a series of in-booth seminars and hands-on demonstrations from service engineers, including teardowns of some of our most popular Copeland compressors. The seminars and demonstrations begin at 11 a.m. each day and run at various times over the three days of the show. There will also be seminars conducted in Spanish. For more information on Emerson's plans for the 2018 AHR Expo in Chicago, visit
Emerson's AHR website
.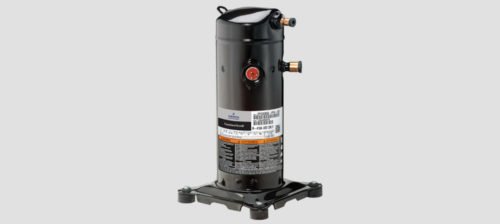 Emerson will be highlighting its AHR Innovation Award winning products, including the winner of the cooling category, Copeland Scroll™ two-stage compressor; honorable mention in the building automation category, Site Supervisor; and honorable mention in the refrigeration products category, Copeland Scroll™ fractional horsepower low-temperature compressor. To help attendees plan their show visit, Emerson is a sponsor of the AHR Expo mobile app, which can be
downloaded
from the show website.
Güntner
Booth 1346 Güntner features products that provide solutions to meet the requirements of the HVACR market, which are products that are more efficient, environmentally friendly and more sustainable than ever before. Products includes Adiabatic Cooling System with hydroBlu technology, which is capable of conserving 70-90% water consumption over traditional systems, and a completely new approach and design for Evaporative Cooling equipment with the ECOSS affordable stainless steel construction for virtually any cooling application.
Johnson Controls
Booth 5349
Johnson Controls showcases advanced HVACR technology
Johnson Controls showcases an expanded heating and cooling product portfolio at the 2018 AHR Expo, Key technologies on display include the Metasys Building Automation System, Verasys Plug-and-Play Controls System and YORK Affinity Variable Capacity Residential Systems (a 2018 AHR Innovation Award finalist). These products are designed to simplify building management, increase efficiency and sustainability, and save time and money, all while keeping occupants comfortable, productive and secure:
The new YORK Affinity Variable Capacity Residential Systems feature inverter-driven variable capacity technology, which dynamically adjusts capacity and airflow, unlike conventional systems that simply turn on or off. Air circulates more precisely and quietly, maximizing comfort while reducing energy consumption. The systems are ENERGY STAR® Most Efficient qualified, featuring up to 20 SEER YXV air conditioners and YZV heat pumps that can reduce energy costs by as much as 50 percent compared to older 10 SEER units.
The new Metasys 9.0 Building Automation System offers substantial enhancements to the Metasys product line, including two new IP/Ethernet-based controllers and user interface (UI) features that make finding critical information and resolving issues easier than ever. The Metasys system also debuts a new, cloud-hosted optimization platform that proactively analyzes building data and an exclusive first look at new integration capabilities.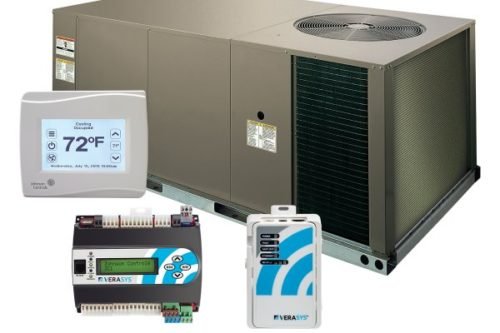 Verasys is the first plug-and-play solution that integrates heating, ventilation, air-conditioning and refrigeration (HVACR) equipment and controls. Designed for light commercial buildings, this controls system provides a simple user experience with configurable controllers that seamlessly connect to a vast array of mechanical equipment, controls and sensors, without requiring any special programming tools.
"By expanding our overall portfolio of HVACR, controls, automation, fire protection and security products, we can now offer our customers a broader range of connected buildings solutions." -- Bill Jackson, president of global products, Building Technologies & Solutions for Johnson Controls.
KeepRite Refrigeration
KeepRite Refrigeration unveils NEW KEP Extended Profile Evaporators. The KEP Extended Profile Unit Cooler line offers a flush to ceiling design featuring internally enhanced tube and patented SmartSpeed technology. A wide range of capacities bridge between our Medium and High Profile Evaporators – offering a smaller footprint than the high profile evaporator yet delivering a sufficient amount of air throw that can be utilized in larger walk-in, warehouse, dock coolers/freezer applications.
In addition to NEW KEP Extended Profile Unit Cooler Line, company showcases Customized Compressor Rack Systems that are engineered and built to match a wide range of application needs.
LG
Booth 7591
LG to reveal three new compressors at AHR Expo 2018
High efficiency LG Rotary compressor show the superior technology of reduced noise and vibration in extensive durability and reliability in order to provide you excellent performance. LG's scroll compressor for commercial refrigeration with a two-stage compressor and rotary compressor for residential HVAC systems.
Modine
Modine to Display Atherion® D Cabinet HVAC Unit at AHR Expo 2018
Cutting-edge HVAC manufacturer presents their latest in HVAC solutions, the new commercial rooftop
Atherion D cabinet HVAC unit.
"The AHR Expo is always a wonderful opportunity to network, admire the technical innovations in our industry, and let others know what Modine Manufacturing has to offer," said Kimberly Raduenz, marketing communications manager for Modine. "In 2018, both the desire and the expectation for more efficient heating and cooling systems will continue to increase in the commercial market. A large, high-volume system with marked efficiency such as the Atherion D cabinet reflects those current demands, and we encourage everyone at the show to stop by our booth and see the unit first-hand." The Atherion D cabinet is designed to double the cooling capacity and almost triple the gas heating capacity of the current product range. It will expand the successful product line's ranges to:
Airflow Range (CFM) - 4,000 to 18,000 for Cooling Ratings (Nominal Tons) 30 to 60
Heating Rating in MBH - 400 to 1,600
Heating Rating in kW - 40 to 200
Parker
Booth 4936 The Sporlan Division of Parker Hannifin Corporation announced the launch of its FR Series thermostatic expansion valves (TEV) for smaller capacity refrigeration cases, reach-ins, and other food service applications. The modulating thermostatic expansion valves precisely control superheat under varying loads and conditions. Maintaining precise superheat control improves operational efficiency and can lead to reduced refrigerant charge and equipment cost due to evaporator optimization.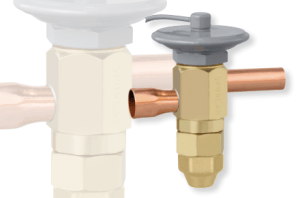 With nominal tonnage capacities of 1/10 and 1/16 tons, these new valves enable micro-system optimization, offsetting the effects of LED lights, improved insulation and doors, and smaller anti-sweat heaters — increasingly used in today's refrigeration cases — which can lead to reduced load. The new valves' selective thermostatic charges provide application-specific superheat optimization for enhanced system efficiency that cannot be matched. Plus, FR Series thermostatic expansion valves work with all common refrigerants such as R-404A and many new refrigerants such as R-290, R-448A or R-449A. Ongoing regulatory changes impact both manufacturers and end users of large and small refrigerant cases and reach-ins. With the ability to maintain target superheat under varying loads and conditions – unlike capillary tubing — FR Series valves offer increased energy efficiency to meet pending regulations, while minimizing cost and refrigerant charge. This eases the transition to low global warming potential (GWP) or natural refrigerants and helps meet refrigerant charge restrictions when using flammable refrigerants such as propane (R-290).
Sanhua
Booth 6320
Sanhua displays its latest in valve and micro-channel technology
Sanhua International displays its latest in electronic valve technology, showcasing the HDF series solenoid valves and VPF series electronic expansion valves, additions to the microchannel lineup and its Green Tech Line at the 2018 AHR Expo.
The HDF series solenoid valves are piston type, pilot operated, and are designed for use in all air conditioning and refrigeration systems. HDF valves feature a hermetically sealed valve body with double-sealed coils for water tightness. Its unique click-on coil can be supplied with DIN connector, lead wires, and/or junction box. The VPF series electronic expansion valves feature a stainless-steel body, built-in strainer to protect from clogging, and bimetal connections to ensure efficient brazing. Available in a capacity range of 12.5 to 400 tons, the VPF also offers an optional sight glass. The Sanhua Green Tech Line for hydrocarbon (HC) refrigerants such as propane (R290)/isobutane (R600a) use includes electronic expansion valves, thermostatic expansion valves, reversing valves, check valves, ball valves, and solenoid valves. Microchannel heat exchangers, which help improve system efficiency, are available with both evaporator and condenser. Additional system components such as filter driers, pressure transducers, and sight glasses round out the line. And whether working with subcritical or transcritical R744 applications, the Sanhua Green Tech Line offers stainless-steel ball valves and check valves, along with two series of electronic expansion valves designed for subcritical and transcritical applications. Sanhua is a world leader in microchannel solutions, providing more than 1.5 million units annually to the global heating, ventilation, air conditioning, and refrigeration (HVAC&R) industry. The standard Sanhua line includes slab and bend-radius condenser coils, as well as 1-row slab coil and A-coil designs for evaporator use. Applicable for all standard hydrofluorocarbon (HFC) and HC refrigerants including R290, the Sanhua microchannel heat exchanger line covers a wide capacity range of applications for both air conditioning and commercial refrigeration.
SPX Cooling Technologies
Booth 4720
SPX Cooling Technologies Inc. showcases its latest innovations in cooling towers and components
SPX Cooling features the new Marley MD Everest counterflow cooling tower, which offers over 85 percent more cooling capacity compared to other preassembled counterflow towers. Also featured is the Marley NC Everest™ crossflow cooling tower, Marley LW fluid cooler, Recold V Tech adiabatic cooling system, MarleyGard™ water management products, and Marley controls and aftermarket components. Compared with field-erected alternatives, the MD Everest tower delivers 60 percent sooner and installs 80 percent faster. At 2500 tons, the MD Everest tower is an ideal one-to-one match for some of the largest chillers. The Marley NC Everest cooling tower also takes cooling to a higher level, with 50 percent greater cooling capacity than other preassembled crossflow cooling towers. Its innovative design minimizes piping and electrical connections to reduce installation costs, and offers unrivaled interior access for easier and safer inspections and maintenance. Additionally, the NC Everest Cooling Tower uses up to 35 percent less fan power for higher energy efficiency. Also on display are new MarleyGard water management products designed to help support implementation of effective cooling tower water management plans, new cooling tower control systems and a range of aftermarket components including new replacement heat transfer media systems that speed installation.
Please share the article