Read overview about new products of refrigeration and air condition equipment at AHR Expo 2019
The leading international companies presents new products at AHR Expo in Atlanta, Georgia, 14-16 January.
Bacaharach
,
Carrier
,
Emerson
,
Johnson Controls
,
Modine
,
SPX Cooling Technologies
,
Tecumseh
.
Read more about
AHR Expo 2019
,
AHR Expo Announces 2019 Innovation Award Winners
.
Send us
your press release about new products for refrigeration at AHR Expo 2019.
Look pictures from AHR Expo 2018
and
AHR Expo 2019
Read
more about AHR Expo 2020
Bacharach
Booth B2238
Bacaharach is excited to be showcasing extensive range of gas detection instruments at the 2019 AHR Expo in Atlanta, Georgia. At this year's conference, industry professionals in search of new products will find a new safety-compliant product series, the MGS-400 Gas Detection Series, being introduced at our booth.
The 2019 expo will also mark the North American debut of the MGS-400 Gas Detection Series for commercial and industrial refrigerant and gas leak monitoring applications. The MGS-400 series supports safety compliance inside of machinery rooms, chiller plants, cold storage facilities and walk-in freezers by monitoring for dangerous refrigerant leaks.
Enhance refrigeration efficiency, environmental protection and reduce the cost of repairing leaks with refrigerant monitors that detect levels of low as 1 ppm. Our leak detection products protect valuable produce and deliver efficient refrigeration. With the high cost of refrigerants being driven by increased regulation and supply shortages, the Bacharach refrigerant monitors can provide a positive ROI in a matter of months.
Multi-Zone Refrigerant Monitor
The Multi-Zone supports low-level refrigerant leak detection, enabling supermarkets & other high-volume refrigerant to find small leaks before they cause big problems.
Features include:
1 ppm minimum detection level (MDL)

Accurate detection of 60+ refrigerants

Automatic sampling of up to 16 zones
PGM-IR Portable Refrigerant Monitor
The most powerful, most accurate portable leak detector available, the PGM-IR allows refrigeration contractors to quickly locate and quantify small refrigerant leaks.
Features include:·
1 ppm minimum detection level (MDL)

Real-time ppm display quantifies leaks for 60+refrigerants

Unaffected by sudden changes in temperature & humidity
Carel

Booth B2255

Carel USA Inc, will be presenting their latest evolution of connected efficiency solutions focused on improving energy savings and connectivity for a wide range of applications in the HVAC/R industry at the AHR Expo in Atlanta.
CAREL will feature a wide range of the most advanced technologies and innovative solutions based on wireless connectivity using Applica, Carel's new smartphone app, to simplify user interaction.
Highlighted solutions include:
HEEZ,CAREL's solution for the control and management of beverage coolers, guaranteeing high energy efficiency and great performance while reducing the environmental impact. HEEZ encompasses the use of Carel's innovative technologies such as a variable capacity rotary Compressor, BLDC Inverter, electronic expansion valves, and variable speed evaporator and condenser fans, encouraging a fully modulating system that guarantees the best efficiency in the refrigeration cycle. CAREL will also be presenting the HEEZ on Tuesday January 15th in Theater A – Room C101 at 2:35pm during the expo.
HEOS Sistema, a waterloop refrigeration system enabling energy savings and refrigerant charge reduction for supermarkets. This high-efficiency solution is now available with natural refrigerants, specifically CO2 and propane. Energy efficiency, better food preservation quality, accurate control of cabinet temperature, fast installation, flexible design and predictive maintenance are the most interesting benefits of Heos Sistema.
μChiller, the Carel solution for complete control of chillers whether with traditional fixed speed compressors or high efficiency units employing integrated management of devices such as electronic expansion valves and variable speed compressors. The application features more than 50 models of BLDC compressors by different manufacturers, all tested and certified by CAREL in its laboratories. Utilizing Applica, the commissioning and service process has never been easier with configuration right from a technician's smartphone.
Also, present is a solution offering for residential applications; variable speed compressors, electronic expansion valves ensure energy efficiency, and controls compatible with the latest generation of natural or low-GWP refrigerants. Capped off by the peace of mind that health and comfort is provided by whole-home isothermal humidification.
Carel's extensive mission critical knowledge will be on display, meeting the performance and energy requirements for data center's of any size. Ultrasonic and high pressure atomizing technologies are used to provide adiabatic humidification and evaporative cooling solutions, humiSonic and humiFog, allow mission critical design engineers to take advantage of wider envelopes in ASHRAE 90.4, while protecting against electro-static discharge (ESD) and enjoying reduced energy consumption. Carel programmable control solutions enables OEMs to take advantage of energy savings technology; variable speed compressors, electronic expansion valves and OEM kit humidifier solutions for any type of mission critical equipment.
Carrier
Booth B2619
Carrier will be in Atlanta from Jan. 14-16 at AHR Expo* introducing its latest equipment, software and training in Booth B2619. The three-day show not only reinforces the latest in Carrier technology, equipment and controls, it is an opportune time to engage with customers face-to-face. The ability to connect with customers and get in-person feedback emphasizes that together, Carrier and its customers are at the heart of intelligent buildings.
The equipment and technologies that will be on display include:
Products:
EcoBlue Technology in select models of WeatherMaker and WeatherMaster rooftop units. EcoBlue Technology has been designed to improve performance and efficiency while decreasing maintenance and installation costs.
The first rooftop product line specifically designed using VRF technology.
New higher-efficiency options for larger rooftop units in 20-ton and higher capacities.
Energy recovery ventilator options in large air handler units.
New ways to leverage the power of data from customers' i-Vu® building automation system to help improve energy performance across buildings.


Daikin
Revolutionary products and experiences are at the center of Daikin's presence at this year's AHR Expo. The Daikin booth will highlight new, advanced residential and commercial HVAC equipment for providing superior air to end-users. Daikin's Innovation Roadshow trailer also made the trip to Atlanta, and is featured as an interactive demonstration of Daikin's industry-leading commercial HVAC solutions, for show attendees to experience Daikin's advanced technology first-hand.
Debut of new Daikin One Ecosystem
With the introduction of the Daikin One ecosystem, Daikin is up-ending the status quo in the HVAC market, where players have been conservative in adopting IoT technologies and, until recently, relegated leadership in the smart thermostat category to consumer electronics brands. At the heart of the new Daikin One ecosystem is the new Daikin One+ smart thermostat, engineered to communicate seamlessly with all Daikin One ecosystem components, including the new Daikin Fit condensing units, Daikin One air cleaners, and communicating furnaces and evaporator coils.
The new Daikin One+ smart thermostat is the first smart thermostat to offer full two-way communications and serves as a cloud-connected hub and controller for sophisticated, communicating HVAC systems. In combination with Daikin's smart inverter HVAC systems, such as the new Daikin Fit systems, the Daikin One ecosystem of indoor air quality modules provides an unparalleled, integrated solution for temperature control and air quality. It allows people to "Visualize the Air" inside their home and reacts on cues to provide a premium indoor air environment. That's "Air Intelligence."
The Daikin Fit system provides a cost-competitive condensing unit in the mid-efficiency category with clear design and performance advantages. Daikin Fit condensing units are engineered with high performing, quiet inverter compressors and side discharge cabinet designs that are smaller, lighter and quieter than traditional residential unitary outdoor condensing units and provide efficiencies up to 18 SEER.
New VRV products from Daikin include the following:
The VRV LIFE system is the industry's first single phase VRV heat pump with optional gas furnace connectivity for residential applications. The system offers solutions to some of the traditional HVAC challenges for single-family applications. The slim, quiet, inverter-driven VRV LIFE system outdoor unit can accommodate up to nine indoor units with multiple ducted and ductless styles for design and application flexibility. All indoors can be controlled and integrated using Wi-Fi based controls.
New VRV IV X Heat Recovery System
Daikin's new VRV IV X heat recovery systems adapt Daikin's industry leading VRV technology to the unique North American HVAC market. VRV IV X is the industry's first VRV system to be engineered and assembled in North America. VRV IV Xsystems are packed with features that provide solutions to traditional commercial HVAC challenges of North America. VRV IV X heat recovery systems are engineered with features that provide ease of configurability and optimal total life cycle cost for multi-phased installations and buildings with changing applications. VRV IV X systems are the industry's first dual fuel, 3-phase, VRV systems. The ability to integrate VRV IV X systems with Daikin communicating gas furnaces provides a choice of heat pump or gas heating. The VRV IV X systems are also the first in the industry to simultaneously launch 208/230V, 460V, and 575V systems.
Other new applied products from Daikin include the following:
OptiLine Hydronic Vertical Stacked Fan Coil
With the smallest footprint in the industry, Daikin's new OptiLine™ is the ideal solution when livable space is at a premium. Engineered for high-rise apartments, office buildings, dormitories, and hotels, OptiLine provides new levels of quiet, comfortable, and economical heating and cooling in a very slender package. Daikin engineers designed OptiLine to efficiently condition air from 300 to 1200 cfm, optimally matching a building's space restrictions and efficiency needs.
PreciseLine Large Capacity Blower Coil
Daikin's large capacity horizontal blower coil affordably conditions air to precise levels up to 5000 cfm, designed to match a building's air handling demand at a blower coil price point. PreciseLine offers a wide range of standard features that sets this blower coil above the rest. Standard double-wall foam construction provides high energy efficiency and budget-minded lifetime performance, all while conditioning air for large spaces in a small package to meet a wide range of building designs.
Daikin Applied Rebel® Commercial DOAS with CORE® Enthalpy Energy Ventilator
DOAS with CORE pairs the ultra-high efficiency of Rebel's inverter compressor, which maintains extremely consistent tempering of the ventilation air, with energy savings of the CORE's full enthalpy heat exchanger, to provide clean, cool, dry air to the occupied space. The perfected combination of these technologies allows the HVAC installer to provide the highest quality of conditioned fresh air for most applications while not having to compromise energy efficiency.
Daikin Intelligent Solutions®
Daikin's Intelligent Equipment connects directly to 150 points on rooftop units and 350 points on air-cooled chillers to monitor energy consumption at the equipment level for deeper, more accurate performance measurement. Daikin Intelligent Systems® can connect up to 127 total devices in a system, with easy-to-use controls, to achieve high performance and efficiency at a building system level.
Air-cooled and water-cooled chillers with advanced compressor technology
Daikin's Pathfinder® (air-cooled) and Magnitude® (water-cooled) chillers are both available with compressor technology to maximize efficiency. Magnitude chillers are up to 40 percent more efficient than standard centrifugal chillers with oil-free, magnetic bearing compressor technology. Pathfinder AWV features the industry-first Variable Volume Ratio (VVR®) technology which allows the chiller's compressor to optimize performance for every condition and at every hour of the day, significantly improving efficiency levels.
100 percent outside air water source heat pumps
Daikin's SmartSource DOAS 100 percent outside air water source heat pump offers superior discharge air temperature and humidity control at an economical price. Its unique design allows for 100 percent outside air heating down to 0°F entering air without the use of pre-heat.
Emerson
Booth B2219

Emerson will be showcasing its solutions and award-winning products at the 2019 AHR Expo in the areas of human comfort, cold chain, professional tools and building infrastructure. The company's focus at AHR Expo will be on technology and tools that are redefining comfort, performance, safety, and efficiency in the HVACR industry.
Emerson's booth will feature its AHR Innovation Award-winning products in the booth, including the Refrigeration category winner, the Copeland Scroll™ fractional-horsepower, low-temperature compressor. Emerson had four finalist products that will be showcased in the booth, including:
Supervisory Controls (Building Automation category)
White-Rodgers™ Universal single stage furnace control for ECMx blower motors (Heating category)
RIDGID Press Booster & Rings for MegaPress® XL (Plumbing category)
Sensi™ Multiple Thermostat Manager (Software category)
Emerson's presence at the show will include its new professional tools portfolio, now expanded by the 2018 acquisition of the Greenlee and Klauke brands. Along with its RIDGID brand, Emerson provides a broad and durable line of tools built to help mechanical, electrical and plumbing contractors boost productivity.
Starting Monday, January 14, visitors to the Emerson booth can gain insights into key industry trends and technologies with a series of in-booth seminars. The seminars will begin at 11 a.m. each day and run at various times over the three days of the show. There will also be seminars conducted in Spanish.
Emerson will be exhibiting the latest innovations from its leading brands, including ASCO, Bettis, Copeland, Fisher, Greenlee, Keystone, Klauke, ProAct, RIDGID, Sensi, Therm-O-Disc, Vanessa, and White-Rodgers.
Johnson Controls
Booth B1617
The company will showcase innovative approach to smart product offerings.
Johnson Controls' global offerings of advanced technologies and energy-efficient, sustainable equipment will be on display at the 2019 AHR Expo.

The new and enhanced products demonstrate a coalescence of technology and innovation, giving customers greater insights into their buildings through powerful, integrated solutions. In addition, the equipment offerings will help customers lower costs and decrease energy use.

Key offerings to be featured include:

Metasys® 10.0, an innovative building automation system, is designed to deliver more unified building management. It provides facility personnel with smarter building automation, faster responses to critical alarms and new integrations with fire detection, security and lighting systems – all with visibility from a common, intuitively designed interface.

Johnson Controls® NexusPremier™ 25-50-ton commercial rooftop units combine the flexibility of an applied system with the value and simplicity of a rooftop unit. These feature-rich units include class-leading standard efficiency models that comply with stringent DOE 2023 energy efficiency standards with options to meet 2019 CEE highest tier ratings for each tonnage.


The YORK® Predator™ Series offers a third tier of efficiency for its commercial rooftop units. The 6.5-12.5-ton ultra-high efficiency commercial rooftop units deliver maximum operational efficiency by combining advanced energy management with simplified serviceability. Units feature an IEER rating of up to 21.2 and comply with advanced building code requirements for three stages of cooling in variable air volume operation.

Johnson Controls-Hitachi Air Conditioning is introducing several new products, including the Hitachi Water Source Variable Refrigerant Flow (VRF) heat pump and heat recovery cooling and heating systems. These exceptionally energy efficient systems are ideal for compact spaces such as high-rise condos, apartments, office buildings, and other locations where outdoor placement is challenging.
Johnson Controls will announce a new development with the YORK® YZ Magnetic Bearing Centrifugal Chiller. Launched in early 2018, the YZ is the first chiller fully optimized for ultimate performance with a next generation low-global warming potential (GWP) refrigerant. The YZ offers outstanding efficiency, an impressive operating map, sustainability and a low total cost of ownership. YORK will also showcase its line of absorption chillers, which use only a natural refrigerant (water), are driven by waste or low-cost heat, and use an innovative two-step evaporator-absorber requiring less energy input. YORK's line of YLAA air-cooled scroll chillers will feature two new models that offer smaller footprints with increased efficiency.

Johnson Controls Enterprise Management (JEM) is an open, comprehensive analytical platform with cloud-based versatility that proactively analyzes building data across an enterprise. JEM helps find opportunities for improved performance, pinpoint inefficiencies to reduce energy costs, identify and diagnose equipment problems, and take corrective action to fix them.

Johnson Controls will debut the Inspiration Deck, located on the second story of a double-deck structure in the middle of its booth. The deck will tell the inspirational Johnson Controls' story, primarily featuring its investment in building an ecosystem of digital solutions and unified building management systems. In addition, the booth will feature a presentation theater, where subject matter experts will present on a variety of industry-related topics, including innovations in building management technology, sustainability, advancements in chiller systems, and using data to optimize building operations.
Modine Manufacturing Company

Booth B3467
Modine Manufacturing Company will showcase its Atherion Commercial Packaged Ventilation Unit, Airedale ClassMate Single Packaged Vertical Unit Ventilator, and Effinity unit heater with options for compatibility with major building management systems such as BACnet MS/TP or IP and LonWorks at the 2019 AHR Expo, Jan. 14-16 in the Georgia Congress Center in Atlanta.
Product features include:
The Atherion Packaged Ventilation unit is designed for high moisture removal efficiency (MRE) in 100 percent dedicated or high outside air system (DOAS/HOAS) applications.
The Airedale ClassMate is designed and engineered to meet the needs of today's classrooms with greater efficiency, noise reduction, superior unit operation, and ease of serviceability and installation.
The Effinity unit heater is one of the most-efficient, gas-fired, condensing unit heater in North America and is available in 10 model sizes, from 55,000 to 310,000 BTU/hr.
SPX Cooling Technologies
Booth B1415
SPX Cooling Technologies, Inc., a full-line manufacture of evaporative cooling towers and air-cooled heat exchangers, showcases its latest cooling towers and components and presents 20-minute education sessions at the International Air-Conditioning, Heating, Refrigeration Exposition (AHR Expo).
SPX Cooling features the new Marley DT fluid cooler, which includes finned coil options that increase thermal capacity. Also featured is the Marley NC Everest crossflow cooling tower and Marley MD counterflow cooling tower, Recold V Tech adiabatic cooling system, MarleyGard™ water management products, and Marley controls and aftermarket components. On Jan. 14 and 15, SPX booth visitors can attend Marley School of Cool short sessions on Cooling Tower Fundamentals, Crossflow vs Counterflow Tower Design, Cooling Tower Sound Levels, and Variable Flow for Energy Savings. School of Cool attendees will receive a certificate of completion for continuing education tracking.
On display is a Marley DT fluid cooler, an induced-draft counterflow product, which offers higher dry operation capacity in cool weather than fill/coil hybrid coolers, delivers lower fan energy costs compared to forced-draft coolers, and reduces system components compared to combination open tower and plate heat exchanger (PHE) systems. The expanded DT fluid cooler line includes models with finned coils that expand thermal performance and permit dry operation during a broader range of ambient temperatures. The new models can more effectively reject heat without evaporating water, reducing costs associated with water usage, water treatment and pump energy.
Compared to other factory-assembled counterflow towers, the Marley MD Everest cooling tower offers nearly three times more cooling capacity per cell. Its unique design, with fewer components, reduced piping and minimal electrical connections, decreases installation and maintenance costs while providing energy savings. Compared with field-erected alternatives, the MD Everest tower delivers 60 percent sooner and installs 80 percent faster. At 3790 tons, the MD Everest tower is an ideal one-to-one match for some of the largest chillers.
The Marley NC Everest cooling tower also takes cooling to a higher level, with 50 percent greater cooling capacity and higher energy savings than other factory-assembled crossflow cooling towers. Its innovative design reduces installation costs, and offers unrivaled interior access for easier and safer inspections and maintenance. Additionally, the NC Everest Cooling Tower uses up to 35 percent less fan power for higher energy efficiency.
The Recold V Tech adiabatic cooling system is designed for halocarbon refrigerant condensing and CO2 gas cooling applications in supermarket refrigeration systems. It provides lower energy usage and a smaller footprint than an air-cooled condenser and up to 60 percent or more reduction in site water usage compared to an evaporative condenser. The Recold V Tech enhances the utility of an air-cooled system with the efficiency boost of a wet system during peak conditions. Evaporative pads precool air only on peak days and coils remain dry to maintain efficiency and life expectancy.
Also on display are a range of cooling tower control systems and aftermarket components, including new replacement systems for heat transfer fill media.
Tecumseh
Tecumseh Products Company LLC will unveil Tecumseh ARGUS, a next generation of air cooled low and medium temperature condensing units with both indoor and outdoor options for the North American market.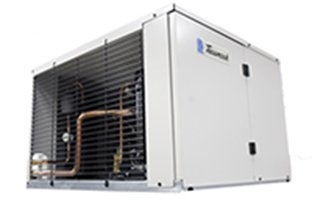 Tecumseh Products Company LLC will showcase Tecumseh ARGUS at AHR Expo. Tecumseh ARGUS is a next generation of air-cooled, low and medium temperature condensing unit platform focusing on ½ to 6 HP capacities. Tecumseh ARGUS is designed with building owners and service technicians in mind and provides unmatched performance, sustainability, serviceability and flexibility. Its performance is optimized around HFO-blend refrigerants and exceeds DOE's AWEF requirements by up to 15% in the capacity range of ½ to 6 HP. It is first to the market in exceeding the AWEF requirement for hermetic reciprocating compressor condensing units for 1.25 HP or less. Tecumseh ARGUS is ideal for walk-in coolers and freezers and provides restaurants, grocery, convenience stores and other food-service and retail establishments unmatched performance and configurability from a compact environmental footprint.
Tecumseh ARGUS is a next generation platform that delivers sustainable solutions. It is optimized specifically for HFO-blend refrigerants while also applying either coated micro-channel condenser coils that can reduce overall refrigerant charge, or conventional tube and fin condenser coils. Applying a swept fan blade assembly option, ARGUS is extremely quiet compared to conventional fan blade and motor combinations meeting the growing requirement in LEED or WELL buildings that require improved indoor environmental quality.
"By applying a combination of reciprocating and scroll compressor technologies, we have developed Tecumseh ARGUS with serviceability for contractors and building owners in mind.", Wilson said. Three chassis sizes were developed with a simplified layout, allowing ease of accessibility without removing the top of the enclosure and is equipped with LED lights in the service panel which provide visibility in any situation. A QR code on the inside of the service panel door enables a technician to easily access wiring diagrams, performance data, service part lists and our world-class technical service team.
The drastically improved assembly of the platform comes from a design that reduces braze joints by 25%, fasteners on average by 25% and product weight on average by 20%. Combine this with a new cell-based assembly line that enhances production quality and reduction in potential warranty returns and this is a long-lasting product meant to withstand the toughest environments in the field.
Find supplier company or brand of refrigeration equipment on our online directory.
Please share the article