The leading HVAC&R companies will present new products at Mostra. Read on our website summary about new products and technologies for refrigeration at MOSTRA CONVEGNO EXPOCOMFORT 2018.
Bacharach, Bitzer, Carel, Climaveneta, Danfoss, Dorin, Eliwell, Emerson, Mitsubishi Electric, Sanhua


Bacharach
Hall 3, Stand L59
Bacharach to exhibit refrigerant leak detection solutions with their partner DECOSTA, S.p.a. Bacharach will be exhibiting refrigerant leak detection solutions including portable and fixed refrigerant leak detection for high performance, mechanical room safety and occupant safety in VRF/VRV environments. Bacharach's refrigerant leak detection products support 1PPM detection for over 60 refrigerants and other gases enabling grocery stores and cold storage providers to detect extremely low level leaks quickly, to reduce refrigerant loss and energy consumption, and to avoid food spoilage.
Bitzer
Hall 24, Stand H29 K30
BITZER will show its new products at the Mostra Convegno trade fair in Milan: the CSH.6 series, which includes the new high-efficiency model of BITZER's proven compact screw compressors.
The new BITZER CSH.6 series is designed for highly efficient air-cooled liquid chillers suitable for operation with R134a or the HFO/HFC blends R513A and R450A as well as the HFO refrigerants R1234yf and R1234z(E). The compressor specialist is expanding its service range with this highlight at Mostra Convegno 2018 in the field of compact screw compressors: as a variation of the proven CSH.5 models, the CSH.6 series is designed for use with low-GWP refrigerants and optimised for the ambient temperature profile specified by the Ecodesign Directive for liquid chillers. It boasts exceptional refrigerating performance and impressive seasonal energy efficiency ratios (SEER), helping OEMs to comply with legal requirements. The application limit of the CSH.6 series is tailored to air-cooled liquid chillers for comfort air-conditioning and is characterised by adjusted oil management, economiser operation in full-load and specially adapted Vi in part-load operation.
World debut: BITZER showcases ORBIT+ with high efficiency motor and ORBIT FIT with economiser technology at Mostra Convegno 2018
The new BITZER ORBIT+ models enable system manufacturers to fulfil the requirements of the European Ecodesign Directive. They are equipped with a line start permanent magnet motor, which achieves unmatched efficiency levels that improve the seasonal performance (SEER/IPLV) by up to 8 per cent while also increasing cooling capacity by up to 5 per cent. Additionally, ORBIT+ compressors can replace or be combined with standard ORBIT models without redesigning the system significantly. Tandem and trio combinations can be easily tailored towards system capacity and efficiency targets according to the customers' specific needs and annual load characteristics. BITZER ORBIT scroll compressors operate at peak efficiency despite demanding conditions, helping to reduce system footprints thanks to their compact size and unique compound solutions. So far, users have been able to choose from two families: ORBIT 6 and ORBIT 8. For increased market requirements, such as the F-gas Regulation and Ecodesign Directive, BITZER has developed the new ORBIT FIT (Flexible Injection Technology) series with economiser technology
Carel
Hall 22. Stand A31 - A41
CAREL will be focusing the spotlight on its IoT range, exhibited in its entirety for the very first time. With this platform, CAREL guarantees a new unit-interaction experience through the use of cloud services. These services include APPLICA, the mobile app designed for the latest generation of smart controllers with integrated NFC and Bluetooth® connectivity. Configuration and optimisation of unit set-up are made simple and intuitive by the combination of smartphone application and web portal, allowing configurations and graphics to be managed flexibly and always kept up-to-date.
The new products on show at Mostra Convegno also include MPXone, CAREL's latest controller for food retail refrigeration units. MPXone stands out for its extensive connectivity options that simplify human-machine interaction using APPLICA. MPXone also comes with several energy saving features that can even be activated in simple applications, allowing management of the most innovative high-efficiency modulating devices. As regards integration, CAREL will also be showcasing k.water & k.air, the new range of products for integration, control and monitoring of HVAC systems. These easily-configurable controllers are designed to manage every part of the system: from heating and cooling generation to fluid distribution circuits, domestic hot water, solar capture and air-conditioning and ventilation systems. The complete architecture seamlessly integrates all available devices, from field devices to local and remote supervisors, exploiting the Ethernet connectivity and the most widely-used building automation protocols, Modbus® and BACnet™™, over both IP and RS485 networks. At the CAREL stand, ample space will also be devoted to solutions for chillers and heat pumps. The innovations presented in this area include μChiller, the solution for complete management of air/water and water/water chillers and heat pumps with on-off and/or DC compressors. The distinctive element of μChiller is complete control of high-efficiency units through integrated management of devices such as electronic expansion valves and brushless DC compressors. This ensures greater compressor protection and reliability and, at the same time, high unit efficiency. For cold rooms, at MCE CAREL will be premiering DC Cella SPLIT, the new, high-usability integrated system with DC inverter technology and compatible with CO
2
refrigerant. Created by combining the features of technologically-advanced solutions (HECU, UltraCella and EVD Ice) and enhanced by CAREL's system approach, DC Cella SPLIT is a solution that guarantees high performance, maximum usability and special focus on simplifying installation, configuration and use. Energy savings of up to 25% and excellent quality control of the stored products are just some of the main benefits for end users, in addition to extremely simple installation and maintenance. At MCE CAREL will also be exhibiting boss mini, the new system supervisor that meets the needs of commercial refrigeration, datacenter and light commercial HVAC applications. boss mini comes with the same usability and connectivity features, as well as the typical user experience of boss, all now available in a new, more compact solution, and suitable for all system sizes. From one single access point, boss mini monitors the site in real time, using maps and intuitive displays to show data on all the refrigeration and air-conditioning units, lighting and energy consumption. Air humidification solutions will be also be an important part of the offering on show in hall 22, stand A31-A41. These include a preview of gaSteam, the upgraded range of gas-fired humidifiers. Now also available in the outdoor version, gaSteam can be used when there is no free space available indoors. The c.pHC controller's connectivity options increase the humidifier's flexibility and simplify communication with external systems. gaSteam is also IoT ready, and is equipped with pGDx, the 4.3" touch display designed to enhance the user experience. Alongside gaSteam will be the new heaterSteam titanium, that will be the world's first humidifier with a pre-configured predictive maintenance solution available in the IoT suite of services. Data monitoring and analysis in real time on dedicated dashboards will guarantee efficiency and service continuity. CAREL's high-efficiency solutions for natural refrigerants, finally, complete the offering exhibited at MCE. These include above all the complete range of EmJ modulating ejectors, pRack pR300T and the pR multi DC controller, the first controller that can manage multiple DC compressors on the same line. Plus the upgraded version of Heos, expanded to manage different solutions both using CO
2
and propane, and Heez, CAREL's solution for refrigerated merchandisers.
Climaveneta and Mitsubishi Electric
Hall: 13, Stand E29 G12
Since Mostra Convegno is the most important HVAC+R and energy efficiency global event and showcases the most advanced technologies, solutions, and systems for smart buildings with a strong focus on comfort and energy efficiency, Mitsubishi Electric Hydronics & IT Cooling Systems S.p.A. will present the most innovative, performing and eco-friendly Climaveneta products for Comfort and RC energy efficient solutions for IT cooling applications. Specifically, in the area dedicated to Comfort, new Climaveneta products will be presented, including the latest solutions for residential comfort: the new i-BX-N heat pumps and the improved i-LIFE2 SLIM hydronic terminals. In line with Climaveneta's strong focus on high efficiency and sustainability the Company will present the new i-NX-Q, from the INTEGRA family, is multi-purpose heat pump for the simultaneous production of cooling and heating and i-FX-HFO, a new chiller with the eco-friendly green refrigerant HFO. In addition, the new WIZARDX unit, which is linkable to Mr. Slim by Mitsubishi Electric and represents the upcoming synergies within the Mitsubishi Electric group, will be presented for the very first time in Milan. The area dedicated to the IT Cooling will contain all the newest solutions for data center cooling offered by the RC brand: the i-NR-FC-Z new liquid chiller with inverter technology and free cooling to maximize the energy efficiency of the data center, two different precision air conditioning solutions with a special focus on the NEXT X-TYPEunit that combines reliability and energy efficiency, granting a pPue lower that 1,07, in addition to a data center island. Also for the IT Cooling segment the first integrated solution will be presented, with RC HPAC units and MELCO Mr. Slim working together. A focus will also be dedicated to ClimaPRO, the optimization system, that through the integrated management of all system components, maximizes the energy efficiency of the system and maintains it with a predictive approach.
Danfoss
Hall 13, Stand 19, U12
Danfoss is excited to have a large presence there this year. They are set to reveal a wide array of solutions and innovations to help drive the refrigerant transition and optimize efficiencies in air conditioning and refrigeration applications. You can participate in fun and exciting activities on the stand:
Scratch and Win!
– Try your luck at our refrigerant scratch card game. If you can match the refrigerant with the proper cooling application, you win! All players are invited to fill out and submit their scratch card for a chance at taking home a special Grand Prize on the final day of the conference.
Snack On-The-Go
– Stop by the booth for your free bag of Danfoss-branded M&Ms and enjoy a quick pick-me-up in the middle of your busy day.
Well-Earned Comfort
– An exclusive after party is a great way to relax after a long day on the trade show floor.
Danfoss will present solutions at them Mostra booth:
Air Conditioning
Innovative Danfoss solutions help optimize your chillers and rooftops, resulting in greater energy efficiency and lower GWP.
GWP qualification programs for all unit types
Oil-free and scroll compressor technologies
Cutting-edge oil-free chillers that include the Danfoss Turbocor© high lift TTH compressor
New range extensions for Micro Plate Heat Exchangers, EKE superheat controllers, Colibri, the new EVR v2, and P100 pressure sensors
Commercial Refrigeration
Make your conversion to lower GWP refrigerants as easy as possible, reduce life cycle costs, and unlock the power of IoT using Danfoss solutions.
Our extensive portfolio of compressors, condensing units, heat exchangers, solenoid and expansion valves, line components, and controllers qualified for alternatives to R404A and R134a.
EcoDesign-approved condensing units, including the OptymaTM Slim Pack W09
The reliable and versatile EVR v2 valve platform
A new offering from Prosa, an agile software company with expertise in IoT, smart equipment and user interface design, will be on display for the first time at Mostra.
Food Retail
Go beyond traditional ambient temperature limitations with transcritical CO
2
refrigeration and gain tremendous energy saving potential using an exciting new Danfoss solution:
The recently announced Multi Ejector SolutionTM will be on display. Come see how and why this new product has all of Danfoss saying, "We Love CO2!"
Dorin
Dorin has released CD4 and CD2 as new innovative CO2 products for trans critical and sub critical applications together with the largest CD500 for transcritical industrial applications.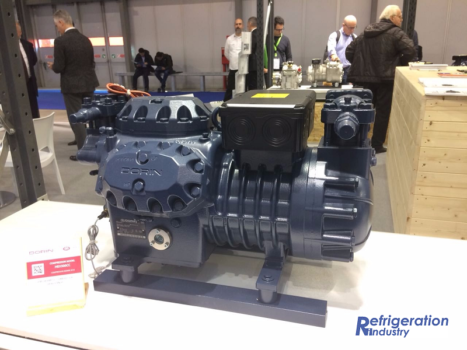 CD500 / CD600 are the flagship reference for CO
2
transcritical refrigeration on the present market. Ever since it appeared on the market it was clear that CD Series represented the new generation of compressors dedicated to the most stressful application: CO
2
transcritical commercial refrigeration. The new ranges CD500 AND CD600 have been designed, a 6-cylinder solution for transcritical application that generates the absolutely largest refrigeration capacity range of compressors ever available nowadays on the market. These has been designed using the most modern calculation software such as FEM and 3D Modelling. Particular attention was paid to the heat exchange phenomena between the part of high and low pressure of the compressor leading to the adoption of an innovative design that optimizes the efficiency of the machine.
Eliwell and Schneider Electric
Hall 24, Stand D21-D29_E22-E30
Visitors to the D21-D29_E22-E30 stands will be able to explore the new Eliwell products and the integrated Schneider Electric solutions for automation and control, refrigeration, air conditioning, heating, ventilation and efficiency, dedicated specifically to the retail sector, whose evolution is supported today by the open, IoT-enabled EcoStruxure® platform. Focus will be placed on the new Eliwell Fan Coil offering, with an innovative solution capable of operating high efficiency fans. For the CR OEM sector, the event will witness the launch of the new plug-in refrigerated cabinet controller with a new Connected Cooler App for operation from mobile phones or tablets. For the Retail world, ample room is afforded to Eliwell's offering for high efficiency control in Supermarkets with natural refrigerants without forgoing easy installation and maintenance. For the Supermarket sector, Eliwell's solutions have been supplemented by the Schneider Electric EcoStruxure® Building solution which integrates HVAC, Refrigeration, lighting, and much more. Schneider Electric and Eliwell thus provide the most exhaustive and extensive solution currently on the market for the efficient management of an entire building. Attention will also be drawn to Eliwell's solution for monitoring temperatures in small retail businesses, such as restaurants and butchers, including the plug & play solution.
Emerson
Hall 24, Stand R29/S30
​Emerson will showcase its latest innovations at Mostra Convegno, in Milan. Committed to drive progress through business excellence and environmental stewardship, Emerson's smart solutions, integrating brands like Copeland, Alco Controls and Dixell, enrich equipment manufacturers, efficiency and reliability, while accelerating the time to market and improving business performance.
Future-proof solutions for enhanced comfort
During the exhibition, Emerson will present an exclusive range of ingenious solutions for comfort and refrigeration applications that readily combine its unique know-how in compression and controls technology while meeting the legislative requirements, such as F-Gas Regulation and EcoDesign Directive. For commercial comfort applications, Emerson will focus on the new optimized series of Copeland Scroll Variable Speed compressors with qualified inverter drives. Equipped with the latest variable speed technology, for an enhanced cooling and heating efficiency, they allow system manufacturers and building owners to achieve superior performance when designing reversible chillers, heat pumps, precision cooling, air handling units and rooftops. This new generation of compressors is released for R32, a lower GWP refrigerant, which offers manufacturers the advantage of being compliant, while maintaining the same outstanding performances, at no additional costs. For residential comfort applications, Emerson will exhibit the new range of scroll compressors qualified for both HFO blends and propane. The line-up of propane fixed and variable speed Copeland Scroll™ compressors, designed for chillers and heat pump applications proves once again Emerson's high reliability standards. Equipped with smart electronics, Emerson's integrated solutions for comfort applications guarantee excellent performances. Furthermore, Emerson will highlight its offering for the commercial refrigeration market, presenting innovative concepts for all store formats, that ensure food safety and operational efficiency.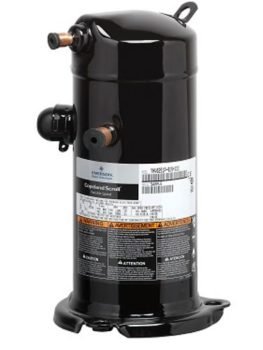 During the exhibition, Emerson will show the optimized line-up of variable speed Copeland Scroll™ compressors, qualified for low GWP alternative refrigerants - R452B and R454B, as a replacement of R410A. The new YHV*P series ensures the same high performances, thanks to the brushless permanent magnet motor, matched with an efficient inverter drive. Moreover, Emerson integrates its EXV expansion valves and sensors into this solution, for a smart refrigerant circuit management. This solution covers a heating capacity range from 3 to 20 kW with an extended operating envelope for models without vapor injection and a widened modulated speed variation from 15 to 120Hz. Its low superheat capability as well as being equipped with Variable Volume Ratio (VVR) technology and the high volumetric efficiency valve - boosting both cooling and heating efficiency - provide a high seasonal efficiency.
Sanhua
Hall 24,
Stand M30
Sanhua will offer a new dimension with new solutions for OEM and Installers like new innovative coil for the MDF solenoid valves, which can, because of its clever design, be installed in a matter of seconds.

New Electronic Expansion Valve Controllers will be shown as well as new range of solenoid valves, 4-way reversing valves and electronic expansion valves, pressure sensors and much more.
These components are suitable for HFC (fluorinated hydrocarbons) refrigerants, CO2 and, most of all, flammable fluids such as R290 (Propane).
Don't miss MCHE-microchannel heat exchangers as an evaporators and condensers in its various sizes and forms.
Find supplier company or brand of refrigeration equipment on our online directory.
Please share the article