Kgroup was resoundingly successful with the presentation of its new generation of products at EuroShop, the most important trade fair in the world for Retail Trade held in Dusseldorf, Germany on 9 March. This fair takes place every three years, convening a wide range of products and services, whose quality and innovation regularly set the trends in the evolution of world trade.
Kgroup's prime objective during this fair was to once again present itself on the market, showcasing its image of experience and quality as well as its trajectory with its Koxka and Kobol brands; great pedigree in the world refrigeration sector. To this end, in Dusseldorf it launched an innovative proposal in aesthetics, paired with cutting-edge technological features.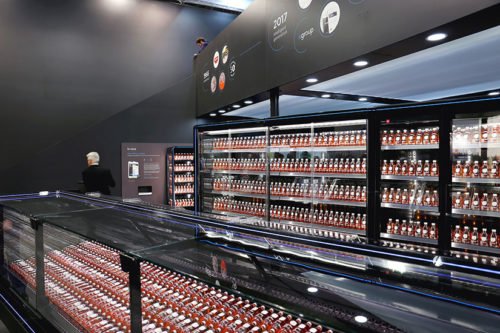 New Product Generation
The visitors to Kgroup's stand at EuroShop had the opportunity to discover the new range of highly efficient units, both for plug-in and remote models. All of these new models have a common denominator; attractive aesthetics with clean lines, light and transparency as key features which facilitate maximum visibility and, as such, the sale of the exhibited product. This new range offers the possibility of personalising the units using RGB-type edging LEDs. This system enables selecting from amongst 256 colours which, by using lighting, can be adapted to integrate into any decoration without having to modify the unit in any way. All the products presented at the German fair will be launched on the market during the forthcoming months.
All in one
Kgroup also presented its potential clients at EuroShop with the "all in one" concept, through which the engineering, design, supply, installer's support (or the actual installation itself), commissioning and the maintenance of all the equipment required in the preservation and management of food distribution.
Maximum satisfaction
Kgroup Management is highly satisfied with the result of the fair. The visitors' response was spectacular, both from important supermarket chains and retailers, as well as the specifications and installation channel, without forgetting suppliers. The objective of projecting a sound and experienced image to the market was fully achieved, with a nod to more than 50 years on the market, backed up by proposals with sophisticated technological content and environmental and energy responsibility. During this year's EuroShop, the company from Navarre did not only meet up with past and present clients, but made very promising contacts with new potential clients. Moreover, a large number of suppliers showed their interest in collaborating with Kgroup.
European Product Design Awards 2017
Furthermore, Kgroup was distinguished with four European Product Design Awards thanks to some of their Koxka models presented at EuroShop 2017. Four models from the new generation of the Koxka product recently presented by Kgroup at EuroShop have won 2017 EPDA awards. Specifically, kMultidec RPC won a gold medal while kMultideck PCN, kCounter RPF and kCounter PCS were awarded a silver medal each. The winners include prestigious brands and designers from various sectors. The European Product Design Awards are given for excellence in industrial product design. Kgroup, in conjunction with Dhemen, its partner in design and image, take great pride in these awards. They encourage the company to continue working in its line of offering the retail market the most efficient solutions with clean, modern and ergonomic designs.
Read More
Please share the article