Interview with Rainer Große-Kracht (Chief Technology Officer) and Volker Stamer (Director of the SCHAUFLER Academy)



What is BITZER's primary objective with the new training centre?
Rainer Große-Kracht: As the name suggests, here we offer groundbreaking training opportunities for planners, customers and service employees. The demand for these courses is high, as the refrigeration and air conditioning industry is once again facing major changes and thus new challenges. The main concerns are the F-gas Regulation and the Ecodesign Directive. As a leader in technology, we believe we have a duty to offer our customers both innovative products and the highest standards of technical support. With our training courses, we would like to prepare participants for these challenges and teach them how to use new refrigerants and technologies correctly. In concrete terms, we offer CO₂ training courses for subcritical and transcritical applications, ammonia training courses, training courses for frequency inverter compressors, and hydrocarbon training courses, which tend to focus on the use of propane in refrigeration and air conditioning systems.
Volker Stamer: For this reason, a great deal of attention has also gone into concepts of practical training. At the SCHAUFLER Academy, we can not only show off the theoretical advantages of our pioneering technology, but also demonstrate modern compressor and electronic components in action. This allows us to simulate real system conditions during the course. Each system and application has its own features and it's important to accommodate these as well as possible.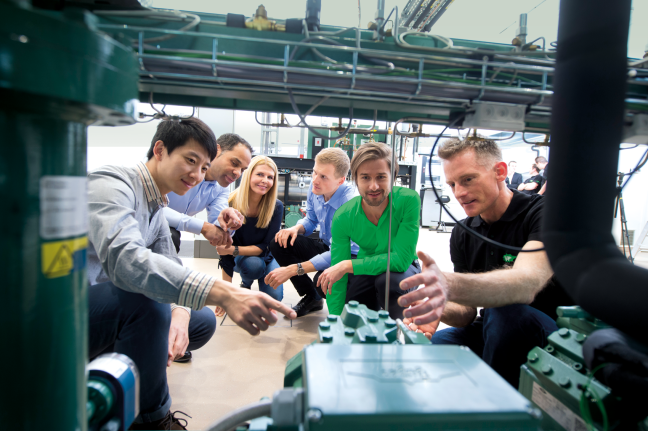 Let's talk about the issues mentioned above: changes and challenges. What does that refer to?
Rainer Große-Kracht: It's going to take brand-new system concepts and further development of existing ones to phase out refrigerants with high global warming potential, which have always been the ones most commonly used, and comply with the Ecodesign Directive and its increasing minimum energy efficiency requirements. For example, the F-gas Regulation greatly reduces the number of refrigerants available with high global warming potential (GWP) and, in some cases, even prohibits them. By 2018, the industry has to reduce the volume of F-gases used by 37 per cent, with calculations based on GWP and the amount of refrigerant. In addition, the commonly used refrigerant R404A will be prohibited in many stationary systems throughout the EU from 2020. We're continuously developing our compressors and preparing them for use with new refrigerants. We've just approved the CSH and CSW compact screw compressors for HFO refrigerants.
What does this mean for your products?
Volker Stamer: New refrigerants and the resulting increase in system complexity mean more stringent requirements for system planning and construction. Well-trained staff is absolutely essential when it comes to ensuring users also have access to new technologies in the exceptional quality they've come to expect. In addition to CO₂, more and more flammable refrigerants are being used and are subject to stringent safety guidelines. There will be an ongoing need for training in the future to ensure the correct understanding and implementation of applicable guidelines as well as to prevent accidents when using flammable refrigerants. Due to the increasing number of systems using these refrigerants, there will also be a greater demand for servicing.
Rainer Große-Kracht: The minimum energy efficiency requirements derived from the Ecodesign Directive make it necessary to use more electronics in refrigeration systems. The efficiency values stipulated for the future can only be achieved through optimised concepts of compressor capacity control, for instance, with frequency inverters. In addition to an innovative product, intensive training is also indispensable when it comes to ensuring correct design and use. Training courses for service staff will help promote the correct use of frequency inverters for the full length of the service life. Here too, BITZER offers products and solutions, and the SCHAUFLER Academy the corresponding training courses.
Significantly expanding the range of training courses will require trained personnel. Does the SCHAUFLER Academy employ special trainers?
Volker Stamer: When it comes to our training courses, we rely on the potential of our employees, primarily from application engineering and, to a lesser degree, from sales and product management. They're well acquainted with the daily questions our customers have. This allows us to ensure over the long term that we can address our customers' current issues and challenges as well as offer solutions and the right kind of assistance.
Rainer Große-Kracht: Our seminars at the new Academy are part of our comprehensive training concept. We also support participants when new systems are being commissioned or errors occur in existing systems. Corresponding training concepts are more and more frequently developed alongside new products to ensure proper use of the benefits provided by new solutions as well as optimal service planning and implementation. We have therefore developed a global network of training centres and offer comparable training courses in Germany, Australia, Brazil, China and the United States.
Senator h. c. Peter Schaufler always believed in supporting young people in the refrigeration and air conditioning industry. Is it the same for the SCHAUFLER Academy?
Rainer Große-Kracht: Through the SCHAUFLER Academy, we seek to deepen the close and constructive relationship with schools and colleges within the region. Building on and complementing the basic knowledge provided at universities and similar institutions, the Academy will offer further training with a focus on practical application and direct implementation. We aim to work closely with these institutions. Promoting and expanding these efforts is yet another goal for 2017 and the years to come. Here, there are plenty of opportunities for an exchange of ideas on topics of research, to identify talented minds in our industry and find potential lecturers, partners and employees. This helps to make young people enthusiastic about technology from an early age.
Source: Bitzer
Please share the article