Let's introduce a new study on the use of CO2 refrigeration systems in retail. In the new review, the number of retail outlets has increased from 31 to 40, and it was collected the additional information on refrigeration equipment.

World trends
The local legislation of the countries that have adopted the Kigali Amendment, limiting the use of hydrofluorocarbons, as well as the sharply increased cost of freons, is pushing for the increasing use of refrigeration systems on natural refrigerants.
Natural refrigerants include in themselves carbon dioxide (CO2, R744), ammonia (NH3, R714) and hydrocarbon compounds: propane (C3H8, R290), isobutane ((CH3) 3CH, R600).
To date, the following "distribution" has developed on the use of natural refrigerants in the refrigeration systems:
R744 carbon dioxide equipment is most widely used in supermarkets and hypermarkets with the centralized refrigeration systems;

In small stores, that mainly use equipment with integrated units, it is installing the commercial refrigeration equipment, using R290 and R600;

At the industrial facilities, such as the warehouses and ice rinks, the ammonia systems and the double-circuit systems ammonia/carbon dioxide are more in demand, due to the best refrigerant efficiency/safety balance.
In recent years, the world has seen explosive growth in the number of stores using CO2 refrigeration systems.
According to Shecco (Global accelerator of the heating and cooling equipment market), in 2017 there were about 12,000 stores worldwide using transcritical CO2 refrigeration systems, in 2018 there were 20,000 stores, and in the fall of 2019, 30,000 stores using transcritical CO2 refrigeration systems.
Number of stores with transcritical refrigeration systems
Our partners from Shecco have long been conducting researches in this area, but they do not have any information on the Russian market.
An year ago, we conducted the first study to complement the "picture of the world", and now we present the second updated report.
At the moment, we have managed to collect information about 40 retail stores with CO2 refrigeration units.
The main pioneers in introducing new technologies are the foreign retail chains, primarily Metro.
Shops with CO2 Refrigeration Units in Russia
In this study, statistics were collected from 40 stores with CO2 refrigeration systems. Of these, 40% (16 facilities) use the transcritical refrigeration systems.
Transcritical and Subcritical Refrigeration Systems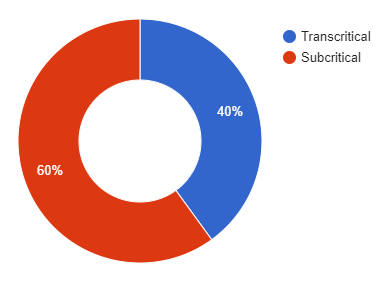 Based on data from 40 objects
In 30 stores, the total cooling capacity of the units used at the facility exceeded 500 kW.
The Metro retail chain remains the undisputed leader in Russia in the number of stores with carbon dioxide refrigeration units. This is the result of a targeted policy of this company in almost all markets of presence. It is actively implementing CO2 refrigeration systems throughout Europe and China.
Share of Stores with Refrigeration Units on R744
Based on data from 40 objects
Distribution of Stores by Regions
In Moscow and the region there are 13 stores with refrigeration systems for CO2, 3 stores – in St. Petersburg and 2 objects – each in Orel, Volgograd, Nizhny Novgorod and Tula. In the other cities, there is one store each: Arkhangelsk, Belgorod, Vladikavkaz, Voronezh, Yekaterinburg, Kaluga, Krasnodar, Lipetsk, Rostov-on-Don, Ryazan, Samara, Surgut, Tyumen, Ulyanovsk, Ufa, Yaroslavl.
Applicable Equipment
Compressors used in refrigeration systems
Based on data from 40 objects. At some sites, equipment of 2 brands was installed.
Heat exchange equipment used in refrigeration systems
Based on data from 34 objects. At some sites, equipment of 2 brands was installed.
Refrigeration components used in refrigeration systems
Based on data from 38 facilities. At some sites, equipment of 2 brands was installed.
Note that all of the 38 facilities for which we have data use Danfoss products.
Commercial refrigeration equipment used in stores
Based on data from 38 properties
Retail experience with CO2 refrigeration systems
In a new study, we bring to your attention a comment by the head of the operation and reconstruction of Metro refrigeration systems, Grigory Raschepkin.
How many Metro stores currently have carbon dioxide refrigeration systems in the world?
– As of December 2019, Metro has 108 stores using transcritical refrigeration systems and 111 with subcritical systems.
How do you evaluate the experience of operating CO2 refrigeration systems at Metro facilities in Russia, Europe? Are there any differences in performance?
– All Metro shopping centers are equipped with refrigeration systems according to a unified technical task, so there are no noticeable differences across countries. The main differences in operation are manifested depending on the climatic zones. Thus, carbon dioxide refrigeration systems are most effective in the southern regions with a hot climate, since there they operate longer in the transcritical mode for a whole year. The Russian operational experience is still small enough, as engineers of shopping centers are trained on the constructed systems. But now, engineers are participating in the construction of refrigeration systems in order to study all the nuances even before the launch of the facility.
What are the advantages and disadvantages of such CO2 refrigeration systems compared to traditional ones on freons?
– The main advantage is the low cost of refueling the system. So in the event of a refrigerant leak in a typical refrigeration system at the Metro store, the cost of filling with freon will cost 6-7 times more than R744. But at the same time, there are still problems with the quality of CO2 in Russia – there are cases of supply of "watery" gas, which can lead to serious operational problems. But we solved this problem by installing an additional refueling station with a desiccant and a viewing window for monitoring the quality of carbon dioxide.A detailed comparative analysis is still difficult, because of insufficiently accumulated data. But now, CO2 systems are showing a reduction in energy consumption compared to the freon ones.
Do you plan to open new facilities in the future using refrigeration systems only on CO2?
– Yes, all new refrigeration systems during the construction of new facilities or complex reconstruction will be carried out using CO2, as well as R290.
Sources:
The study was prepared on the basis of data provided by the companies: Metro, Globus, Land, Ingenium, Nord, Carrier Refrigeration Rus, Zelgros.
We thank all participants for their help in preparing the report.
Please share the article