ACREX India will open its doors for the 18th time in Greater Noida, Delhi-NCR, India from 23 to 25 February 2017. South Asia's leading trade fair on Refrigeration & Cold Chain, Air Conditioning, Ventilation & Intelligent Buildings is organised by Indian Society of Heating, Refrigerating and Air Conditioning Engineers (ISHRAE) and produced by NuernbergMesse India. The 2017 chapter of ACREX India, the one from biggest, widest and a most dynamic global platform on this side of the continent on all that is cool is going to be held in Delhi. The focus will not be limited only to HVAC&R the exhibition will feature diverse Building Engineering Services that include Electrical & Plumbing Services, Building Automation and the ever - growing Cold Chain Industry.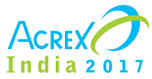 ACREX India 2017 is meant to not only be the launch-pad for potential business-enabling collaborations, but also be a living resource pool and a seamless amalgamation of Integrated Building Solutions that you can access right there and then. ACREX India 2017 will have country pavilions hosted by Turkey, Germany and China. Besides these, there is individual participation by 25 countries including USA, UK, UAE, Taiwan, Italy, France, Hong Kong, Russia, Mexico, Sweden, Korea, South Korea, Thailand, Czech Republic, Switzerland, Malaysia, Vietnam and many more. Two new participating countries namely Russia and Hong Kong will also be present. Country delegations are expected from Malaysia, Indonesia, Turkey and China. One of the biggest highlights this year will be, for the first time we have a Guest Country at our show, Turkey, represented by ISIB, to improve relations between India and Turkey. Besides participation of International Global Players the show will also see International support from organizations like ASHRAE, REHVA, ISKID, CAR, ANPRAC, Eurammon, KNVIK, ISIB, CIBSE, etc.
Focus on MSMEs
The intention is also to give small and medium-sized enterprises better opportunities to participate in the trade show. Special packages have been developed for them, including an exhibition area of 6-9 m² with a Hostess provided, along with Airport transfers, Hotel accommodation and tickets for important industry events as part of the trade show. Next year there will also be a focus on increased participation by companies in the automation industry. From the perspective of manufacturers and skilled workers, this sector offers strong parallels with the Heating, Ventilation, Air Conditioning and Refrigeration technology industries.
SHOW FACTS
Powerful international participation from 25 countries including Belgium, China, Czech Republic, Egypt, France, Germany, Italy, Japan, Korea, Malaysia, Saudi Arabia, Singapore, Spain, Switzerland, Taiwan, the Netherlands, UAE, UK, Ukraine and USA.

ACREX 2017 is expected to attract 500 exhibitors, 30 percent of them from outside India and more than 50,000 Decision-Makers, Architects, Developers, End Consumers, Advisers and Project Managers.
ACREX India 2017 is being organised by the Indian Society of Heating, Refrigerating and Air Conditioning Engineers (ISHRAE) and will be produced by NuernbergMesse India Pvt. Ltd. It will be held at the India Exposition Mart (IEML), Greater Noida, Delhi. Strategically situated near the JP Golf Course and within easy reach of Central Delhi and the international airport on the new 8-lane Greater Noida Expressway, the venue is the largest in India occupying over 77000 square meters of state-of-the-art indoor exhibition space and 1,70,500 square meters of constructed area for conducting exhibitions.

Read more about Acrex India 2017
Please share the news