The largest specialized exhibition of the energy industry in Greece, Climatherm – Energy, is under the auspices of the Ministry of the Environment and Energy, giving it power, as the largest reference meeting point for professionals.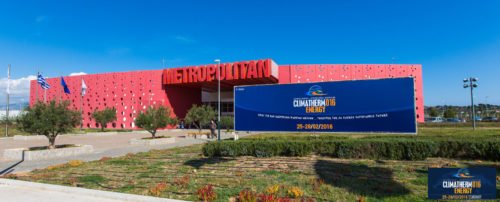 Therefore, visitors will have the opportunity to see a wide range of products in areas such as Renewable Energy, Photovoltaics, Biomass, Geothermal, Gas – LPG, Air Conditioning, Economic Heating, Energy fireplaces, pellet burners, ventilation, industrial cooling, energy upgrading of buildings, solar energy, water supply and desalination. It is also very important to be mentioned that during the exhibition, presentations and workshops will be held, as for example the ones of "PSDM-H", "THERMOLA" company, "GREEK FEDERATION OF REFRIGERANTS" and "TENORA TEXNIKI" company in order to inform and upgrade the knowledge of both our visitors and our exhibitors.
The aim of Project LTD. is, as always, to maintain the specialization of the International "Climatherm – Energy" exhibition, by being held at "Athens Metropolitan Expo", a high – standard exhibition center, and to properly advertise with targeted communication with the trade and professional audience. Features that will, once again, make "Climatherm – Energy 2018" the biggest international specialized exhibition in Greece.