In 2018, Carrier Transicold will commemorate the 50th anniversary of the refrigeration system design that helped revolutionize the global transport of perishable and frozen goods via shipping container. Carrier Transicold is part of UTC Climate, Controls & Security, a unit of United Technologies Corp. Showcasing its legacy of leadership, Carrier Transicold is highlighting 50 years of container refrigeration innovation at Intermodal Europe 2017, held here this week.


"The year ahead marks the golden anniversary of Carrier's pioneering front-wall or 'picture frame' container refrigeration unit design," said David Appel, president of Carrier Transicold & Refrigeration Systems. "The front-wall design's widespread adoption by the industry propelled expanded trade in refrigerated commodities, helping to feed a growing global population and enabling the consumption of agricultural goods virtually everywhere, at any time." Introduced in 1968, the innovative self-contained system, which bolts onto the front end of an insulated shipping box, has defined the shape of generations of marine refrigeration systems that followed. "Over five decades, many system enhancements have refined the performance of our container refrigeration systems but the fundamental all-in-one design that easily attaches to and perfectly complements an insulated shipping container endures," Appel said. "Equally enduring is Carrier Transicold's commitment to innovation with exciting new developments over the years and more underway to serve ever-changing customer needs." Carrier's original electrically-powered Frostmaster models were the forerunners of today's NaturaLINE and PrimeLINE units. Prior to 1968, ocean transport of refrigerated cargo primarily was the domain of dedicated vessels with refrigerated holds below deck. By enabling the refrigeration of containers, Carrier added versatility and efficiency to the shipping process. Ultimately, refrigerated containers have enabled the quick loading and unloading of uniformly-sized boxes and eliminated additional handling and transfers of perishable-laden pallets, as traditionally required. As the container shipping industry has grown exponentially to carry $4 trillion worth of goods annually, nearly 80 percent of seaborne perishable cargo moves by refrigerated containers. Many of those containers are efficiently temperature controlled by Carrier Transicold systems. To date, Carrier Transicold has sold more than 1.2 million of its front-wall container refrigeration units. Even so, container refrigeration has improved and advanced over the years. Carrier Transicold has led the industry with many container refrigeration innovations to improve cargo protection, environmental sustainability, performance and efficiency, including:
The NaturaLINE unit, the first container refrigeration system to use a natural refrigerant – which responds to today's concerns about refrigerants with high global warming potential (GWP). It uses carbon dioxide (CO2) with an ultra-low global warming potential of 1. The efficient, closed loop system also achieves deep-frozen temperatures of minus 40 degrees Celsius. Similarly, in the 1990s, following the Montreal Protocol agreement, Carrier Transicold led the industry in the conversion of container refrigeration systems to non-ozone depleting refrigerants.
XtendFRESH atmosphere control, the first system to manage oxygen and CO2 levels within a container that also has an integrated ethylene removal capability. The system helps extend shipping distances of perishables beyond what refrigeration alone can do, and is a successor to Carrier Transicold's pioneering EverFresh® system, which was the first integrated atmosphere control system for containers.
The PrimeLINE unit, which introduced digital scroll compressor technology for use with the refrigerant R-134a, enabling higher efficiencies resulting in reduced fuel consumption and emissions related to shipboard energy production. The PrimeLINE unit has outsold all competitive units for 10 years running.
"On any given day, Carrier Transicold container refrigeration systems help protect over $9 billion worth of refrigerated cargo traveling around the world," Appel said. "We are grateful to our many customers for putting their trust in us these past 50 years and look forward with great anticipation to the next 50." Carrier Transicold systems and worldwide network of more than 400 factory-authorized support locations play a significant role in helping to ensure the safe, reliable transport of produce, meat, seafood, vaccines and medicine from hemisphere to hemisphere, 24 hours a day, every day of the year.
Hamburg Süd Achieves Success With Carrier Transicold's Xtendfresh Atmosphere Control System
Reflecting the growing use of controlled-atmosphere (CA) technologies to maintain quality of fruits and vegetables over extended shipping times, Hamburg Süd has transported more than 7,000 container shipments of perishable goods using Carrier Transicold's innovative XtendFRESH atmosphere control system. Carrier Transicold is a part of UTC Climate, Controls & Security, a unit of United Technologies Corp.
At Intermodal Europe, held here this week, Carrier Transicold and Hamburg Süd, one of the leading ocean carriers in the South American segment, discussed the shipping line's increased application of the XtendFRESH system for avocados and bananas. Hamburg Süd's shipments using XtendFRESH technology increased in 2017, and the shipping line expects to use it with an even broader range of perishables in 2018. "There is a great deal of enthusiasm on the part of exporters to use controlled-atmosphere technologies to reach new regions for their perishable goods," said Stefan Dühring, global head of logistics at Hamburg Süd. "The number of shipments using XtendFRESH technology represents a significant and growing segment of our refrigerated shipments." The XtendFRESH system simultaneously controls carbon dioxide (CO2) and oxygen (O2) levels in multiple combinations within a refrigerated shipping container to reduce respiration and the ripening of fruits and vegetables. This enables a shipping line to transport exported perishable goods over longer times than with refrigeration alone, helping to reach new destinations. Preserving perishables is further enhanced by the XtendFRESH system's ability to remove ethylene, a hormone released by produce that can accelerate ripening if left unchecked. The system is the only CA solution with an integral ethylene removal capability. Hamburg Süd, which collaborated with Carrier Transicold on system capabilities and testing during the development of the XtendFRESH system, began acquiring Carrier Transicold PrimeLINE® units equipped with XtendFRESH technology in 2014. "We've had success using the XtendFRESH system for avocados and bananas in many of our key refrigerated trade lanes," said Dühring. "Our confidence in using XtendFRESH technology with higher-respiring perishables has led us to initiate plans to trial the system with shipments of South America-grown blueberries, a lower respiring fruit." Shipping lines appreciate that the XtendFRESH system offers a wider range of independent settings for CO2 and O2 levels than are possible with other systems. "The wider range of settings, along with ethylene control, provide advantages for shipping lines in meeting the needs of exporters," said Jim Taeckens, senior product manager, Carrier Transicold. "Additionally, the XtendFRESH system has no membrane filter to replace, as is common with some other systems, reducing maintenance requirements for fleets that offer it as an option for their customers." Responding to shipping line concerns about the learning curve with using CA technologies, Carrier Transicold provides training in the proper use of the XtendFRESH system and how to prepare a container prior to shipment. Taeckens added that to ensure optimal performance, containers must be in good condition with potential air leaks minimized through the use of a curtain wall at the door end of the container. Helping to further boost performance, Carrier has worked with shipping lines on enhancements to the XtendFRESH system, including improved gaskets, advanced control software and a sensor to monitor operation of the ethylene and CO2 scrubber motor.
Carrier's AquaSnap 30MP Chiller Now Meets Higher Efficiency Requirements
Water-cooled and condenserless modular chiller package enhancements increase 30MP applicability, especially in big cities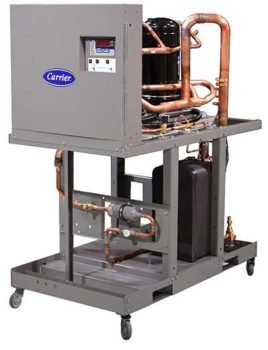 Designed for faster, less expensive installation in high-rise applications, Carrier is pleased to introduce the latest version of the slimmed-down AquaSnap 30MP chiller that now meets all ASHRAE 90.1 efficiency requirements. Additionally, certain model sizes accommodate the 15HPper circuit regulation common in many large cities, eliminating the need for costly 24/7 support. Trim enough to fit through a standard size door or elevator and boasting a modular design that can be easily connected to provide greater capacity, the 30MP is Carrier's answer to the challenge of providing climate control in tough-to-reach spaces. Carrier, a world leader in high-technology heating, air-conditioning (HVAC) and refrigeration solutions, is a part of UTC Climate, Controls & Security, a unit of United Technologies Corp.
The 30MP can be piped together in-line, which can also help significantly reduce the first cost of any installation in new and retrofit applications while providing up to 560 tons of cooling.
"Our product team works hard to support our customers and their system design needs with ongoing product devolvement like that of this AquaSnap 30MP. This package has always been an ideal solution for retrofit applications, given its small size and portability. Now with its ability to meet ASHRAE 90.1 efficiency requirements and with certain model sizes 15HP per circuit regulations, it can be a viable solution for tall buildings in even the largest U.S. cities," said Chris Opie, director, North America Commercial Marketing. "We are excited to provide our customers with opportunities to solve complex chilled-water system needs affordably with this modular package."
Additional 30MP features and options that can uniquely enhance HVAC system performance include a digital compressor, separate multi-unit controller, single input power to electrical distribution Panel and a remote air-cooled option.
Please share the news