Coldman Logistics Pvt. Ltd., ("Coldman") an emerging company in the cold chain segment, has inaugurated a state-of-the-art fully integrated cold storage at Budigere Cross, Old Madras Road in Bangalore. The overall capacity of the project, which caters to Food, Pharma & Lifesciences industries is 6,104 Pallets. Mr. R. V. Deshpande, Hon. Minister for Large & Medium Industries & Infrastructure Development, Govt. of Karnataka, inaugurated the facility in the presence of Ravi Kannan, CEO, Coldman Logistics Pvt. Ltd. and several prominent personalities. This project is strategically located with close proximity to the Airport, City Centre and the IT / BT corridor of Bangalore.
The facility with six temperature zones has a dedicated Pharma Zone to cater pharmaceutical shipments in + 2 to + 8 Deg C and + 15 Deg as well. This facility will have a dedicated chamber for ice-cream storage. The Air Temperature maintained in this section will be – 30 Deg C with Ante Room area of – 5 Deg C, which shall ensure there is no temperature abuse while handling products sensitive in nature. The cold rooms have been designed to provide Six Temperature Zones along with Blast Freezer of 5 M. Tons. The shipments shall be handled under effective hygienic conditions by trained and competent staff.
Speaking on this occasion Ravi Kannan, CEO, Coldman Logistics Pvt. Ltd. commented, "The dedicated ice-cream chamber has been set up using the latest Japanese technology and will be the first-of-its-kind in India. With every new project, we plan to introduce a new technology that will set us apart from the existing service providers in this segment." He added, "We offer strong domain expertise and supply chain optimization thanks to our ability to offer a full portfolio of logistics services. The world-class technology for warehousing infrastructure, advance technology & IT backbone enable Track & Trace. Quick ramp up of warehousing capacities across India."
Coldman, which is on an expansion mode, laid the foundation for construction of a new state-of-the-art temperature controlled warehouse at the integrated business township Sri City, is an ideal location offering huge opportunities, superior connectivity to Chennai, Ennore and other ports. It inked an MOU with Boxco Logistics India Pvt. Ltd., the logistics arm of J.M. BAXI Group, for joint collaboration on developing & operating Cold Chain Businesses across J.M. Baxi Group's Cargo Handling Terminals. Under this Cold Chain alliance, the first facility to come into operation will be BOXCO's world class Temperature Controlled Warehouse (TCW) located at Sonepat Haryana.
Coldman is into providing Temperature Controlled Warehousing & Logistics Services to various industries with strong focus on technologies driven operations. It offers end-to-end solutions from source to consumption point. It offers an array of warehousing, distribution, port centric logistics, food processing and business integrated solutions designed to be efficient, to lower supply chain costs.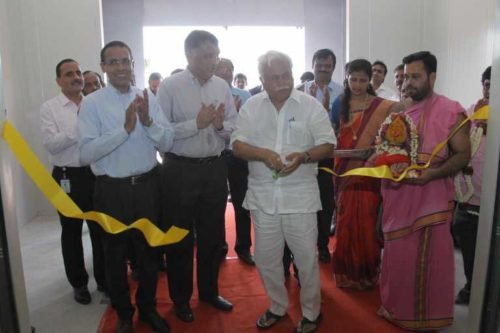 Please share the news