Emerson Climate Technologies, a business segment of Emerson (NYSE: EMR), won the 'Innovative Energy Saving Product' award for its CRK8M Ultra High EER platform. The award was conferred at the Confederation of Indian Industry (CII) organised, 16th National Award For Excellence In Energy Management – 2015.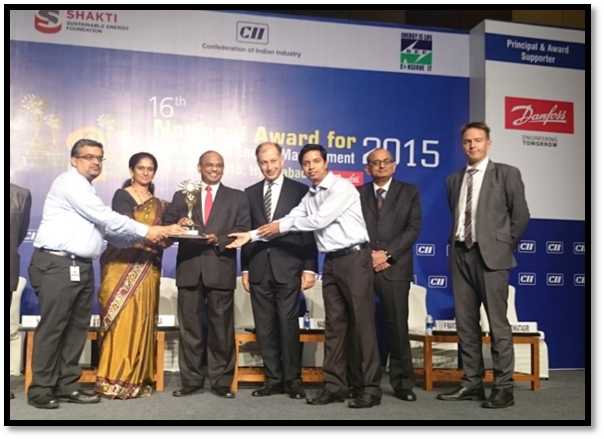 The award is an annual competition, open to all industries in India offering energy saving products. This year 256 nominations were received by CII.

Emerson Climate Technologies was among the 131 companies shortlisted. The award witnessed extensive participation from various industries including automotive, construction, fast-moving consumer goods (FMCG), manufacturing, petrochemical, pharmaceutical and power industries. The nominations were evaluated by industry delegates and an elite jury panel.

Speaking on the occasion Sridar Naryanswami, vice president and managing director, Emerson Climate Technologies India enthused "We are truly honoured to receive the prestigious CII National Award, it is a vindication of our relentless efforts in helping to protect the environment." He went on to add "Emerson has always been at the forefront of innovation and our products have consistently lived up to expectations and delivered best-in-class energy efficient performance. Epitomizing this very feature is the efficient CRK8M UEER platform that has been designed and manufactured in India for sale in India and the export markets of the Middle East."

The CRK8M UEER platform has established itself as the preferred reciprocating compressor for residential AC applications in the climatically challenging Middle East market. It is amongst the few compressor platforms that meet the newly released energy labelling guidelines issued by the Saudi Arabian regulators.

This award comes on the heels of Emerson Climate being adjudged as the 'Best Cold Chain Solution Provider Of The Year' at the 4th Cold Chain Strategy Summit, as also the 'Green Product' Award at ACREX 2015 for its Copeland Scroll™ large commercial R410A compressors.


Please share the news