Young professionals who are the best in their country will compete in Budapest between 26th and 28th September in order to win the best of the continent title.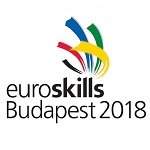 EuroSkills is the European Championship of young professionals, a spectacular promotion of skills and latest skills developments around Europe. European regional version of WorldSkills Competition, formerly known as ''Skills Olympics". Held every two years in one of the WorldSkills Europe member states. A competition of international importance, encouraging world-class standards of skills and competences in Europe.
Europe's most talented young skilled professionals compete to be the best of the continent
Competitor age limit 25 years
Each country may enter 1 competitor or team per trade
A competitor may compete in 1 EuroSkills Competition only
Accompanying the three-days long competition, exhibitions, conferences and other professional events are organized. The accompanying events provide an outstanding opportunity for European policy-makers, educators, industry partners and other organizations to exchange information and best practices regarding industry, education and build new partnerships. Presentations and panel discussions focused on the present and future of European vocational education and training.
www.euroskills2018.com
Please share the news