At the IAA 2018 in Hanover, Krone will present the Cool Liner Duoplex Steel in the double-deck version with smart telematics features.The Cool Liner stands for the temperature-controlled transport of foodstuffs such as fruit, vegetables, meat, fish and frozen products as well as plants and sensitive electronic components.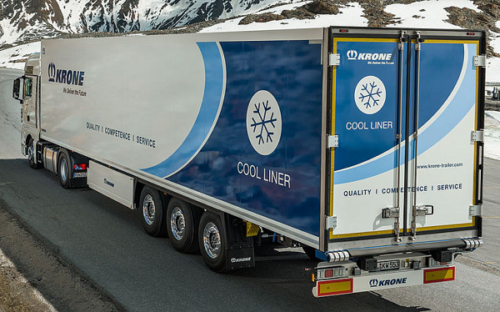 A continuous chassis with diagonal reinforcements at the rear beam and robust impact protection elements protect the rear of the Cool Liner during intensive loading and unloading at the ramp.

In combination with the Krone Telematics, the capacitive tank sensor makes it easy to check the exact level of the fuel tank.An LED level indicator on the front wall completes the control of the diesel supply.

Clearance/brake lights at the top of the rear frame make braking processes visible to subsequent road users at an early stage, even in high traffic volumes, thus significantly increasing road safety in addition to the LED side marker lights with direction indicators.

The partition wall, which can be moved over the entire length of the body, with an optional fan to create different temperature zones, is excellently insulated and tested according to ATP. The top closure unit and an innovative balancer technology ensure extremely comfortable operation of the Krone Isowall.

With the help of Krone Telematics, the operator has numerous data of his Cool Liner permanently under control. In addition to classic telematics functions such as vehicle and temperature data as well as 2-way communication and sensor technology for wear components and tire pressures, WLAN applications and cargo hold detection will also be available in real time in the future.

The Krone Telematics Door Protect door locking system provides special protection for the goods to be transported. Telematically locked, it monitors the status of the rear doors and their safety components. The system reports alarms and anomalies directly to the dispatcher or, if desired, to a monitoring security centre.

In addition to ATP and HACCP certification, the Cool Liner has a load securing certificate in accordance with EN 12642 Code XL.
Please share the news