LG Electronics USA Air Conditioning Technologies has launched an expanded dedicated outdoor air system (DOAS) product lineup, now offering a complete solution and further enabling building owners and facility managers to seamlessly implement a complete end-to-end LG HVAC system.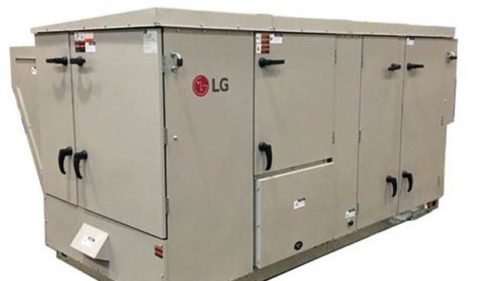 LG's new rooftop DOAS units operate with standalone controls that automatically switch modes between cooling, heating and dehumidification for accurate and automatic conditioning and control of the outside air being supplied to the building, according to a press release.

The robust 2-inch foam-injected double wall construction increases energy efficiency and unit durability for a longer, more sustainable lifespan. Available in a wide range of capacities, LG DOAS units are available up to 70 tons – the largest offered by any VRF manufacturer – and are configured to be easily compatible with LG VRF systems.

The new LG DOAS systems are capable of delivering a maximum airflow (CFM) of 18,000. For added design and construction flexibility, the LG DOAS units are configurable with more than 190 options to fit nearly any project specification.

"LG DOAS units are all about versatility and flexibility. Customers don't have to look any further than LG for their entire HVAC system," said Ed Ferrier, senior manager of engineering at LG Electronics Air Conditioning Technologies. "This is the next step in bringing our industry-leading VRF technology to everyone. We are making it easier for our customers to cost-effectively build the solution that's perfectly suited for their application."

The DOAS launch comes on the heels of the new LG MultiSITE controls products announced in January.
Please share the news