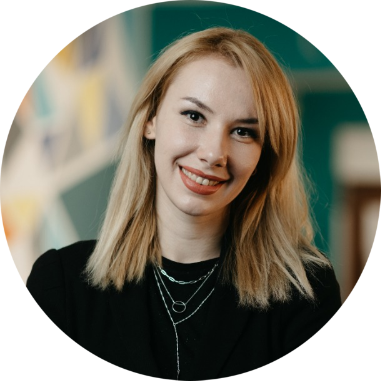 Karina Avanesova, VP of Growth, Andava Digital Marketing Agency
.
T-Shaped Demand Generation Expert with a proven track record in designing, launching and managing Cross-Channel Marketing Campaigns.
With over 8 years of professional expertise, she helped about 50 businesses stop being invisible acquire users and generate revenue.
As of 2022, there were
4.95 billion
internet users globally, and that would be around
62.5%
of the world's population. Just like
Bill Gates
said, "the internet is becoming the town square for the global village of tomorrow." It has become available for everyone worldwide and the people's first destination to purchase a product or service! Ever since invented, it has taken the world by a storm, and every business entity on the planet is striving to dominate online.
The HVAC global market is estimated to reach 367.5 billion US dollars by 2030. Providing the best quality products, customer service, and reasonable business practices isn't enough anymore. Regardless of the HVAC business size, being well-presented online is key to success.
Watch the webinar recording or read the article below
Nowadays, achieving a solid presence online is available via diverse promotional channels. However, the main channels remain:
More tools have been developed as subsidiary parts of those main channels. For example:
Content marketing is a valuable tool for effectively engaging with the online audience as part of PPC marketing.
Influencer marketing to increase reach and brand awareness as a part of social media marketing (SMM).
SEO automation tools as part of Search Marketing (SEO).
This article will demonstrate the main aspects of the primary marketing channels with projections on the HVAC industry, along with statistics, practical examples, and techniques.
HVACR is one of those business industries where conferences, referrals and personal network are still a primary source of product discovery and brand awareness. As a business owner you may want to participate in different expos, such as FFHMT, AHR Expo and others , and make sure the participants are familiar with your business before they will come across your booth. Using the tips below, will help you stop being invisible and get some significant spotlight.

Would you like to know more? Register for the webinar:
Building HVACR Business Reputation from the ground up. Do's and Don'ts
1. Advertising: Pay Per Click (PPC). Ad Campaigns for HVACR Businesses
HVAC business owners are like others, always looking for ways to collect the results of their marketing campaigns instantly, and this endeavor holds them back from going after online marketing. However, that doesn't apply to PPC campaigns; with more than 63,000 search queries on Google every second, their accuracy, speed, and ROI are beyond expectations.
Online advertising, specifically Pay Per Click, is the primary choice in this context. Let's start by defining PPC with these three concepts:
It's a serial connection with customers, a D2C channel
You only pay when customers click on your ads
You can tailor your ads to suit your budget
However, an effective PPC campaign requires a reliable strategy for the setup. You must research your target audience, use the right keywords, review SERP positioning, prepare ad copies, etc. These elements can be customized to get better results at a lower cost. Following, we'll explain the practical steps for that:


Setting up the PPC targets properly
The Keywords
Keywords are the magic portion of your PPC campaign; you need to choose them correctly. As you start building your keywords list, you have to answer the question: What words do my customers use to search for my HVACR products/services online?
For example:
Commercial HVAC Services

Trusted heating and cooling

HVAC repair near me

City name + ac installation contractor

Commercial HVAC maintenance

Licensed HVAC contractor
Although it might sound naive from the first glimpse, these are a few samples of keywords people are actually using to look for HVAC services in their areas and outside. The above method helps develop a basic understanding of what keywords to target in the PPC campaign.
Additionally, Google provides a powerful keyword research tool called Keywords Planner. Here is how you can use it:
Go to this URL: https://ads.google.com/
Sign in to your account. If you don't have one yet, register a new account; it won't take more than 1 minute
From the Tools and Settings option, click on Keyword Planner, and you will have two options:

Discover new keywords: helps find keywords ideas if you don't have anything on your mind yet.
Get search volume and forecast: helps evaluate the performance of your keywords, which provides insights to exclude some keywords with 0 search volume estimates.

Moreover, choosing the Discover new keywords helps in either looking for the keywords manually by typing what you think people would be searching for or looking up the keywords on your competitors' websites.
PPC/AD Copy
Your HVAC ad copy could be in various formats, like images, texts, and videos. The format must be defined based on which platform you will utilize for advertising, such as Google, mobile apps, another website, etc. However, the most critical factor in the process is knowing the buyer persona by putting yourself in their shoes and trying to answer the following questions:
What do you offer to online customers?

Why should they click on your ad and not other ads?
Afterward, you have to prepare an excellent customized ad copy rich with keywords, a clear headline, enough details, and an engaging call to action. Below is an example of an HVAC ad copy:
Affordable licensed HVAC contractor: Fix your heating or cooling systems in commercial and residential buildings for competitive prices starting from $100. Call us today for more details.
PPC/ The audiences
Although targeting the correct audience via PPC campaigns is the right job, retargeting previous website visitors is the winning move. When people visit your HVAC website, they do that for a reason, but it's not the end when they leave your website without moving forward, and you can retarget them again to bring them back.
How about targeting your competitor's website visitors too? Simply, Google can get it done in a few technical steps:▪
Use Google analytics to create an audience on your own, and you will notice a detailed description guide on how to set up a retargeting audience.

Use Google Ads to create your ad and use the pre-prepared Google analytics audience as your targeted audience.
Quick Tip: your retargeting ads should be personalized based on your audience guidelines. Suppose your page is about refrigerated display cases. In that case, visitors are interested in that content, and most probably, retargeting them with refrigeration units will be useless and will be a loss of marketing budget.
PPC/Placements
PPC mainly are Google search-oriented; therefore, excluding some or all mobile apps such as mobile games is very important to save time and money. These apps are proven to generate random clicks with no return. To exclude a specific mobile app placement from your campaigns, follow these steps:
Open your display ad campaigns and go to the Placements tab

Click on the Where Ads Showed tab and select the mobile app you want to exclude

After selecting all required mobile apps, click on Edit, and you can choose Exclude from Ad Group or Exclude from Campaign.

Anytime you want to check the excluded mobile apps, you can see them in the Placements tab and under the Exclusions tab.


2. Search Marketing: Search Engine Optimization (SEO) for HVACR Businesses
Although some marketing channels return results rapidly, other channels need more time and effort, but eventually, it pays off significantly, and it is worth all the patience and hard work. We are talking about the driving force of over ranking competitors, Search Engine Optimization (SEO).
SEO takes time to prepare, research, and implement. Still, any good SEO expert will confirm that two main elements are the success ingredient for any SEO, Buyer Persona & User journey Profiling on the one hand and Keywords on the other. Let's learn more about SEO:
What is Buyer Persona & User journey Profiling?
Nowadays, successful sales are connected to helping buyers instead of selling them. Although it might seem confusing, the concept is pretty simple. Buyers are more informative than ever, and making an online purchase requires going through a process consisting of 3 main stages known as the Buyer Journey:
Awareness Stage: in this stage, the buyer realizes there is a problem
Consideration Stage: in this stage, the buyer defines the problem, starts gathering information, and considers solutions
Decision Stage: in this stage, the buyer evaluates the options and decides
Helping buyers mentality vs. Selling them
The helping mentality means guiding buyers through the three stages of the buyer's journey. The best tool for that is providing insightful quality content that buyers care about, and such content helps create the connection between buyers and the business. For example:
Use the landing page to discuss ventilation and air conditioning.
Talk about potential issues and how to diagnose one
Add some free tips and suggestions about fixing the HVAC system manually
Offer some guidelines about service packages and pricing
Finalize with a CTA asking website visitors to make a consultation call
Quick Tip: It's essential to understand the audience, how they think, the answers they seek, and the path they tend to take to find a solution. You can begin crafting a documented content strategy that maps your content to the various stages of the buyer's journey from that research.
While these stages will filter potential customers to figure out who the target ones are, conducting a buyer persona profiling is necessary. The ideal buyer description, lifestyle, everyday activities, interests, demographic characteristics, etc., this information will create the fictional idol buyer's persona profile.
SEO Keyword Research strategies and tools
Every time SEO is mentioned, Keywords immediately arise! They are the core of any SEO strategy, mainly on-site SEO, where the website content matters. Many tools exist to help in keyword research. Those tools vary from free tools to paid ones, and here are the most popular:
Implementing an SEO campaign is not enough. Collecting information is a must to develop a buyer's persona & journey, find out the right keywords, and save your place at the top of Google search page results.
Quick Tip: even the paid tools offer a free subscription. It's recommended to try them for the HVAC industry keyword research, and these free trials are pretty good.
3. Social Media Marketing for HVACR Industry
Let's skip the part where we discuss the importance of social media in everyone's life today and head straight to the most exciting part of using Social Media Marketing as a Brand Awareness and Reputation Management tool for HVACR Industry.


SMM/ Choose your channels
Given the Buyer Persona Profile that was discussed above, at this point you probably have the list of social media your buyer persona uses for networking, news, socializing and other purposes. A very high-level differentiation of channels can be the following:
LinkedIn - Primary tools to build your Authority and Reputation, Generate Leads and Loyalty.

Facebook - Must have account for all businesses.

Twitter - Good to have this account set up if you have enough time to manage it personally, participate in threads and keep the buzz going.

Product Listing and Review Platforms - Good for businesses offering SaaS solutions, we will discuss these going forward.
Now, since you are most probably short in time and efforts you can allocate to Social Media, the social strategy for your HVACR business shoule include the following channels: LinkedIn,Facebook and Product Review Platforms ( if applicable).


SMM/LinkedIn
One of the strongest tools to build your reputation and trust, LinkedIn has some tricks that we can benefit from:
High Organic Reach- Compared to Facebook, your company and personal posts in LinkedIn are more luckily to have higher non-paid reach. In most of the cases the organic reach is even higher than the number of followers.

Advanced targeting for B2B Promotion: If at some point,you will consider running ads for the commercial type of your services, here you have the ability to choose the ad target by company industry, size, operating area and other identifiers, that are not available in Facebook and even Google.
Important to Remember! The more users engage with your content the more coverage you will get
Quick tip: Don't shy away from mentioning (using "@" before the name) some field influencers or those with better presence. In most of the cases it drives more reach and engagements.
Individuals Matter - Make sure all the frontmen of your business have good-looking personal profiles and engage with the community openly. Here is a detailed guide on this.


SMM/Facebook
Facebook is a must have account for any businesses, just because 30% of users check businesses' Facebook profile while deciding whether to proceed to purchase or not.
Some of the benefits here:
Clear CTAs: Users can get in touch with your business while browsing your page, by using the call-to-action buttons. You have full control over what type of communication you prefer, be that email, phone call or even WhatsApp message.

Demographic Targeting: If at some point, you will be interested in running ads to promote the residential services of yours, Facebook provides you with a variety of demographic targeting options, starting including marital status, age, location, household income and others.
Quick Tip #1 : Make sure to work on your instant replies and auto responses. The set up process may require some time, since you will need to understand what are the queries your audience reaches out to you often and come up with some standard answers, but at a long run, this will save a lot of your time. Here is Facebook's guide on this.
Quick Tip #2 : You can collect your audience's data in a chatbot and reach out to them with FB messages later,using some tools like Manychat and Chatfuel. Here is a good guide for reference.

Press Releases
For any HVAC business, especially a new one, public relations is the best way to increase brand awareness and trust. The most commonly used PR tool is the press release. It helps businesses get the buzz out and engage some early adopters, visitors, and even investors.
Writing a good press release requires extreme professionalism to get it distributed or picked up by some major publications. In this case, you may want to hire a professional PR writer and consider PR management tools.
Thought Leadership
Humans trust Humans. You have more chances to win the competition if there is a real, trustworthy human standing behind your HVAC business. Your company and the company's front-man need a strong personal brand and reputation. Tools and platforms to consider:
LinkedIn: It is the number one business social media platform, with more than 500 million users worldwide, and essentially it is designed to look like an online CV. Building a personal profile as a CEO or business owner on LinkedIn lets you connect with potential customers closely, enriching the company with a human personality and developing credibility, brand awareness, and connections.
Medium: As we mentioned before, the new methodology replaces selling buyers with helping them. Medium does that on your behalf as an online publishing platform with 60 million daily active users. You can share your own story with them to build an interactive personal connection and get closer to your audience. It creates a personal brand, expands the target audience, and walks the customers through their journey to take action and close the deal.
4. Email Marketing
When it comes to communication, especially in business, emails are the preferred and the first choice. Email marketing provides a direct and personal communication channel. It reaches everyone with no geographic limits and, most importantly, it's responsive to all kinds of screens and devices. More than half of Americans check their inbox first thing in the morning
Email marketing is very efficient and can be used for the following:
Promotion email blasts for your HVAC business to increase brand awareness

Seasonal promotions on holidays and special occasions

The post-purchase campaigns to build customer loyalty.

Welcome emails to greet your new subscribers, get to know them, and provide some more details on your HVAC services

Newsletter scheduled periodically via email to keep customers in the loop with the latest news about HVAC

Re-engagement campaigns to reconnect with inactive users
The Case: How a new startup in AHU selection was preparing for AHR Expo 2022 in Las Vegas
Now let's see what the startup has done to make sure they will get the most out of their participation in AHR Expo 2022.
SEO

A total of 8 blog posts was written in 6 months to target and uncover a very specific topics, acquire field experts and make them familiar with the company

Onsite SEO optimization was implemeted to make sure the website shows up for all the targetted branded and non branded keywords. Google Search Central Screenshot below




The Number of Branded Searches and clicks has also seen a significant spike. Below you can see the screenshot from Google Search Central on this.
Would you like to know more? Register for the webinar:
Building HVACR Business Reputation from the ground up. Do's and Don'ts
Conclusion
If you are considering entering new markets, offering new products, or just scaling your digital presence, make sure to book your seat for the upcoming webinar held by RefIndustry.com and Andava, where field expers will share their insights and advice on how your businesses can benefit from digital.
Today, online presence is the winning factor for any HVAC business. However, the main channels are still the same with so many promotion channels. Remember that it's not how to use them; it's how to do it perfectly!
Please share the article