The leading international companies presents new products at
EuroShop 2020
on 16 February 2020 - 20 February 2020 in Dusseldorf, Germany:
If you didn't find your press release please send
on our email
: a description of new products and pictures, stand number.
Subscribe our daily newsletter
.
Attend Euroshop
Advansor
Hall 17, stand D38
Product highlights on the fair:
MINIBOOSTER developed for convenience and discount store segments

TOWER small footprint and hight capacity

CHILLER MODULES chilled and easy-going companions that fit everywhere in combination with an Advansor pack
Hall 17, stand D59
At this year's EuroShop interested parties will find products and solutions for low-GWP refrigerants – especially for CO2 refrigeration systems on the BITZER's stand.
BITZER has been a pioneer for new products with a unique CO2 balance for many years – especially with regard to energy efficiency, particularly low-GWP-refrigerants and user-friendliness. For decades, the traditional company has been developing refrigeration and air conditioning components for refrigerants such as CO2, ammonia and from the A2L group as well as new methods of capacity control. In recent years, the focus has been exclusively on the discussion about the refrigerants in use; now the industry will start re-focusing on the effects of the energy consumption of refrigeration plants. Therefore, the BITZER stand at EuroShop 2020 will include product highlights for CO2 as well as other intelligent components and A2L condensing units.
The specialist for refrigeration and air conditioning technology provides components for sustainable solutions – for natural and ultra-low-GWP refrigerants, efficiency improvements and with a high recycling capability. A holistic view of the CO2 balance of refrigeration systems and the taxation of CO2 emissions, not only from leaked refrigerants, requires new ideas.


Reciprocating compressors: efficient progress
BITZER ECOLINE reciprocating compressors are highly energy-efficient both in full and part load and are designed for a very wide range of applications going beyond supermarket applications. One advantage of the series: it offers maximum freedom in the choice of refrigerant. Whether new low-GWP mixtures, HFO refrigerants such as R1234yf, R1234ze(E) or natural refrigerants – with BITZER reciprocating compressors, users find a suitable solution for every requirement. The ECOLINE series also includes the ME compressor series, which was especially designed for subcritical CO2 applications with high standstill pressures up to 100 bar. BITZER has now supplemented this series with two 6-cylinder models. With 54 m³/h and 64.9 m³/h delivery volume at 50 Hz, the two larger models are particularly suitable for large refrigeration systems in hypermarkets and distribution warehouses.
ECOLITE: flexible use for medium and low temperature refrigeration
The ECOLITE LHL3E and LHL5E condensing units open up a wide range of applications from 1.5 kW to 5 kW in the low temperature range and from 3.5 kW to 16 kW in the medium temperature range. One of their great advantages: Each of these models can be used for different applications and refrigerants. For the first time, BITZER is now also exhibiting ECOLITE in a version for low-GWP refrigerants of the A2L category at a trade fair – and thus a future-proof solution for refrigerants with a GWP below 150. The design of the condensing units ensures that their components are easily accessible and can be serviced quickly and easily if necessary. With all ECOLITE models, users enjoy the option of quick installation and commissioning thanks to the user-friendly controller with BEST software.
OS.95: efficient, powerful and universally applicable
With its energy-efficient OS.A95 screw compressor series, BITZER offers a climate-friendly and powerful solution especially in the field of ammonia applications for large cooling capacities. The wide application limit diagram of the series in combination with the automatic Vi adjustment allows the efficient use of OS.A95 in air conditioning, refrigeration and low temperature systems. The further developed rotor profiles and the generous flow cross-sections in the compressor also contribute to an efficient operation. Furthermore, the integrated IQ module simplifies compressor operation, control and monitoring. The series includes the universal models of the OSKA series for all applications and the OSNA series for specific low temperature applications.
Carel
Hall 16, stand 16E01
CAREL, a specialising in control solutions for the air conditioning, refrigeration and air humidification sectors, will be at Euroshop 2020 with a stand full of innovative proposals: systems that are compatible with natural and low-GWP refrigerants, high energy efficiency solutions, digital services for system monitoring, and control solutions for the food service business.
Carel's successful rack controller has been upgraded and is now faster
pRack is CAREL's complete offering for the control and management of compressor racks and condensing units.
It stands out on the market for:
innovative control algorithms aimed at saving energy;

compatibility with the main market control standards;

wide integration and supervisor options;

versatility, with many features that expand its possible uses;

high number of inputs and outputs for all control and measurement requirements.
These strengths are shared by the two versions in the range:
pRack 300, for applications that use the most common HFC and HFO refrigerants on the market, including the new blends such as R448A, R449A, R1234yf, R1234ze, R452A, R455A, in addition to CO2 in subcritical operation;

pRack 300T, developed for transcritical CO2 applications, integrates management of typical system components such as gas coolers, intercoolers, high pressure valves, flash gas valves, as well as medium and low temperature and parallel compressor lines. Completing the offering is the possibility to manage up to three EmJ - Modulating Ejectors.
Continuous modulation for centralised CO
2
systems
From small convenience stores to large hypermarkets, CAREL covers a wide range of centralised solutions. Hecu CO2 and pRack pR300T represent the complete offering for the control and management of centralised CO2 systems, from small condensing units to large compressor racks.
Their main strengths are:
Hecu sistema is the CAREL high efficiency solution for condensing units in commercial refrigeration applications. It has been evolved to work with natural refrigerants, by integrating management of DC inverter compressors for CO2. By using DC inverter compressors, Hecu sistema can offer real modulation of cooling capacity, so as to achieve low energy consumption, above all at part loads. Hecu sistema also stands out for its real-time communication with the refrigeration units, allowing implementation of advanced system optimisation logic, with dynamic set points and extremely stable control so as to ensure perfect food preservation and reduce food waste.
Larger sizes are served by pRack, the CAREL compressor rack controller able to control up to three compressor suction lines, medium and low temperature plus parallel compressors, gas coolers and up to two heat recovery systems.
The best response in terms of modulation is offered the multiDC configuration. This can control multiple DC compressors on the same line, offering numerous benefits:
High energy efficiency with DC compressor technology;

Multiple compressor modulation;

Complete integration with pR300T platform;

Compact unit design;

Low noise solution;

Perfect for retrofits and shops in city centres.
A further boost in terms of efficiency is provided by the CAREL EMJ ejector solution. Controlling up to three electronic modulating ejectors, CAREL's cutting-edge solution increases the energy efficiency of transcritical CO2 systems in warmer climates offering:
Direct expansion work recovery due to Venturi effect;

Higher suction pressure on all MT compressors.
Carrier Commercial Refrigeration
Hall 16, Stand 2A/2B
Carrier Commercial Refrigeration will showcase its refrigeration units and systems addressing European segment trends at EuroShop 2020, the world's largest trade fair for food retail investors. Several product world premieres are introducing at the stand, which features a fully functioning supermarket area. Visitors can experience Carrier's latest innovations in four dedicated sections of the stand: fresh, frozen, gourmet and systems. Carrier Commercial Refrigeration is a part of Carrier, a leading global provider of innovative heating, ventilating and air conditioning (HVAC), refrigeration, fire, security and building automation technologies.
In response to demand for fresh, easy-grab convenient food, Carrier recently introduced two refrigerated chiller islands:
Areor Total Transparency: This plug-in counter island displays "grab and go" chilled products for customers and has easy-to-clean, scratch resistant glass.
EasyCube: This plug-in chiller island is highly transparent and customizable.
Also displayed will be the EasyGo refrigerated self-service counter island, with a large display deck and straight front glass area, perfect for pre-packed products. Additionally, BREEZtec, a new air circulation system, showcased on a Maress multi-deck cabinet and available on all Carrier multi-decks with back evaporators, will be on display. Two new versions of the Methos multideck will be in the stand, including one with full face glass doors offering an additional 10 centimeter surface, and the Methos glass door cabinet, with 400 millimeter transparent doors and product accessibility.
Attendees will also experience the Evolution 6 cabinets optimized with CO2OLtec Evo technology, with increased overall carbon dioxide (CO2) system efficiency.
Products in Carrier's frozen goods stand includes a world premiere, the E6 Irios freezer island, featuring improved product visibility, curved glass lids for limited light reflection, new transparent profiles, a five centimeter increase in side glass surface, improved ergonomics and more.
The Virando cabinet, also on display, features layout flexibility for a large loading volume, including a 1.60 meter semi-vertical freezer, and the E6 Velando 53 slim-profile freezer offers considerable floor space optimization. With an inside depth of 490 millimeters, a reduced outside depth of 765 millimeters and a large loading volume, the E6 Velando displayed offers high sales productivity.
In the gourmet section, Carrier will present its extensive choice of counter styles, colors, shapes and customization, including Danaos counters offering maximum flexibility and full transparency, and the Medea® semi vertical, which is fully transparent and offers an energy-efficient option.
Two new offerings in the Danaos range are the Danaos Tower, integrated for multiplexing possibilities, and the Danaos DeLux, with optimum visibility and internal and external glass cabinet doors.
Another new counter cabinet on display will be the VistaDuo unit, combining serve-over and self-service sections, creating new sales opportunities and optimized floor-space productivity for the supermarket.
The systems section will include Carrier's CO2OLtec Evo system with a patented modulating vapor ejector and assisted by a CO2 pump with up to 30% annual energy reduction. Carrier will unveil the CO2OLtec Evo, a smaller version for applications under 100kW, ideal for small supermarkets. The new centrifugal gas cooler, will also be showcased at the stand, with a compact-design that complements the CO2OLtec Evo.
Danfoss
Hall 16, stand C59
Danfoss is headed to EuroShop 2020 and will be showcasing its intelligent supermarket monitoring and management technologies—a key aspect of our Smart Store concept. You'll discover an array of scalable, end-to-end solutions that are powerful enough to service supermarket giants, yet approachable enough for single asset management.
See the Smart Store solutions first-hand
Get an up-close-and-personal look at how the Cloud offers you a world of possibilities to save money and improve food safety. Danfoss experts will be standing by to discuss and demonstrate how remote monitoring and management make it easy to check and triage system alarms and how they deliver cost savings through performance optimization, reduced energy consumption, and fewer service calls.
Go hands-on with natural refrigeration technology
The Danfoss Mobile CO₂ Training Unit (MTU) has traveled around the globe, teaching hundreds of engineers and technicians about the technology that enables CO₂ use in commercial refrigeration systems and how they can use it effectively. Now, this fully functional transcritical CO₂ system-in-a-box is returning to EuroShop—in an enhanced version with more assets. One of the novelties is a cold room, which can be monitored by an app from a booth inside. You can also see the new range of Danfoss Condensing Units with CO₂.
If you need help finding the mobile training unit, stop by the Danfoss booth and Danfoss representative will show you the way and give you a guided tour.
ebm-papst
Hall 15, stand F55
ebm-papst will display energy-saving fans for refrigeration and freezer applications.
On the safe side with ebm-papst fans, for ebm-papst fans are approved for the use of naturally flammable refrigerants.
The F-Gas regulation (EU) No. 517/2014 poses great challenges for manufacturers and operators of refrigerating plants. By 2030, fluorinated greenhouse gas (F-gas) emissions in the EU must be reduced to 35 million t of CO2 equivalent. Thanks to the phase-down modality, the use of refrigerants with low global warming potential (GWP) will increase substantially.



Naturally flammable refrigerants: attention explosion
A low GWP means that the refrigerant is broken down quickly when it enters the atmosphere. However, this can only be assured if it is chemically reactive. And high reactivity typically goes hand in hand with high flammability. Naturally flammable refrigerants are environmentally friendly, but in case of failure, they are also highly flammable.
On the safe side with ebm-papst
ebm-papst fans are approved for the use of naturally flammable refrigerants. For example, the energy-saving ESM fan and the NiQ motor are used for refrigeration and freezer applications. ATEX-certified fans are usually not required. These are not necessary until the maximum permitted amount of refrigerant is exceeded. For refrigeration circuits with a large fill quantity, ebm-papst can also offer fans with ATEX approval II 3G nA IIA T4.
Energy-saving and networked
Generally, refrigeration systems run around the clock, so the energy they use is a big cost factor. The use fans in refrigeration and freezer equipment saves operators a lot of money, e.g. with the energy-saving fan (ESM) from ebm-papst. With the serial interface for MODBUS-RTU communication, many monitoring, controlling and control functions can be taken care of remotely and during operation and in real time. For use on the rear wall of refrigerated display cases, there is a diagonal model that installs especially flat.
Eckelmann

Ready for Refrigeration 4.0: As a partner of Bosch.IO, Eckelmann AG is presenting its new software solutions for refrigeration and building automation in trade at EuroShop 2020. With the app "Virtus Basic Desk", remote service providers and operators can control refrigeration devices via the internet, using control technology by Eckelmann.
In future, the app "Virtus Alarm Desk" will also offer the option of monitoring refrigeration devices independently of manufacturers. Both apps are provided via the Bosch.IO Retail Service Dashboard, an independent, safe and high-availability Cloud application. It is revolutionary that this Cloud application allows everyone in the trade to cooperate digitally, and make use of innovation, regardless of whether as an operator, manufacturer, app provider, refrigeration specialist or service partner.
Eliwell
Hall 16, stand A21
Eliwell and Schneider Electric to introduce solutions for integrated building management, from refrigeration to air conditioning.
The show's flagship solution will be the EcoStruxure for Supermarkets, a response to the demands for sustainability, monitoring, data analysis and safety made by the professionals working in the retail sector who will consequently be able to offer their customers increasingly high-quality experiences in their stores.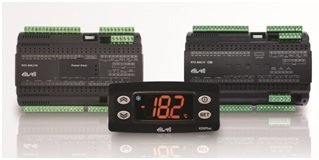 Key themes include refrigeration and the burden of energy consumption: for this reason, attention will be focused on solutions capable of reducing consumption, such as DOMINO - the most compact, modular and reliable solution for controlling Transcritical CO2 compressor racks - and its natural evolution, the new DOMINO ZERO.
Euroshop will also host a preview of IDNext, the "next generation controller": a 100% Italian control solution that will play a central role in 2020. Beginning with IDNext, Eliwell will use the show to reveal developments in the Next platform for refrigerated cabinet manufacturers, which will be available in 2020.
Last but not least, at the Eliwell stand we will also be discussing "services". We hear a lot about how it is now essential to sell not only products but also services that have been made possible thanks to cutting-edge technology: digitisation opens up great scenarios, such as augmented reality in HVACR applications which improves maintenance, thereby making associated procedures quicker and reducing machine downtime.
The expansion of the EcoXpert partner network is truly focused on service quality; the network now includes 3500 experts in Schneider Electric technologies, such as automation or energy, and their integration. During 2020 many EcoXperts will also become certified for Refrigeration, and will therefore be able to offer the market integrated solutions and a comprehensive technological skillset to better serve the new generation of supermarkets and warehouses.
On EuroShop Embraco solutions will be powering Fricon's new line of applications for commercial refrigeration. Through this partnership it has been possible to create a line of products that reduce up to 55% of energy consumption, when compared with conventional similar systems. Embraco, which is now part of Nidec Global Appliance, is one of the largest.

The applications, co-developed with Fricon, include a horizontal freezer, for frozen products, and a vertical showcase, for beer and energetic beverages conservation. The solutions use the FMF compressor, which brings the features of inverter and bivolt technologies combined with natural refrigerant R290, making it not only sustainable but the most efficient commercial compressor in the market.
The use of natural refrigerant R290 adds to these applications an energy economy of another 15%, reaching the whole 55% of consumption reduction. It also brings to the applications a major sustainability gain, because R290 does no harm to the ozone layer and has low GWP (Global Warming Potential).
Hall 15, stand F32
In continuous evolution, Frascold has great looks into the future and aims to expand in countries of its operations, with an approach that makes from the continuous innovation the most important principle to reduce the time-to-market.
Bringing its concepts to the reality, it all becomes expressed into the new releases of the compressors ZTK and FVR Series, which will be presented as a preview at EuroShop 2020 (Hall 15 – F32), taking place from 16th to the 20th of February. Specifically, ZTK is the new series of semi-hermetic compressors of 6 cylinders in transcritical operation with CO2 refrigerant. Three new models will be available of which Z40-31TK and Z50-38TK, respectively with volumetric displacement of 31 m³/h and 38 m³/h and Z50-31TK appropriate also for heat pumps, with volumetric displacement of 31 m³/h. A new range designed for industrial and commercial applications of big dimensions as supermarkets, shopping centres and distribution or storage centres.
During the fair exhibition the company will present also the FVR series of semi-hermetic twin screw compressors, meeting the industrial refrigeration needs of medium-sized enterprises.
FVR will be available in the L and H versions, respectively with evaporation temperatures down to -50°C and -20°C. Each model is available with 2 volumetric displacements at 50 and 60 Hz, for displacements ranging from a minimum of 120 m³/h to a maximum of 192 m³/h. As a plus to its compact size, the FVR series is characterized by its silent operation and compatibility with both HFC refrigerants and hydrocarbons, such as propane R290.
Freor
Hall 17, Stand A74
Following the growing customer interest in natural refrigerant systems, FREOR will exhibit propane-operated refrigerated display showcases, all in compliance with the latest EU legislation standards.
As a part of our natural cooling solutions, FREOR's Hydroloop R290-based waterloop system will be on display at our stand. This solution results in significant energy savings and ensures lower installation and maintenance costs for stores.
Refrigeration solutions powered by nature
The spotlight is also on our plug-in R290 driven semi-vertical modular islands, such as the PLUTON SPACE ISLAND semi-vertical medium temperature cabinet and our newly designed ORION ISLAND semi-vertical freezer cabinet. These are completely autonomous solutions with versatile configurations that operate with uniquely-built modular air condensers, so they are perfect for installing in new and existing supermarkets, as no machinery room or underlying piping are required.
New freezer island ORION
Included in the exhibit are some promotional plug-in solutions we've developed in the past few years including our full range of IDA and IDA COMPACT spot merchandisers and our newest star – the double-sided EXO chiller – all operating on R290. This newly-designed products will surprise you with its futuristic and elegant designs that will draw your customers' attention to the products on display.
Self service counter EXO
FREOR will present various vertical open-front and closed cabinets, dedicated for chilled and frozen products, which follow the latest design trends in the industry. We have not forgotten about more narrow display spaces, and one of our newest developments is the ERIDA SLIM freezer cabinet with optimised dimensions. The autonomous LEDA and LEDA COMPACT freezer islands are other not-to-be-missed items.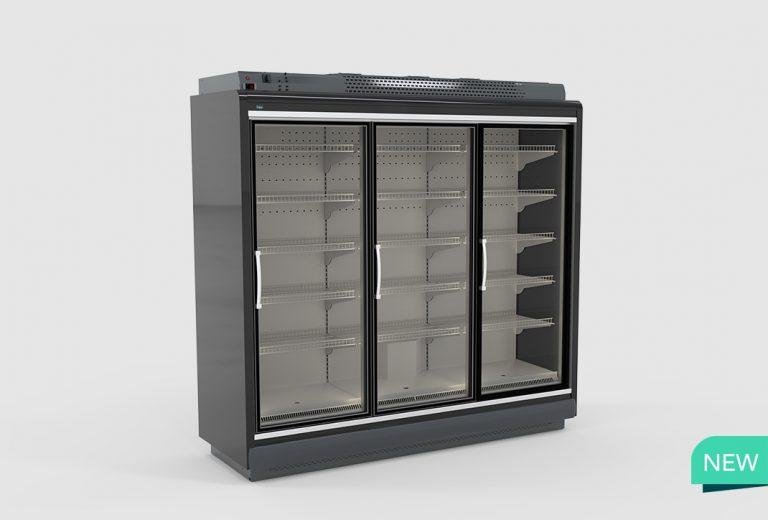 Optimized dimensions vertical freezer ERIDA SLIM
The exclusively-designed serve-over line of VEGA SPACE QB display showcases will also be on show, featuring versatility and designs to satisfy the needs of the modern-day retailer.
In addition, the semi-vertical PLUTON SPACE F&V and the multideck JUPITER VISION F&V ROLLER, dedicated to displaying fresh fruit & vegetables, are worthy of note as well as the PLUTON SPACE FLOWER designed for presenting cut flowers.
Hall 17, stand D77
GEA Bock is presenting the new generation of innovative CO
2
and HC compressors for natural refrigerants for the first time at EuroShop 2020 in Düsseldorf.
Market launch HGX44e CO2 - new milestone in compressor efficiency
World premiere and market launch for the new generation of subcritical GEA Bock CO2 compressors: The HGX44e CO2 series, designed for industrial low temperature applications, offers at least six percent higher compressor efficiency compared to other compressors on the market.
Trade fair premiere HGX24 CO2 (L)T - specialized for small capacity requirements
GEA Bock is expanding its portfolio for transcritical applications in the lower capacity range with the new HGX24 CO2 (L)T CO2 compressor series. With cooling capacities from 9 to 21 kW in medium temperature, the compressor is specially designed for system applications in supermarkets with smaller capacities.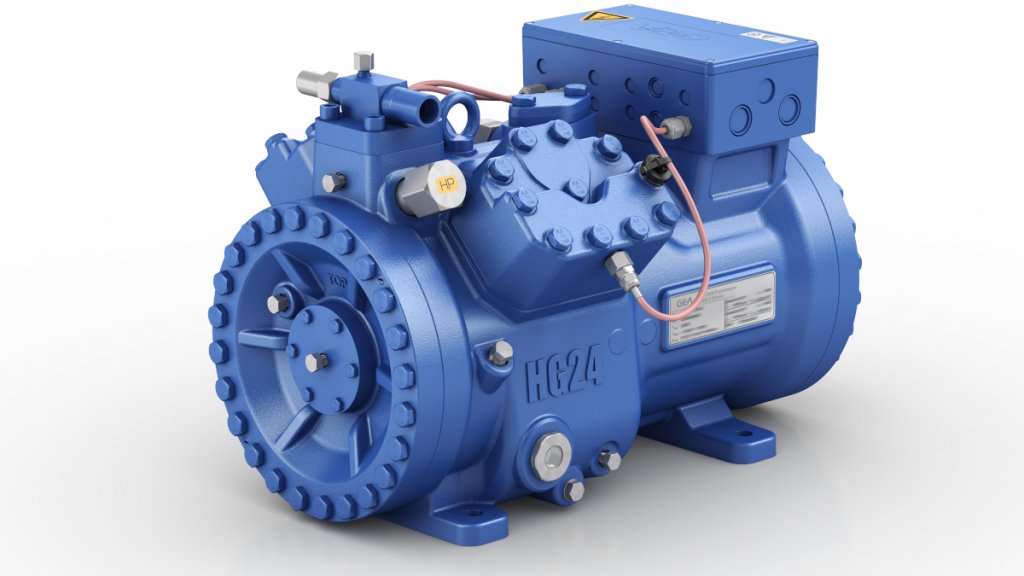 In addition, the Frickenhausen-based company will be presenting its currently complete range of commercial HC reciprocating compressors for the hydrocarbon-based natural refrigerants such as propane and propylene at the newly designed booth at EuroShop.
Habbard
Hubbard Products, Ltd. will present its broad product portfolio at Euroshop 2020, including CO2 condensing units with rotary compressor. The highest demands are made in terms of operational safety, energy efficiency and sustainability when it comes to the careful storage of food. High-quality and reliable systems are therefore the key to success. With the new, particularly compact condensing units (models MT and LT), available with power outputs ranging from 1.5 kW to 24 kW, Hubbard offers a comprehensive solution for reliable food refrigeration.
CO2 refrigerant – ideal properties for food refrigeration
With a GWP (GWP = Global Warming Potential) of 1, natural refrigerant CO2 is particularly climate-friendly and also works more efficiently than other refrigerants thanks to its high volumetric cooling capacity. Positive thermodynamic properties such as low viscosity, high thermal conductivity, high vapour density and classification in safety class A1 as a non-toxic and non-flammable refrigerant, make CO2 the ideal refrigerant for food refrigeration.
Energy-saving and quiet operation
The 2-stage rotary compressor is specially designed for CO2 refrigerant and makes for quiet and energy-saving operation. The Hubbard CO2 condensing units, which work with inverter technology, adjust the refrigeration capacity to the actual demand. The inverter reduces system start-up times, enabling the required temperature to be reached quicker. As soon as the correct temperature is reached, the inverter ensures that it is maintained constantly. By maintaining a constant speed, inverter technology reduces energy consumption by 30% compared to a conventional ON/OFF system. The built-in EC fans also work very efficiently and quietly. Hubbard condensing units are eco-design compliant.
HAUSER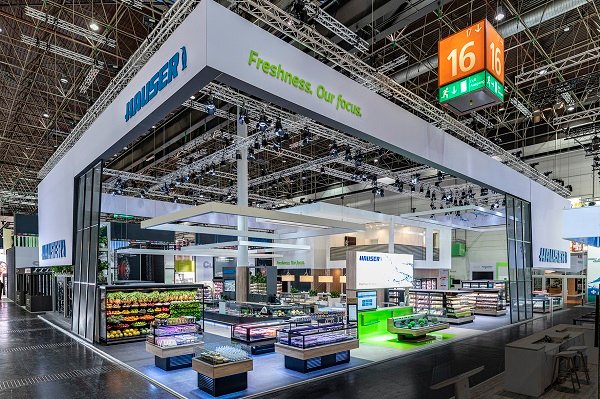 HAUSER presented a range of integrated sales promotion solutions and sustainable refrigeration technology at this year's EuroShop – with enormous success. Our modern, high-quality stand design with its mixture of open areas and designated zones was clearly visible from afar and attracted numerous international visitors to the HAUSER stand to gather fresh inspiration for retail solutions of the future. Many visitors also took the opportunity to pay us a second visit in the evening and bring the day to an enjoyable close at our "Fresh Hour" – with music, Austrian delicacies and an upbeat mood.
One of the highlights of our trade fair display was the REMETA refrigerated multideck cabinet. Its unique contours and a modular system with 4 adjustable height, depth and length settings allow the REMETA to blend seamlessly into every store concept. The innovative triple air curtain (EcoMotion³) ensures maximum temperature stability by effectively separating the cool goods area from the warm sales area. With its colourful fruit and vegetable display, the compact REMETA refrigerated adjustable multideck cabinet was one of the most popular photo motifs at our stand. The REMETA was given pride of place in the exclusive area where it was showcased in a way that appealed to all five senses, maximising the time visitors spent in the sales area with its design, technology and choice of materials. The HAUSER piano package with its psycho-acoustically optimised sound helped to create a pleasant ambience.

In showcasing their refrigeration technology, HAUSER focused both on CO2 as a future-proof refrigerant and on flexibility. The Connect Box is a prime example of this. It is HAUSER's first compact single condensing unit for refrigeration and deep-freezing and offers a wide range of features, enabling standard serialised cabinets to be transformed into plug-in systems. The use of the natural refrigerant CO2 ensures maximum sustainability and optimum energy efficiency. The units are available as either air-cooled or water-cooled factory standards; they can also be installed outdoors. This makes the HAUSER Connect Box ideal for small stores or as a retrofit solution.

Our trade fair display also featured individual solutions for (small-scale) supermarkets with a range of refrigeration units for convenience food, including the VINIA product family. The centrepiece of the exhibition stand was the VITHEA refrigerated counter with its innovative two-zone cooling system. This also served as a central hub for visitors to come together and enjoy a few refreshments at the end of the day. VITHEA's wide range of modules, functions, colours, shapes and materials will all facilitate the implementation of tomorrow's individual, high-quality delicatessen areas.

The new REFINO refrigerated multideck cabinet made its first appearance at a trade fair and immediately set new standards in terms of transparency. Its signature Infinity doors and transparent spacers are designed to maximise product visibility. The smooth front, created using flush-mounted doors, is perfect for showcasing your products and can be combined with the MIRENGO system, combining refrigeration and deep-freezing in a single design.

In summary, the huge interest expressed by visitors, the fruitful discussions and the consistently positive response to both the exhibition stand and the products on display made EuroShop a resounding success for HAUSER.

KS-RUS
Hall 15, stand E02
KS-RUS group of companies, a manufacturer of refrigeration equipment and cash boxes «MAGMA» and racks «РУСЬ», will present a new line of refrigeration slides for the "plug-in" cold supply system on the R290 "KATRAN LOW FRONT" circuit at the Euro shop 2020 international exhibition.
A distinctive feature of the series is that all models have the lowest possible front, and almost keeps the volume of product display at the level of the classic slide for the "remote" cooling system. The use of the most advanced propane compressors and condensers allows you to make the equipment of this line as energy efficient as possible.
All models of this series can be equipped with front energy-saving doors and join in a single line. The company will also present a new series of showcases "BERILL RETRO" and cash boxes " GREENLAND».
LEVIN
Hall 15, stand A22

The company will bring to your attention new models of refrigeration equipment for food retail, using innovative energy-efficient technologies with maximum care for the environment and freshness of products.
Panasonic
Hall 6, stand H58 and Hall 16, stand E32
Panasonic will be highlighting its wide range of efficient solutions such as the innovative CO2 Cold Chain Condensing Units, R32 PACi range, and reliable VRF systems, amongst others.
Dedicated to the decarbonisation of society and with a forward-thinking, sustainable approach to creating a 'A Better Life, A Better World', Panasonic has designed its CO2 Cold Chain Condensing range as an innovative, 'green', and highly efficient cooling solution. Ideal for hospitality and commercial spaces, the solutions work especially well for both refrigerated and freezer showcases, as well as walk-in freezers and cold rooms. The units can also be used for hot water production for cooking or washing dishes – the perfect solution for restaurants. Hot water can be produced by utilising waste heat from the cooling operation as renewable energy, as a result, 16.7kW of hot water can be produced for free.
Making its debut at EuroShop is Panasonic's new and simple CO2 Refrigeration Designer for calculation, designed to support engineers, installers, and technicians to quickly make calculations when specifying solutions for commercial refrigeration systems.
Additionally, Panasonic will also be showcasing its other solutions suitable for the market at EuroShop, such as the commercial R32 PACi range. Thanks to a higher energy efficiency performance of up to 10% with R32, it's the perfect solution for business owners looking to make the switch. Further contributing to a 'green' future, the series offers a reduced amount of HFC refrigeration compared to conventional R410 models and the range itself offers a wide choice in capacities, reaching up to 25kW with the compact unit.
Another highlight of the booth will be the Panasonic VRF systems, offering advanced heating and cooling for even the largest projects. The booth will include the Mini ECOi series, which deliver a powerful performance for properties with limited outdoor space and boasts significant energy savings, easy installation and high efficiency. Ideal for restaurants, hotels, and retail applications, Panasonic's integrated technology ensures easy installation, high efficiency, energy saving and creates a better work environment.
Hall 17, stand D01
Rivacold is presenting a wide range of products that were specifically designed for retail. All products have been developed for the current and future refrigeration market demands and trends and, at the same time, to combine reduced environmental impact, low energy consumption and good quality solution for all variety of food retail in their single or integrated solutions.
Rivacold chooses the most cutting-edge technology on its historical product: the R290 wall mount Blocksystem packaged units becomes BEST and will be unveiled to all customers in preview at Euroshop 2020 fair. A new industrial design, a revolutionary electronics and an integrated connectivity system will make this product, aesthetically appealing, functional and digitally innovative for the food retail market.
PROPANE (R290)
BEST: preview of the new range R290wall mount packaged systems with the new revolutionary electronic control.

SF_WL: R290 Water-loop ceiling mount packaged systems for cold rooms for medium and low temperature application

SE_TE: R290 packaged systems using R290 for Eco-design compliant cabinets and tables

CHILLER: new R290 refrigeration food process chiller range from 8 to 19 kW (up to 76 Kw in modular application)
C02 (R744)
SPLIT-CO2NNEXT the first transcritical split systems functioning with CO2 variable capacity BLCD

hermetic compressor for cold rooms of medium and low temperature convenient stores.

TX_COMPACT CO2 transcritical high efficient multi-compressor booster pack system.

4Y/MULTI-CO2NNEXT transcritical C02 booster multicompressor pack with an additional revolutionary and high efficient module for AC and HEATING integrated system, matching all the needs of a standard convenience store.

New generation of gas coolers with mini-tubes and high efficient EC fan-motors.

Static and Cubic Evaporators for counters and cold rooms using C02 as refrigerant
SCHOTT
Hall 17, stand C60
SCHOTT will be showcasing the innovative design concepts of its Termofrost glass door systems for chiller cabinets at EuroShop 2020 from 16 to 20 February 2020 in Dusseldorf.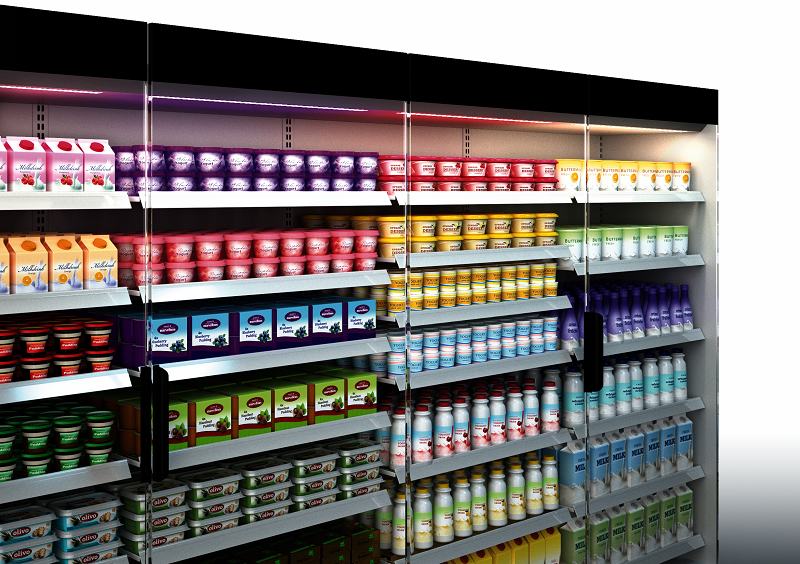 The glass doors feature light elements and display screens providing digital information for better orientation at the Point of Sale (PoS). SCHOTT will also present another innovation:doors with fully glazed fronts give the entire chilled and freezer section a uniform and harmonious look, thus accentuating the products presented.
TEKO
Hall 17, stand A60
TEKO to show its refrigeration units ranges:
ROXSTAmicro – CO2 air- and water-cooled for plug & play units

ROXSTAG6 – CO2 for large capacities / compact design

RANSTAheat – propane heat pump / up to -20°C ambient temperature
Please share the article