Follow events and activities of World Refrigeration Day 2020.
Associations and institutes
Companies
Send us the details of your events and activities to
e-mail
.
Let's chat!
Join to the groups and talk with professional worldwide:
The International Institute of Refrigeration

The annual World Refrigeration Day aims to raise awareness among the wider public about the importance of refrigeration technologies in everyday life.
With increasing global stakes at hand, over the past years refrigeration has come to take a leading role at the heart of international affairs.
World Refrigeration Day is not only an ideal way to recognise the many historical achievements of the industry, but also a means to anticipate and overcome together the challenges we face.
Striving to give generations to come confidence in their future, World Refrigeration Day is the hallmark to say "Everyone's included!"
Call to Action
Send the details of your events on
The International Institute of Refrigeration joins associations and companies worldwide to support the initiative of an official World Refrigeration Day on June 26 every year.

Send to IIR email the details of your events iif-iir@iifiir.org with the subject "Call to Action: World Refrigeration Day".
The Institute of Refrigeration
World Refrigeration will be held on 26 June and the IOR is planning to launch no less than FOUR exciting initiatives over the next two weeks to celebrate. These are:
An IOR membership campaign with a reduced £20 joining fee and instant access to the IOR's online resources. The IOR is aware that many people are still furloughed or may have lost their job so we want to help them keep their skills up to date during these uncertain times – anyone in this position won't have to pay their full membership fee until September. ior.org.uk/membership
The IOR Service Engineers' Section is becoming the IOR RACHP Engineering Technician Section to reflect the broader appeal of the section which covers technical roles across the whole spectrum of cooling activities. The section is not just for those involved in service work but also open to those in installation, maintenance, commissioning, sales or any hands-on technical role across the whole spectrum of cooling activities. It also reflects the new RACHP Engineering Technician Apprenticeship title.
RACHP Heroes - a social media campaign celebrating the work of everyone in our sector who has helped to support essential services during the COVID-19 pandemic. We invite our industry to nominate your RACHP hero or hero or share your stories on social media using the #rachpheroes and #wrefd20 to open the eyes of the public to the essential contribution that the cooling industry has made to our society and to their lives
An IOR Climate Change Plan for Cooling which highlights the path towards our net-zero future. The IOR has identified seven challenges that need to be addressed at a policy, technical and practical level to achieve lasting change and it wants to work with members, policymakers, and other organisations to find solutions to these issues - find out more at www.ior.org.uk/beyondrefrigeration
ASHRAE Supports World Refrigeration Day 2020
ASHRAE has joined with associations and societies around the world in pledging support for World Refrigeration Day 2020 on June 26.
Called the "Coolest Day of the Year," World Refrigeration Day is an international awareness campaign created to raise the profile of the refrigeration, air-conditioning and heat-pump sector and focuses attention on the significant role that the industry and its technology play in modern life and society. This year's theme will be Cold Chain 4 Life.
"Since 1904, ASHRAE's contributions to refrigeration research and technology continue to advance the cold chain industry and benefit the public in profound ways," said 2019-20 ASHRAE President Darryl K. Boyce, P.Eng. "We are proud to partner with other global organizations to support World Refrigeration Day, in this its second year, as we celebrate refrigeration's vital role to the modern world."
Participation is expected from prominent industry associations and societies, in dozens of countries for a series of refrigeration-related activities to support the day. Governmental officials have also joined in recognizing the event, including issuing letters and statements of commendation.
ASHRAE's refrigeration webpage aligns with World Refrigeration Day by encouraging the expansion of refrigeration technology and its application.
"Refrigeration and the cold chain are part of a growing, worldwide industry," said Rajan Rajendran, chair of ASHRAE's Refrigeration Committee. "ASHRAE's resources and the work of our members will continue to make a difference in improving the quality of life for people throughout the world."
AREA

AREA is delighted to support the second World Refrigeration Day on the anniversary of Lord Kelvin's birth on the 26th of June. Such a celebration is an acknowledgement of the societal contribution of refrigeration, air conditioning and heat pumps (RACHP), whether related to health, food, or comfort. Refrigeration, air conditioning and heat pump contractors, represented by AREA, are proud to play their part in achieving such developments for society.

Now, more than ever, we understand how important and essential our sector is for modern life. Cooling is critical in fulfilling the most immediate needs of European citizens in preserving food and medicines, providing thermal comfort in hospitals and homes, keeping data centres running, and much more. In the context, refrigeration, air conditioning and heat pump contractors, represented by AREA, play an essential role through ensuring the maintenance, repair and overall efficient functioning of refrigeration, cooling and heat pump systems. They allow the cold chain to operate and the internet to function, and they support healthcare.

AIRAH
In 2020, World Refrigeration Day will celebrate the cold chain.

The theme celebrates the importance of the food cold chain in sustaining life. The cold chain links producers and growers across the world to the domestic refrigerator in our kitchens, and it is essential for so much more than food. Vaccines must remain chilled until they are used by medical professionals around the world, and the cold chain is essential for blood transfusions and organ donor transport and storage.
"In light of coronavirus, WREFD 2020 is transformed from a mainly physical event experience into a virtual and online one for WREFD20. We encourage the industry to use the opportunity of World Refrigeration Day to raise awareness and understanding of the significant role that the industry, its science and its technology play in modern life and society, in a safe and responsible manner that is fully compliant with local restrictions and aligned to all safety measures. "
Join AIRAH on Friday, June 26 for our World Refrigeration Day event – the AIRAH Virtual Industry Showcase. This event brings together HVAC&R companies, professionals and practitioners. Explore the latest products and technologies from the industry; receive exclusive offers; participate in live Q&A sessions; and network with peers across Australia in this special one-day event. For more information, please
click here
.
AEFYT, AFAR and AFEC
AEFYT, AFAR and AFEC will celebrate World Refrigeration Day with an online event.
It will do so for the second consecutive year, bringing together, through an online event, representatives of the refrigeration sector of the value chain of the cold sector.
AEFYT
(Association of Companies of the Cold and its Technologies),
AFAR
(Association of Andalusian Manufacturers of Refrigeration) and
AFEC
(Association of Manufacturers of Air Conditioning Equipment) organize in Spain the Conference in which the needs and solutions of the sector will be exposed in these such strange moments, where many classic approaches are modified on the fly to adapt to the "new normal".
The important contribution of the cold sector to the well-being of society gives meaning to the congregation of different associations, companies and professionals, whose shared mission is to propose effective solutions to make the day-to-day life of society more productive, simple and comfortable. In addition, the social and environmental commitment of refrigeration companies reverts, in turn, to meeting the sustainability objectives of millions of companies around the world.
EPEE
World Refrigeration Day is an international awareness campaign to raise the profile of the refrigeration, air-conditioning and heat-pump sector and focuses attention on the significant role that the industry and its technology play in modern life and society.
It draws attention to wonderful engineering and science that is all around us every day. Refrigeration is at the very heart of modern life. It enables people to live, travel and work comfortably. It saves lives. It enables people to achieve.
In that spirit, EPEE's Count On Cooling campaign has developed a series of case studies to show practical examples of sustianable cooling solutions leading to emission reductions through energy efficiency gains, smart control systems and circular practices developed in the cooling industry.
To learn more about the #CountOnCooling campaign, please consult EPEE's White Paper "Count on Cooling: A five-step approach to deliver sustainable cooling" examining the crucial role of cooling in the 21st century.
The University Institute of the Gulf of Guinea

June 26, 10am - 6pm
The IUG will organise an interactive day of presentations, technical site visits, a round table discussions and countless networking opportunities.
"CALL FOR CONTRIBUTIONS: WORLD COLD DAY"
Proposal for a "day" program
1. Brief description of the activity
On the occasion of the second world cold day, the University Institute of the Gulf of Guinea (IUG) plans to deploy the following actions:
Announcement of the day on banners displayed in public places and on Gulf radio (94.7 FM: radio from the University Institute of the Gulf of Guinea);

Throughout the month of June, a series of interactive radio broadcast on the Gulf, hosted by cold players in Cameroon, on themes related to "the cold chain for life";

Organization of visits to refrigeration companies in the city of Douala and its surroundings (provision of four Coasters buses with a unit capacity of 35 seats);

On June 26, 2020, between 10 a.m. and 6 p.m., presentation of Communications (by various actors) and Round Table around the theme of the day, at the Ami 700 of the IUG, with audio and video recording of the event (public: refrigeration professionals, students, artisans, ...);

Creation of an extended network of refrigeration professionals likely to lead to the creation of a Cameroonian Refrigeration Association.
2. Location
This activity will be located at the University Institute of the Gulf of Guinea (IUG), a structure which has been training for over 24 years senior Technicians in Refrigeration and Air Conditioning.
For a presentation of the GUI, please contact its website: www.univ-iug.com
A‑Gas

Every year, World Refrigeration Day is celebrated to help raise awareness and understanding of the significant role that the refrigeration industry and its technology play in modern life and society. It is an opportunity to share an appreciation of all those that work in the refrigeration marketplace and help to raise the profile of the sector in mainstream conversations.
The theme of World Refrigeration Day this year focuses on connecting the cold chain. The cold chain connects people around the world to produce and protect essential industries such as medical, food and transport.
The Coronavirus pandemic has affected every single person and business in some way and as an industry, we are all in this together. That is why the A‑Gas team worldwide are supporting this event, to ensure we stay connected as a business and as a wider industry at a time when it is needed most.
Bitzer
Together with the SCHAUFLER Academy, the company's internal international training centre, BITZER has developed a special webinar for pupils for 26 June 2020. In line with the motto – 'Don't be a fool, stay cool. Why life without refrigeration and air conditioning just wouldn't be possible' – Volker Stamer, Director of the SCHAUFLER Academy, explains why we all desperately need cooling.
26 June is World Refrigeration Day, the day when the importance of refrigeration, air conditioning and heat pumps is celebrated all over the world. "HVAC/R is a significant part of our daily lives, yet most of the time it is hidden from view", commented Biagio Lamanna, CAREL HVAC/R Knowledge Center Manager. "As if to say it's there, but you don't see it. For this reason, CAREL has decided to make an active contribution to World Refrigeration Day 2020 and work to promote awareness of just how important HVAC/R is".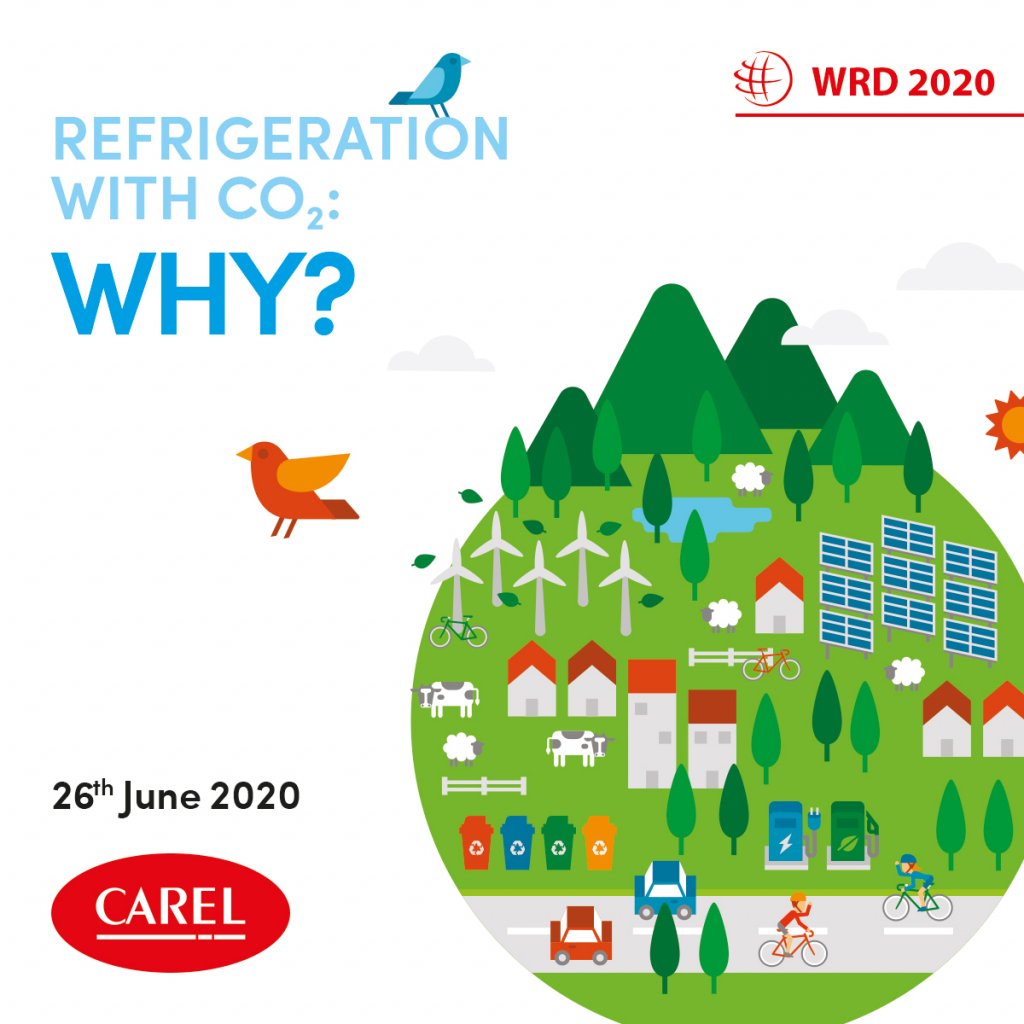 CAREL's campaign in support of World Refrigeration Day revolves around natural refrigerants, a topic that is very dear to us and is linked closely to environmental sustainability. Indeed this link is how we envisage the present for our sector and the future of our planet. Every week, at https://www.carel.com/2020-world-refrigeration-day a few facts will be revealed to help you learn more about the world of natural refrigerants and CO2. On 26 June a summary infographic will put together the pieces of the puzzle, and an educational video will explore the world of natural refrigerants.
"We opted for an infographic and a more captivating way of presenting information so as to extend the target audience", Lamanna continued. "Simple concepts alternating with more complex notions to entice even younger people to learn more about air conditioning and refrigeration".
Cemafroid-Tecnea Technical Day

25 and 26 June 2020

Cemafroid-Tecnea invites you to the 2020 technical day on the site of the André GAC testing and certification laboratories in Fresnes on 25 and 26 June 2020.

As every two years, Cemafroid and its partners offer to refrigeration actors plenary lectures, workshops / debates and technical demonstration sessions.

To participate in this event, due to a limited number of places available, registration (free) is mandatory. Please register as soon as possible by completing the following form.

Viessmann Refrigeration Solutions

For the second year in a row Viessmann Refrigeration Solutions has decided to sponsor the World Refrigeration Day, now with a two year sponsorship.
The main idea behind the sponsorship is to be part of a group that is driving knowledge and information about the importance of refrigeration in our everyday lives. What does it actually mean that the cold chain remains unbreakable? What are food safety and food hygiene, and what means reducing food waste? How can we, as a company, or you, as a consumer, influence all this?

Viessmann would like to make a positive impact on society and try to make people think that by reducing food waste everyone really can save natural resources like clean water and energy. By keeping the cold chain unbroken and taking care of hygiene people stay well, avoid food poisoning and other food-borne illnesses as well as reduce food waste. And refrigeration is not only about food products, also many pharmaceuticals like vaccines and many other products need cold storage.

Frank Winters, CEO of the Refrigeration Solutions business area, says "We all need to take action to preserve our planet for future generations. We want to introduce Viessmann Refrigeration Solutions as experts in this market, and we aim to be the Press 2 preferred partner for our customers. With our expertise, we aim to help our customers succeed and contribute to the preservation of our planet. By raising the awareness of refrigeration we also hope to attract more young people to work within the refrigeration business".

For more information about World Refrigeration Day visit www.worldrefrigerationday.org.

Please share the news