REFRIGERA is is the first event dedicated to the entire industrial, commercial and logistics refrigeration chain in Southern Europe and the Mediterranean area.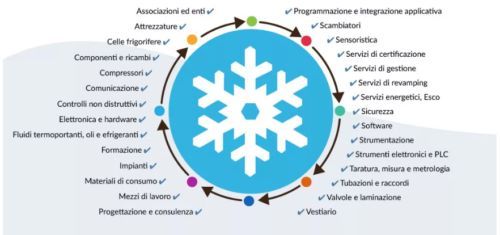 REFRIGERA, the new event scheduled at Piacenza Expo, north of Italy, from the 20th to the 22nd of February, reserved exclusively for operators in the industrial commercial and logistics refrigeration chain, is a true innovation for 2019 and offers the opportunity to meet over 160 companies, the leading suppliers of plants, technologies, machinery, components and services in the sector interested not only in the Italian markets, but also in those of Southern Europe and the Mediterranean area.
Plan of the exhibition

In fact, for the first time, all suppliers and professionals of the refrigeration industry will be able to meet in a single specifically dedicated business event in Southern Europe with targeted meetings, thanks to a "light" formula and a small investment.

Three days with dozens of conferences and seminars. The event will also offer the opportunity for all operators to be updated about the latest innovations and developments in the sector participating in conferences, seminars and workshops specifically dedicated to the entire refrigeration industry chain, providing fundamental information for the development of their projects and their own business.
Conferences, seminars and workshops will focus mainly on new production technologies, processing and assembly, regulations, new components, as well as innovative materials, but will also address more general topics such as the launch of new products and their redesign, along with the main problems related to the quality of services provided, climate-friendly solutions, transport, regulations, training, cryogenics, etc. (See Conference Programme).
REFRIGERA 2019 has the support of the main European and national sector associations.


The main players
A clear and valuable project: the meeting/comparison between operators in the field – refrigeration technicians – along with production, distribution, technicians and planners. Sector associations and primary political and economic institutions will be the main players. Operators of the sector will have the chance to meet and discuss at an event created exclusively to respond to their needs and demands. REFRIGERA was founded in response to the demands of operators and market of the sector for a meeting place so as to be prepared to face the challenges of this fast moving and developing market sector. And this is why Refrigera 2019 will include numerous exclusive and innovative features such as:
Refrigeration Technician GrandPrix – A real live competition to award the best workers in the sector;
Distribution Award – Excellence among wholesalers and distributors will be rewarded through a careful selection process;
Training and Conferences – The main topic of the show with dedicated workshops and vents;
Verticality and network – The language, the approach and the entire programme will be carried out following the specific characteristics of sector operators with a wide use of online and shared tools.
Read more and register
Please share the news