The AHR Expo will take place in Chicago January 22–24, 2018. Visit AHRI at booth #4710 to learn more about standards, membership, certification, and our new Directory of Certified Product Performance. AHRI will host three free educational sessions during the Expo. No advance registration is necessary.
Best Practices for Humidification Systems
Tuesday, January 23 3 p.m. – 4 p.m. | McCormick Place, Chicago Learn why humidity control is important, and details on steam system and adiabatic system design. The presenters also will discuss special applications for humidification, such as healthcare and cooling.
Benefits of Flexible Gas Piping Systems for Commercial Applications
Tuesday, January 23 2 p.m. – 3 p.m. | McCormick Place, Chicago Presenters will explain how corrugated stainless steel tubing (CSST) provides efficiencies in cost, installation time, rough-in space, and weight. Its flexibility offers safety advantages in areas of seismic activity and high-rise construction, and works well in system upgrades and electric to gas conversions.
Utilizing Variable Frequency Drives
Tuesday, January 23 4 p.m. – 5 p.m. | McCormick Place, Chicago Learn about the benefits of variable frequency drives (VFD), and how AHRI Standards 1210/1211 are used to rate and test VFDs. This session will also include an overview of the AHRI VFD certification program and how to use VFD certified ratings.
Contact:
Monica Cardenas
, Director, Communications
Direct:
703.600.0388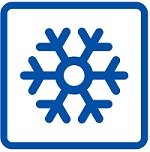 Please share the news