Bitzer display own products from 22 February to 02 March in Japan, India and Russia concurrently. It's trade show HVAC&R JAPAN, Climate World Russia and ACREX India. Look pictures from Climate World Russia.
The main new products:
ECOLINE reciprocating compressors with IQ module
ECOLINE reciprocating compressors offer maximum energy efficiency in full and part-load and are designed for a very extensive range of applications in supermarkets and beyond. The exhibit at ACREX India has a displacement of up to 41 m
3
/h (50 Hz). 'We are very happy that we can present so many product highlights for BITZER Japan's tenth anniversary at the important refrigeration and air-conditioning trade fair,' says Ferdinand Spannan, Managing Director of BITZER Japan.
Efficient and flexible compact screw compressors: the CSVH2 series
The CSVH2 series is a unique development in the field of compact screw compressors, especially designed for speed control and optimised for use in air-cooled liquid chillers and heat pumps. The series is provided with an integrated frequency inverter which controls the motor speed – enabling infinite capacity control for users and an optimal energy use for any application. Like the bigger CSVH3, the CSVH2 monitors its own application limits. If a value exceeds the set parameters, the BITZER compressor gives a warning and the option to adjust the performance and operating parameters.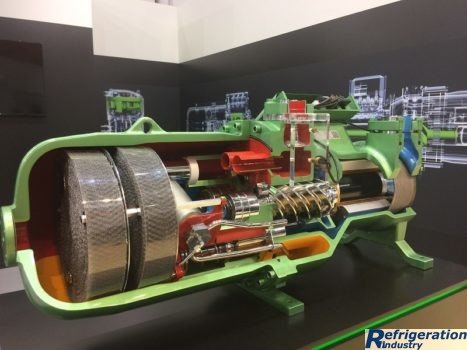 A strong team – ORBIT 6 and 8 scroll compressors

The proven ORBIT 6 and 8 scroll compressors are designed for air-conditioning systems and heat pumps. They're extremely compact and boast low energy consumption, low noise operation and a variable speed range (ORBIT 6: 40 to 75 Hz, ORBIT 8: 35 to 75 Hz). Even when it comes to displacement, the two series offer exceptional flexibility with capacities of 20 and 77 m
3
/h at 50 Hz.
Please share the news