Recently, Italian industrial refrigeration company Tecnofreddo received a request from a customer in the beverage industry. Located in the center of the UK, the customer's 20,000 m2 logistics and distribution center needed a cooling solution that was both efficient and environmentally responsible.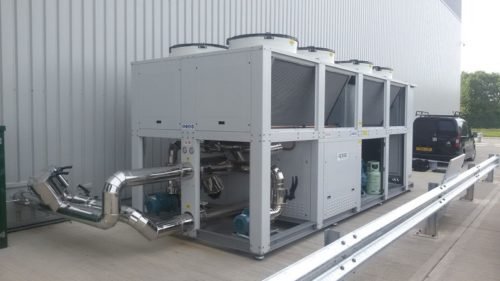 The client requested an air-cooled outdoor chiller with two independent refrigeration circuits capable of cooling multiple areas of the facility. Tecnofreddo chose a solution from their ECO3 line which utilizes natural refrigerants instead of traditional refrigerants.

The chosen design features a central glycol circulation system with all stainless steel piping. To maximize efficiency, inverters drive the compressors and glycol pumps, while a custom-programmed PLC provides the control.

At the heart of the system are two 8-cylinder Frascold W-series semi-hermetic reciprocating compressors ATEX certified and approved for Zone-2 explosive environments, these machines provide the robust performance, safety and reliability needed for this application.

The chiller has a total cooling capacity of 270 kW (135 kW per circuit) and a total refrigerant charge of 22 kg of Propane to cool ethylene glycol from +6°C to +2°C. This system provides the efficiency and flexibility needed to cool the various receiving, storage, and shipping areas of the logistics center.
Please share the news