Emerson announced Vilter Manufacturing has engineered a new suite of products, the majority of which are slated to be released in the spring. Vilter's new product developments and solutions leverage Emerson's experience with CO2 in the commercial market for industrial use and include: a modular refrigeration unit (MRU); 550 reciprocating compressor unit; a micro controller and a 143-millimeter single screw compressor.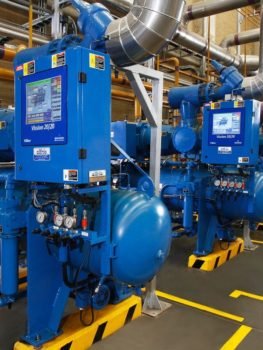 Vilter's new suite of products support the effort to help reduce ammonia in the cold storage space. Ammonia can be toxic and has complex safety management requirements. Ammonia leaks can also ruin products or, worse, harm people. The use of alternate refrigerants with low global warming potential (GWP) allows for a more sustainable and safe cold chain. "This new Vilter suite of products is meant to help reduce operating costs for our customers while also helping to further sustainability initiatives, striving toward a more climate-friendly product," said Thomas Hoopes, business development director, Emerson's Commercial and Residential Solutions platform. "By incorporating the use of an ammonia CO2 cascade system, we are providing superior efficiency while helping to remove ammonia from the occupied space and product. New products include
The MRU solution, available later in 2018, has several available configurations, including cascade, pumped secondary and direct expansion. The MRU solution also acts as a turnkey solution, reducing installation time in new cold storage distribution centers or retrofits for existing centers.
The 143-millimeter, single-screw compressor is the high stage component of the MRU CO2/NH3 cascade systems. It's designed for use with efficient variable-speed controls.
The 550 series of high-pressure reciprocating compressor units are designed for use mostly in CO2 cascade systems.
The MicroVission controller is a scalable addition to the Vission 20/20 product line and can be used with any Vilter reciprocating compressor.
In addition to the new products, Vilter has developed a test bed that allows for compressor testing up to 1350 psig.
Please share the news