Profroid, a manufacturer of refrigeration equipment for industrial and commercial applications, will introduce an expanded range of compact, quiet and sustainable innovations for small stores at EuroShop 2017. "We are pleased to present several new Profroid innovations at EuroShop, which will for the first time be displayed along with refrigeration systems from sister brands Green & Cool and Celsior," says David Appel, president, Carrier Transicold & Refrigeration Systems. "These innovative, flexible solutions are aimed at helping C-store, petrol stations, hospitality, institutional and food retail customers reduce their carbon footprint and energy usage while increasing serviceability and after-sales support." Profroid's newest innovations include:
QuietCO2OL, a quiet and environmentally sustainable carbon dioxide (CO2) condensing unit that uses repurposed CO2 refrigerant, emits no new greenhouse gases and is unaffected by EU F-gas Regulations. Equipped with an inverter-drive compressor, the QuietCO2OL unit is ideal for small businesses with variable capacity applications such as food retail C-stores, petrol stations, restaurants, caterers and large kitchens. The QuietCO2OL unit has a low noise level and can be connected to multiple evaporators, while its optimized serviceability provides easy access to all components for installers and service technicians.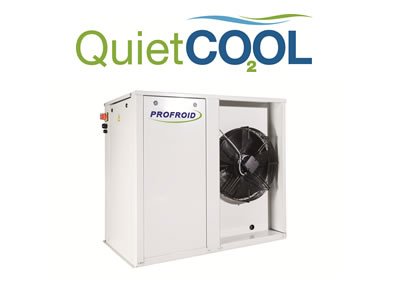 CO2OLtec EVO, the next generation of CO2 transcritical systems, provides environmentally sustainable and energy efficient refrigeration through a patented modulating vapour ejector. This smart technology adjusts to capacity variation and provides increased energy savings. The CO2OLtec EVO system offers modularity and simplicity with high-efficiency skid housing ejectors, pumps, a liquid receiver, additional heat exchangers, high-pressure and medium pressure valves and a liquid line. This skid can also be equipped with two to four ejectors to suit multiple applications. To maximize annual energy savings by up to 30 percent, the CO2OLtec EVO system can also be delivered with optional technologies: economizer cycle, line start permanent magnet (LSPM) compressor motors, heat recovery, liquid pump, heat pump and/or air conditioning functions and a second multi-temperature loop.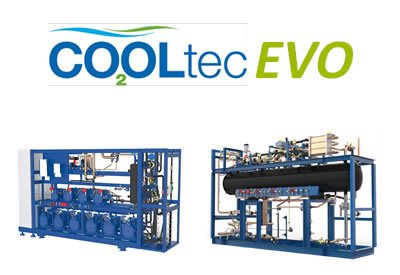 Quietis Evolution is the next generation of the original Quietis, one of the most popular Profroid air-cooled condensing units. With a comprehensive capacity range for medium- and low-temperature applications, this new unit is ideal for small and medium cold rooms and can also be installed outside. The Quietis Evolution system features a best-in-class low noise level down to 28 dB(A) at 10 meters. Its compact footprint and ergonomic design provides easy installation and improved serviceability. Using R452A refrigerant, which offers a global warming potential (GWP) approximately 45 percent lower than the hydrofluorocarbon R-404A refrigerant it replaces, this unit is EU F-gas regulation compliant.
The GFH single air-cooled condensing unit is especially suited to small, cold rooms. With a capacity up to 5 kilowatts, this refrigeration solution provides a compact footprint and ergonomic design suitable for all indoor installations. The GFH is equipped with a hermetic compressor for improved maintenance and offers ideal product storage conditions in terms of temperature and hygrometry. Using R452A, the GFH condensing unit allows direct retrofit of high GWP R-404A refrigerant installations.
The Medium Temperature Inverter condensing unit features a space-saving compact, integrated cabinet design that is easy to install. With a controlled cooling capacity up to 20.5 kilowatts, this low noise condensing unit can be connected to multiple evaporators.
"We are pleased to offer a robust lineup of new products featuring patented technology such as the CO2OLtec EVO system with the modulating vapour ejector, and compact and quiet condensing units for medium- and low-temperature small store applications," says Greg Deldicque, vice president and general manager, Mechanical Systems, Profroid.
Read More
Please share the news