Daikin is to expand its Daikin Altherma 3 low temperature split series with the launch of the ECH2O integrated pressureless tank.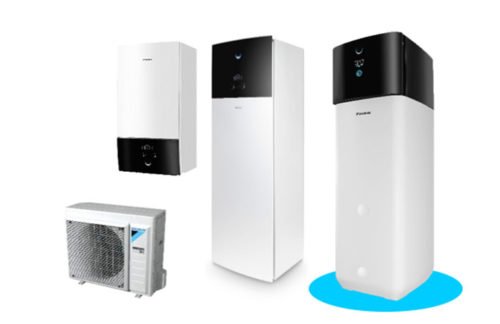 Powered by Daikin's advanced Bluevolution technology, the Daikin Altherma 3 Series combines high efficiency compressors with the low GWP R32 refrigerant.The refrigerant of the future, R32 offers a more sustainable alternative to HCFCs with equivalent performance.

Available from this summer, the new integrated ECH2O model offers installers and homeowners increased choice and maximises the use of renewable energy.Combining high performance with ease of installation, the ECH2O incorporates features unique to the market, such as fresh and safe hot water.

The integrated ECH2O unit joins the Daikin Altherma 3 product range.Using R-32 Bluevolution technology, the range is equipped with our innovative user interface featuring the Daikin Eye.

Daikin Altherma are the most sold heat pump systems in Europe, with over 500,000 systems delivered to date.Powered by Daikin's unique Bluevolution technology, the new R32 Daikin Altherma 3 series offers users higher capacities, with a 65°C leaving water temperature, making it perfect for new build applications using underfloor heating, while offering the required heating performance in radiator applications.without the need for electric immersion heater support.

Easy to configure, the intuitive Daikin Eye provides a visual update on the status of your system in real time. Blue indicates the system is performing perfectly. Should an error occur, the Eye will turn red.

The separation of the water in the tank from domestic hot water ensures fresh clean water, with no risk of contamination and sedimentation.

As an environmentally friendly heat pump, the integrated ECH2O unit offers a future-proof solution using solar energy. The unit is available as either a pressurized solar system, connected to thermal solar panels, and filled with heat transfer fluid combined with an antifreeze or a pressureless system fitted with an additional pump which circulates the water in the system without the need for antifreeze. A third, bivalent option, allows heat from other sources such as oil, gas or pellet-fired boilers to be stored in the solar systems, further lowering energy consumption.Systems come with a Smart Grid Ready function, which allows the unit to be connected to photovoltaic solar panels.

The new Daikin Altherma 3 ECH2O indoor unit EHS(B)(H/X)-D delivers a COP of up to 5.1 with energy efficiencies of A+++ for space heating and A for hot water. The system is available in a choice of two sizes, 300 litres or 500 litres and a range of capacities to include 4 and 6 kW for indoor units and 4, 6 or 8 kW for outdoor units. Designed for maximum flexibility and ease of installation, the 300 litre unit measures 1891 x 595 x 615 and the 500 litre unit 1896 x 790 x 790.
Please share the news