Numerous innovative products have come from Williams recently, with these new and improved products being featured at exhibitions worldwide. To celebrate the advancements, we've put together a compilation of the most recent innovations for equipping smaller kitchens with a diverse range of counters, cabinets and drawers.
Onyx CPC2 Prep Counter
The Onyx CPC2 is a high performance and compact two door preparation counter with gastronorm storage. Its unique airflow design ensures consistent uniform temperature of the food in pans.
• Ergonomically designed, so it is the ideal height for working, and ingredients pans are in comfortable reach.
• The ingredients wells can accommodate a selection of 1/3 and 1/6 GN containers, while the counter itself holds 1/1 GN shelves.
• Self closing doors with magnetic balloon gaskets for 100% seal
• Heavy duty swivel and brake castors
Jade Slimline Counter JSC2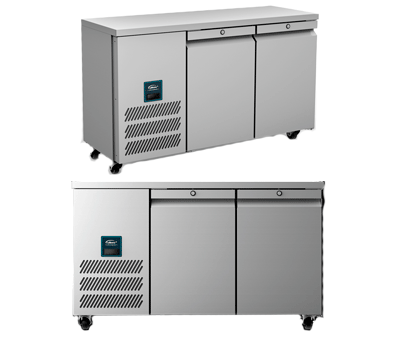 The JSC2 is a two door refrigerated slimline counter that provides the same features as the standard Jade refrigerated counter but with a reduced depth of only 500mm. With no compromise on performance, reliability and efficiency, it is ideal for foodservice operations where space is at a premium.
• Self-closing doors fitted with easy to clean, replaceable magnetic balloon gaskets for 100% seal.
• Removable racking and nylon coated shelving is fitted as standard for flexibility and ease of cleaning.
Jade Ultra Slim Cabinet J300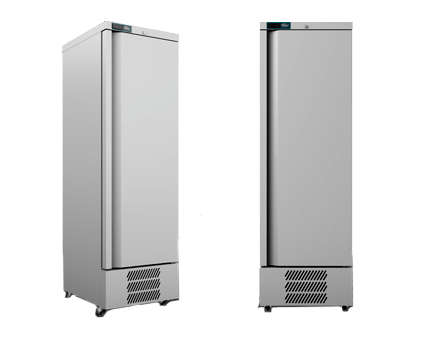 Despite its ultra-slim footprint, the J300 has a storage capacity of just over 335 litres. Its bottom-mounted refrigeration makes it ideal for kitchens with low ceilings, since there's plenty of room for heat from the system to dissipate, as well as giving easy access for servicing and maintenance.
• Easy to clean, full length integral handle
• Energy saving CoolSmart controller ensures excellent temperature control and easy-to-manage operation.
• Designed for effective operation in high ambient 43°C environments, and built to withstand the rigours of day-to-day operation
Chef's Drawer
Williams' Chef's Drawer is a unit that maximises refrigerated storage in any kitchen where space is limited.
• Two drawers can be stacked on top of each other, to double storage in the same footprint and allow a refrigerator/freezer combination.
• It's built with stainless steel interior and exterior and can operate in ambient temperatures up to 43°C.
Jade Slimline Cabinet J400
A sleek, one-door upright refrigerated bottom-mounted cabinet. The Jade J400U slimline offers 410 litres/14.5 cubic feet internal capacity – ideal for professional kitchens where space is at a premium.
• Construction includes 75mm polyurethane insulation with zero ODP and low GWP and provides excellent thermal efficiency
• Delivered to site with heavy duty, non-marking swivel castors with brakes for superior mobility and stability. The height of the Jade with castors is designed to fit through a standard door for ease of positioning.
With many more innovative products soon to be released, be sure to stay up to date with the Williams news page and social media in 2019.
Please share the news