June 2018 – Schmitz Cargobull will once again be showcasing a wide array of innovations at the IAA Commercial Vehicles Show 2018. Schmitz Cargobull's product and service experts have been working hard for the past two years. Countless new trailer developments and service innovations have been created for the benefit of the customer with the aim of reducing the total cost of ownership. All of the innovations have been developed according to the strictest standards of quality and tested in a practical setting.


S.KO COOL reefer semi-trailer
Schmitz Cargobull will present the S.KO COOL reefer semi-trailer in a new form at this year's IAA Commercial Vehicles Show. With the transport solution consisting of the enhanced refrigerated box body, the new S.CU cooling unit and the telematics system, transport companies receive an optimised complete package for refrigerated logistics. Visually it's easy to see that a new S.KO COOL generation is about to make its début. It has been developed further, tidied up and given a distinctive new look. The front section has had a complete face lift.The protected area of the bulkhead has been extended further upwards, so as to avoid damage during coupling. Furthermore, the insulation capacity of the bulkhead has been increased further through the optimisation of many details. The new side guard is the most telling sign that another generational change has taken place.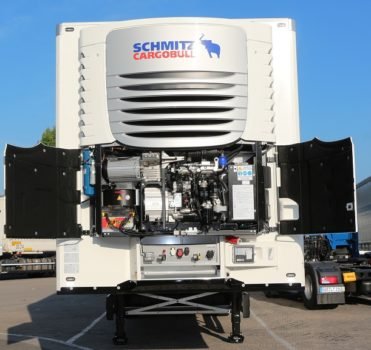 New Schmitz Cargobull S.CU transport refrigeration unit
Schmitz Cargobull has further developed its in-house refrigeration unit and equipped it with the latest common rail diesel motor. The new refrigeration unit generation offers the same high cooling performance and precise temperature management, but uses up to 10% less fuel. All Schmitz Cargobull refrigeration units comply with the Stage V emission standard, which comes into force in January 2019. Through the optimum interface design of the new refrigeration unit and improved air circulation, operators can achieve even more consistent temperature distribution in the cargo area. The display has been redesigned to improve its user-friendliness, while the large digits make it easier to read. As an alternative to the display, all functions of the S.CU refrigeration unit and telematics system can be controlled via a smartphone.
Schmitz Cargobull Parts & Services
Schmitz Cargobull Parts & Services has invested in new digital systems for local service and workshop training. Workshops around the world will be able to connect with Schmitz Cargobull specialists using remote maintenance applications, receiving instructions and help online during the repair process. This drastically reduces the time needed for troubleshooting and keeps downtime to a minimum. For more complicated repairs, virtual-reality-based training sequences will be used to enhance training and development for workshop engineers.Enabling engineers to experience repair scenarios in a virtual world helps to improve the success of training. The first area of application for these new digital service and training elements will be the new Schmitz Cargobull S.CU refrigeration unit.
Schmitz Cargobull Finance
Since 2017 Schmitz Cargobull Finance has offered an extended range of insurance solutions via its insurance partners through the Schmitz Cargobull insurance broker. Our specialist in-house insurance agent was founded under the umbrella of Schmitz Cargobull Finance and now operates as Schmitz Cargobull Insurance Broker GmbH (CIB), supporting a clientele of transport companies within Germany.
Schmitz Cargobull Telematics
With the launch of its new telematics hardware, new sensors, a new online portal and the new beSmart app, Schmitz Cargobull Telematics is showcasing a range of pioneering innovations. It will also increase its focus on proactive services and predictive maintenance in future.
Please share the news