The 2nd ATMOsphere Japan conference will be held on 13 February 2018 in Tokyo, one day before Japan's largest retail exhibition, the Supermarket Tradeshow. With so many recent developments in the Japanese HVAC&R market, the 2018 ATMO Japan will be more relevant than ever.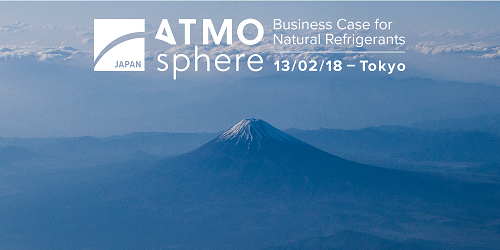 The event will once again be the platform to discuss global and Japanese market trends in the HVAC&R sector with government representatives, end users, domestic and foreign manufacturers and other experts, offering great networking opportunities with key industry leaders. One of the conference's most important topics will be the recent regulatory announcement by Japan's High Pressure Safety Institute (KHK) regarding the reclassification of CO2, which represents a monumental shift for CO2 regulation in the country and opens the door to significantly wider adoption of larger CO2 systems in commercial and industrial applications. Other highlights of the programme include:
Growing momentum for hydrocarbons in light commercial refrigeration;
Ongoing growth of CO2 transcritical systems in small stores;
Growth of NH3/ CO2 and CO2 transcritical systems in industrial applications, and;
Update on subsidies from the Japanese government
The event will take place in the
Tokyo Conference Center Shinagawa
, a flexible and innovative space that will help solidify ATMOsphere Japan as the business
platform for everything natural refrigerants.
Register now
Read more
Please share the news