Do you like it? Share it! ↑
Chillventa presents a cross-section of the industry with its comprehensive range of innovations, components, systems and applications for Refrigeration – AC & Ventilation – Heat Pumps.
New items of refrigeration equipment at Chillventa 2018
The leading international companies will present new products at Chillventa. Read summary about new products on our website.
Compressors: Bitzer, Danfoss, Dorin, Embraco, Emerson, GEA, Nidec
Heat exchanges: Güntner, Kelvion, ThermoKey
Components: Danfoss, Carel, Castel, ebm-papst, Eckelmann, Emerson, Frigopoint, HB Products, Henry Group, Sanha, Sanhua
Equipment: Epta, Panasonic, Thermocool
Refrigerants: Climalife, Chemours
Doors: SCHOTT Termofrost
If you didn't find your company in the list send us your press release about new products at Chillventa. If you found mistake please write us.
Bitzer
Hall 7, stand 326 and 626
Compressor specialist BITZER is showcasing its product range, including its most important innovations, at stand 7-326. Furthermore, visitors will be able to find the company's heat exchanger and pressure vessel products at stand 7-626.
ECOLINE and ECOLINE+: efficient progress
One of the most popular of BITZER's semi-hermetic reciprocating compressors is the ECOLINE range – a benchmark for high energy efficiency, environmental friendliness, user-friendliness and reliability. ECOLINE reciprocating compressors offer maximum energy efficiency in full- and part-load and are designed for a very extensive range of applications in supermarkets and beyond. One of the series' benefits: it offers maximum freedom in the selection of the refrigerant. Whether new climate-friendly refrigerants such as R1234yf and R1234ze(E), low-GWP blends or natural refrigerants, users will always find a suitable, eco-friendly solution in ECOLINE.
BITZER's latest range is the ECOLINE+, which is available solely for CO2 applications. With its GWP of 1, CO2 offers users planning security over the long term. ECOLINE+ is particularly suitable for supermarket applications and available in both 4- and 6-cylinder versions. The ECOLINE+ series features improved motor technology that fully exploits the motor's high efficiency and the low heat input of the CO2 refrigerant. With the help of line-start permanent-magnet (LSPM) motors, the compressors achieve a seasonal energy performance ratio (SEPR) up to 14% higher (annual performance figure). The ECOLINE+ series' other strengths include its mechanical capacity control for transcritical applications, which enables outstanding system efficiency in both full- and part-load.
OS.A95: flexible and eco-friendly
With its energy-efficient OS.A95 screw compressor series, BITZER offers a climate-friendly and powerful solution for ammonia applications. The natural refrigerant has no global warming potential and thus does not damage the ozone layer. Their cooling capacity and automatic Vi adjustment make OS.A95 screw compressors suitable for a whole host of applications. In combination with automatic Vi adjustment, the series' extensive application limits diagram enables efficient use of the series in air-conditioning, medium- and low-temperature systems as well as in heat pump applications. The optimised rotor profiles and the large flow cross sections in the compressor also contribute to efficient operation.
ORBIT series: the most versatile scroll compressors on the market
BITZER ORBIT scroll compressors operate at peak efficiency despite demanding conditions, helping to reduce system footprints thanks to their compact size and unique compound solutions. So far, users have been able to choose from two families: ORBIT 6 and ORBIT 8. For increased market requirements, such as the F-gas Regulation, BITZER has developed the new ORBIT+ and ORBIT FIT (Flexible Injection Technology) series. ORBIT+ with line-start permanent-magnet motor boosts system efficiency, while the economiser operation of ORBIT FIT enlarges the application envelope and increases capacity as well as efficiency. All BITZER ORBIT models are designed to work with R410A as well as low-GWP refrigerants, such as R454B, R452B, and R32, which belong to the A2L category. Similar to the ORBIT 6 and 8 series that have already been introduced, the new ORBIT+ and ORBIT FIT compressors are able to operate with a frequency inverter at 35 to 75 Hz while performing with a low sound level and industry-leading low oil carry-over rate.
ORBIT scroll compressors were developed especially for air-conditioning and heat pump applications. They are easy to install, offer high energy efficiency when fully or partially loaded and have the lowest noise emissions in their capacity class. What is more, the energy consumption is extremely low, especially at low condensing temperatures where the ORBIT Boreal series can be applied. Every ORBIT series can be combined with BITZER Advanced Header Technology (BAHT) in numerous tandem and trio combinations. This technology enables proper compressor lubrication and allows system designers and manufacturers to simplify development work by optimising manufacturing processes. This results in reduced complexity and operating costs as well as a quicker time to market for new systems.
ECOSTAR and ECOLITE: a solution for every application
BITZER covers a wide range of applications: all condensing unit models are ready for use with low-GWP refrigerants and comply with the EU Ecodesign Directive.
With the ECOSTAR LHV5E and LHV7E, BITZER has developed an air-cooled and particularly energy-efficient series of condensing units. Thanks to their outstanding energy efficiency, they quickly pay for themselves in the face of rising electricity prices. The optimised construction and the outstanding software functions are further distinguishing features which ensure low noise and reliable operation, as well as ease of installation, commissioning and use of the LHV5E and LHV7E units. The ECOSTAR series has an efficient mini channel condenser, which means it needs less refrigerant charge. The series also boasts a reliably long useful product life. Devices can be quickly installed on-site thanks to the control electronics being factory-wired, making them immediately ready to operate. The same applies for the newly developed ECOLITE condensing units: ECOLITE plug-and-play condensing units offer noteworthy adaptability due to their VARISTEP capacity regulation with an efficient BITZER ECOLINE compressor at their core. They require only small refrigerant charge thanks to efficient BITZER condensers and other system-optimised components designed and approved by BITZER. Furthermore, they distinguish themselves by their user-friendly controller with key-parameter monitoring and special functions like the automatic emergency operation. The units have been developed and constructed for low sound levels as well as low- and medium-temperature applications.
 HEXPV: a complete new range of heat exchangers
BITZER will also exhibit a range of heat exchangers and pressure vessels at a dedicated stand (7-626 in hall 7). The compressor specialist is expanding its product range, incorporating dry expansion evaporators, water-cooled condensers and flooded evaporators after the acquisition of the shell-and-tube business for air-conditioning and refrigeration applications from Alfa Laval SpA, Italy. The highest efficiency dry expansion evaporator for air-conditioning duties will be on display. BITZER will also present, for the first time, a new and larger water-cooled condenser from its K series for both freshwater and seawater applications. Thanks to these new models, BITZER condensers will increase their capacity by 40%, maintaining their traditional robustness and efficiency. For heat exchangers and pressure vessels, BITZER is also introducing a flexibility concept, giving operators the possibility to change the design of the products they have purchased without the addition of a long and complex order and delivery process. The possibility to change certain component details, such as the position of the refrigerant connections, can in some cases be the only way to comply with specific dimensional and functional constraints. Operators just need to fill in their desired new dimensions on approval drawings available on the BITZER website and in the updated version of the BITZER software.
BITZER will also exhibit products for CO2 from its HEXPV division.
Carel
Hall 5, Stand 306 and 308
CAREL will be presenting its upgraded offering in terms of efficiency and connectivity. Through the expansion of some ranges and the addition of new IoT features, CAREL's solutions on show at Chillventa have taken a step forward in terms of usability and performance.
CAREL will be presenting at Chillventa its latest developments regarding user experience and connectivity. An upgraded offering of high-efficiency solutions that uses DC inverter technology to provide efficient solutions with low GWP and natural refrigerants for all climates, and applications of all sizes.
At Chillventa CAREL will be launching CONTROLLA, the new unit control app dedicated to end users. CONTROLLA stands out for its extensive usability, simplifying the operation of efficient and high-performance systems and allowing the unit's owner to have the system remote control in their pocket at all times. Graphic flexibility and usability are the main features that distinguish CONTROLLA.
Chillventa 2018 will see the preview of a complete solution for residential heat pumps compatible with natural refrigerants. This is a ready-to-use system whose strengths are easy installation and completeness, in full compliance with the latest regulations and demands for natural and low-GWP refrigerants.
Natural refrigerants
At Chillventa, CAREL will be presenting an increasingly extended offer, with high efficiency solutions that allow the use of natural or low-GWP refrigerants.
Heos, the well-known waterloop solution for commercial refrigeration that combines energy efficiency, direct temperature control inside the refrigeration unit, fast installation and design flexibility, is now available for use with R290, CO2 and HFO.
Hecu is the condensing unit control solution that integrates management of a compressor with DC inverter technology (up to two in cascade in the LT configuration), transcritical valves (HPV and RPRV) and two high-efficiency EC fans.
The latest innovation is represented by the Sistema DC Cella for developing cold room CO2 systems, which minimises installation times and complexity.
With the "EmJ" range of modulating ejectorsand the pRack multi DC controller, CAREL can offer sustainable optimisation of energy efficiency in transcritical CO2 refrigeration systems in warm and temperate climates, from small convenience stores to large supermarkets.
At the show CAREL will be displaying the latest technological developments that allow the efficient use of natural refrigerants and extend them to all applications, both in the refrigeration and air-conditioning sectors. Significant innovations will also be exhibited for the heat pump industry.
Connectivity
New technologies and new business models are leading to machines now being evaluated not only for the performance they generate, but also for the information they provide. For this reason, CAREL has created a working team devoted entirely to the development of IoT-related services.
One of the results is APPLICA, the mobile app for the latest generation of smart controllers with integrated NFC and Bluetooth® connectivity, for installers and maintenance personnel. Configuration and optimisation of unit set-up are made simple and intuitive by the combination of smartphone application and web portal, allowing configurations and graphics to be defined flexibly and always kept up-to-date.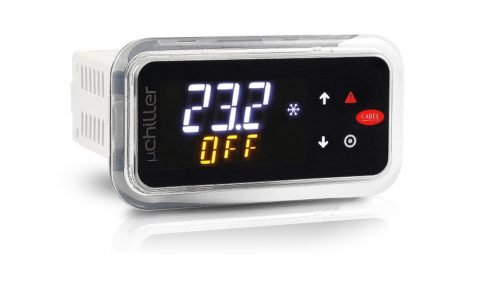 In addition to MPXone, APPLICA can also be used to manage the new CAREL controller retail refrigeration units, including μCHILLER (solution for the complete management of chillers and heat pumps) and Heez (solution for refrigerated merchandisers). The new interface uses the specific graphic and multimedia features of mobile devices (smartphone, tablet), superseding traditional integrated user interfaces.
APPLICA represents a major innovation in the evolution of CAREL's parametric controllers: with APPLICA the unit can be configured in one single operation, exchanging information with a remote service and receiving alerts in the event of alarms.
At Chillventa CAREL will also be exhibiting heaterSteam titanium, the world's only titanium heater humidifier, an ideal solution for applications where service continuity is crucial, due to its extreme reliability. heaterSteam uses pGDx, the new 4.3" touch display, designed to improve the user experience in humidifier management. This is the world's first humidifier with a pre-configured predictive maintenance solution available in the IoT suite of services. Data monitoring and analysis in real time on dedicated dashboards guarantee efficiency and service continuity.
At the CAREL stand, a virtual experience will be exhibited for the first time ever, highlighting the advantages of Carel's IoT solutions from both an educational and training viewpoint, as well as predictive maintenance.
High efficiency
The wide range of CAREL valves and inverters, constantly growing and being updated, will also be on display at Chillventa. Based on our experience and consolidated know-how, research and development is being focused on offering increasingly efficient and high-performance solutions. Many of CAREL's systems for controlling refrigeration and air-conditioning units and systems are underpinned by two decisive and consolidated technologies: electronic expansion valves and DC compressor inverters. Both of these components are designed to optimise the operation of refrigeration units. The benefits? Up to 40% less power consumption, fine temperature control at all times, and optimisation of operating conditions to maximise compressor reliability and performance.
Completing the proposal will be a range of compressors made in collaboration with leading international manufacturers and distributed exclusively by CAREL.
High efficiency will also be on show in our solutions for heat pumps, with a further improvement in performance, thanks to the new generation BLDC drive – PSD2, and the transition from efficiency at a single-unit level to cooperation between multiple units or systems, from a smart grid and smart city perspective. Another essential aspect highlighted is the drive towards IoT and cloud management developed by CAREL, with positive repercussions also in terms of the user experience.
Castel
Hall 5, stand 238
Castel presents a preview of its new 14-E Solenoid Valve series for transcritical and subcritical CO2 systems with a maximum operating pressure of up to 140bar. The solenoid valves are normally closed valves (NC).
All the valves are exclusively sold in the model without coil (suffix S). These valves can be coupled with the coils in series 9320.
The valves in series 14-E are pilot-operated piston solenoid valves. Their operation depends not only on the magnetic field produced by the current flow into the coil, but also on a minimum inlet pressure, which is necessary to:
open the piston and keep it lifted off the main opening
close the piston and ensure the tightness on the main opening
Basic specifications
Refrigerant R744 (CO2)
Connections from 3/8" to 1/2"
Hot forged brass EN 12420 – CW 617N for body and cover
Maximum pressure work 120 and 140bars.
Minimum/ maximum temperature -40°C/ 130°C.
Certificates 97/23/CE
Series 1438E – Connections are made of AISI 304 steel, from 10mm to 12mm, permitting butt welding (Ps 140bar)
Series 1437E – Connections are made of copper K65, from 3/8" to 1/2" , solder welding (Ps 120bar
Chemours
Hall 7, stand 222
The Chemours Company invites visitors to its stand at the 2018 Chillventa to discuss their refrigeration and air conditioning needs with the industry experts from #TeamOpteon who can advise and guide them on a range of topics including F-Gas regulations and how the choice of refrigerant can have a major impact on future business.
Specialists from #TeamOpteon can provide advice on which low global warming potential (GWP) refrigerants are most suitable to meet today's challenges and how these can be tailored to suit specific refrigeration, heat pump, chiller and air conditioning applications.
Visitors are also invited to participate in an interactive demonstration on the Chemours stand, where they can see Opteon™ low GWP refrigerants in action and learn more about their specific performance – from energy efficiency and safety to cost and availability.
Chemours will also feature its new webapp tool developed specifically to support the refrigerants community and help improve the understanding of regulations across the globe. Get a glimpse of what the future may look like when it comes to refrigerant use in Europe and worldwide.
Climalife
Hall 7, stand 421
Climalife presents its comprehensive solutions for guiding professionals through the energy optimisation of installations.
The challenge for the HVACR sector is how to achieve system sustainability, while minimising the carbon footprint and optimising the energy efficiency of thermodynamic installations. From 1 January 2020, the sector will have to adapt its installations to the new F-Gas regulations on greenhouse gases.
Climalife is offering comprehensive solutions to guide refrigeration and air conditioning operators.
This is structured around four main lines of action:
Detection and monitoring
Design
Retrofitting
Recovery
At Chillventa, Climalife will present a range of current and upcoming solutions for refrigerants, lubricants, and heat transfer fluids via a series of talks taking place on its stand.
Come and find out about latest products on the stand:
Solstice N40 (R-448A), an approved fluid for replacement of R-404A in existing installations. Several case studies available.
Solstice L40X (R-455A), a new HFC/HFO mixture developed by Honeywell with a GWP lower than 150 for use with condensing units, sub-zero integrated cooling systems, and hermetically sealed low-temperature systems. R-455A is an A2L-class powerful alternative to hydrocarbons that is less dangerous and offers very good performance.
DNI by Matelex, a smart solution that detects refrigerant leaks using indirect measurements. Coupled with a remote surveillance web interface (Sentinelle), this system can be used to constantly monitor installations for changes in refrigerant load and leaks, using measurements that are taken every 2-3 seconds. This technique not only provides a suitable response to European regulatory requirements (EUF-Gas 517/2017), which stipulate that a detector must be installed to warn the operator of leaks for all installations containing more than 500 T eq. CO2, but also an energy efficient solution that monitors installation performance.
Mobil SHC Gargoyle 80 POE, a lubricant designed to meet the specific requirements of R-744 installations.
Danfoss
Hall 7, stand 126
Danfoss will present latest innovations and applications for refrigeration and air conditioning at Chillventa 2018.
At this year's Chillventa, Danfoss is presenting advanced and future-oriented package solutions for refrigeration, airconditioning, and heat pump applications to an international audience of cooling professionals. Danfoss is exhibiting efficient and energy-saving applications based on advanced refrigeration and control technology in four main sectors: Food Retail, Commercial Refrigeration, Industrial Refrigeration, and Air Conditioning & Heat Pumps.
Virtual presentations – including Danfoss City for air conditioning and Danfoss Smart Store for modern deployment in retail or an interactive cold cell – are among the highlights of Danfoss's trade fair exhibition. Along with the application realms, Danfoss focuses on its close personal relationships with customers and partners. Around the world, Danfoss assists plant engineers, OEMs and wholesalers with advice on optimal deployment of their products and engages in discussions to jointly meet the current and future challenges of refrigeration and air conditioning technology.
Next-generation refrigerants
In 2018, the refrigeration industry will undertake major steps to reduce CO2 emissions and cut down on refrigerants with high GWP values in response to the EU regulation on fluorinated greenhouse gases. Danfoss offers a range of tools that include Danfoss Coolselector® 2, the Refrigerant Slider app, and a low-GWP tool used to identify compatible combinations of refrigerants and expansion valves.
They also offer an extensive self-study program and online help for switching refrigerants, which is available in many languages. New rules require new refrigerants, so visitors can learn at the Danfoss booth which alternatives are possible and how they can meet the challenges with Danfoss products.
Solutions for food retail
With smart and integrated solutions extending from refrigerated case to the cloud, the Danfoss Smart Store offers solutions for tomorrow's food retail sector. The Multi Ejector Solution is highlighted as the one of the latest technologies that enables efficient use of CO2 as a refrigerant in all store sizes, system types, and in all climate zones.
Further to the CO2 theme, we will also introduce the new CO2 pack controller for smaller format stores. AKV P, the next generation of Danfoss' pulse-width modulated expansion valves, is unveiled, providing enhanced range and performance. Moreover, Danfoss will be demonstrating the Danfoss Enterprise Services, the 24/7 monitoring solution, and introduce the newest additions to the System Manager portfolio.
A turning point in commercial refrigeration
Alternative refrigerants, IoT, and life-cycle costs are the main pillars of the Danfoss commercial refrigeration strategy. The extensive portfolio for cold rooms and the foodservice industry includes compressors, Optyma condensing unit family, heat exchangers, solenoid and expansion valves, and electronic controllers – now compatible with lower-GWP refrigerant alternatives to R404A and R134a.
Together with microchannel solutions to reduce refrigerant charge and costs and highly efficient condensing units that surpass the EcoDesign 2018 targets, Danfoss helps to significantly reduce the payback time of the installations. Along with this, IoT and cloud solutions enable 24/7 remote monitoring and management of refrigeration systems.
Efficient solutions for industrial refrigeration
Efficiency is paramount in the industrial refrigeration sector. At Chillventa, Danfoss is presenting new and innovative solutions for this area. Their range of heat exchangers features an efficient and flexible design of semi-welded heat exchangers.
The ICF valve station solutions also mark a new milestone on the way to efficient and climate-friendly refrigeration. With the Danfoss Flexline products Danfoss reflects the global need for energy efficient and climate-friendly reliable solutions for heat pumps. Finally, advanced technologies, such as the new series of Danfoss plug & play gas detection units represent a step forward towards a secure refrigeration industry.
High efficiency and low-GWP for air conditioning and heat pumps
For chillers, rooftops, close controls as well as heat pump systems, Danfoss focuses on technologies that conform to energy efficiency standards, the demand for energy savings, conversion to low-GWP refrigerants, and expectations for lower costs.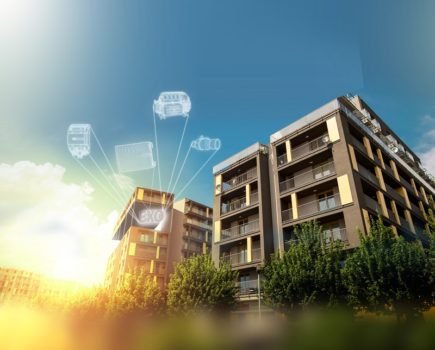 The new Danfoss Turbocor compressor, the pioneer in oil-free, variable-speed centrifugal compressors, is optimized for the necessary high-pressure ratios used in air-cooled refrigeration systems in hot climate zones, heat pumps, and heat recovery applications.
Hall 6, stand 316
Compressor manufacturer DORIN is showcasing its widest product range, including its highly technological innovations, at stand 6-316.
NEW CO2 TRANS-CRITICAL COMPRESSORS
One of the most appreciated DORIN line of compressors is the CD Range for CO2 transcritical and subcritical applications, a real reference on the market for high energy efficiency, environmental friendliness, user-friendliness and reliability. CD reciprocating compressors offer maximum energy efficiency and are designed for a very comprehensive number of applications such as commercial and industrial refrigeration. CD compressors offer the market with the widest range capacity of choices, larger than any other competitors on the market, ranging from 1,5 hp for single compressor units, to 160 hp for large industrial applications.
CD ranges are the widest available in the market and thanks to the automotive solutions thereby deployed, offer system designers the most reliable and robust choice for their CO2 based equipments.
CD compressors are particularly suitable for supermarket applications in their 2-4 cylinders platforms, while the 6-cylinders versions, are perfectly matching with the larger duties typically featured by industrial and process cooling systems.
CD compressors also offer double stage solutions: DORIN is the sole manufacturer proposing trans-critical compressors for LT applications.
CD Ranges vast success rely on the very many high technology solutions in place for all their components: end users full satisfaction has been our main concern and driver during our compressor engineering process. For instance, specific technical solutions, unique in the market, such as the external discharge manifold drastically reduces the internal heat transfer between compressor HP and LP sides when compared to direct competitors deign; this ensures utmost efficiency and considerably lower heat transfer to the oil, thus assuring much better lubricity figures into the entire drive gear.
All these technical features are implemented in the entire CD Range, including CD600 Series: this new compressor family features motor nominal power up to 160HP and up to 80 m3/h displacement for trans-critical applications: this being the largest CO2 transcritical compressor size in the market as of today and representing the ideal solution for large warehouses, food processing plant and industrial applications,  offering the possibility to drastically reduce the number of compressors installed on the rack, thus saving in space, investment costs and energy consumption when compared with similar equipment using NH3.
DORONICA – CMM Compressor Management Module
The reliability of cooling system is strongly dependent on the correct control of compressor working parameters which must be performed using precise and reliable analysis tools. Relaying on a long tradition in compressor manufacturing, DORIN has set a course for the future with its electronic Compressor Management Module – CMM.
CMM will be available as an accessory for the 4, 6 and 8-cylinder semi-hermetic compressors with an oil pump lubrication both for HFC and CO2 refrigerants. The DORIN CMM uses a new specifically designed software developed internally to ensure the complete integration of our products into end-user plants safety and control systems, managing and recording all the main functional compressor data.
Thanks to the possibility of further simple customizations it adapts its performance to the demands of the system within different installing and operating conditions.
The DORIN CMM has a circular non-volatile rewritable memory (EEPROM) which stores all the alarms, warning and events, as well as other data. For each log it is also recorded the date and time that are always up to date even when the module is missing power as it is equipped with a lithium battery. If one of the values goes out of the pre-set range, the module signals this state and store it in the history log available through the Modbus connections.
DORIN CMM allows the system manager to control remotely all his plants from a single PC position, reducing drastically the management costs and granting a faster intervention in case of system failure.
DORIN SLCR – STEPLESS CAPACITY REGULATION
Capacity control is often used to match output cooling capacity supplied by the compressor to the actual request from the plant.
Dorin semihermetic compressors install the DORIN SLCR starting form 4 cylinders compressors up to the 8-cylinder compressors of any of the below ranges:
H range – HFC standard compressors
HEX range – ATEX approved compressors for HC
HEP range – specifically designed compressors for R134a applications
TH range – Dorin renowned Tandem Series.
Compressors are generally sized to match the maximum capacity required by the plant design, however, in standard operating conditions, the actual cooling capacity is lower. Since many years capacity control systems have been using on semi hermetic compressors to prevent high switching cycles which can occur in case of cooling capacity surplus, reducing the risk of component wear and finally increasing the compressor reliability.
DORIN SLCR is an evolution of traditional capacity control system, whose main defect was the limited adaptability to system requirements since the number of capacity control steps was dependent on the number of compressor heads.
With the new DORIN SLCR it is possible to match the cooling capacity supplied by the compressor to the actual needs of the system continuously and without steps, optimizing costs and savings.
CDS_7 – 8-CYLINDERS FOR CO2 SUBCRITICAL APPLICATIONS
CDS-7 represents the largest CO2 subcritical compressor range actually available in the market. With its 4 models it can reach a top displacement of 123 m3/h and 80 HP nominal motor power, allowing to match high cooling capacity with a small number of compressors.
CDS-7 compressors perfectly suite large LT heavy industrial applications arranged either in a cascade system with another refrigerant on top, or in a full CO2 booster configuration.
Its high internal flow optimization and the perfect matching of electrical motor sizes with compressor displacements make CDS-7 the most efficient compressor range on the market available for its size.
TRANSFORMER – NEW 12-CYLINDERS COMPRESSOR
An astonishing new project came to light in 2018 aiming at reducing the stress of the end user in relation to capacity required, spare parts management and overall plant management costs.
The new TRANSFORMER REFRIGERATION COMPRESSOR is a globally new concept of manufacturing compressors, where common main parts and components make it possible to switch from one configuration to the other thanks to minor variable and changes: in fact the same engineering platform will serve as the base for both large sizes HFCs and CO2 sub-critical compressors
TRANSFORMER is a 12-cylinder compressor module that can have different configuration depending on the application.
Its SEMIHERMETIC CONFIGURATION, brings to the H8 compressor family, with nominal motor powers ranging from 100 to 180 HP with a displacement available from 303 to 520 m3/h. Ideal for industrial application. H8 can satisfy also large commercial project where space is an issue and management savings a must. The same platform will also serve the CO2 configuration for very large sub-critical applications, by generating the so-called CDS8 range.
The OPEN TYPE CONFIGURATION will enrich the already vast and famous as well as globally well appreciated and sold VS Series compressors. The new models 120-130-140-150 VS will enlarge the offer of swept volume ranging from 4000cm3 to almost 6000 cm3 and allowing displacements from almost 350 m3/h to 518 m3/h. These largest models of VS Series will allow larger systems in very harsh marine conditions and industrial environment.
ebm-papst
Hall 4A, Stand 317
The Chillventa trade show in Nuremberg is the world's leading trade show when it comes to energy efficiency, heat pumps, and refrigeration technology. ebm-papst will be showcasing the latest innovations and trends in the fan sector.
Fans for cooling towers
At Chillventa, ebm-papst will be presenting fans for use in cooling towers, for example. They are used to provide cooling for processes, installations, or buildings. Waste heat is discharged into the ambient air using both axial and centrifugal fans with EC technology. With their special corrosion protection, the EC fans are ideally equipped to cope with tough environmental conditions. For instance, an axial fan measuring 1,250 mm with an AxiTop diffuser will be showcased at Chillventa. This model boasts a particularly high level of corrosion protection on account of its black coating.
Save energy and boost networked capabilities in supermarkets
Alongside the lowest possible energy consumption, reliability is another important aspect with regard to refrigerated cabinets in supermarkets. If a fan fails, it is important to localize and rectify the fault quickly without any adverse effect on the cooling chain and before any food perishes. Networking via the serial interface for communication via MODBUS-RTU is helpful in this case. This is optionally available on EC fans with an energy-saving motor (ESM) from ebm-papst.
ATEX solutions for large refrigeration circuits
The smaller motors and complete systems from ebm-papst are made as standard to satisfy the requirements of the European standard EN 60335-2-89 (household appliance standard titled "Particular requirements for commercial refrigerating appliances"). They provide a reliable cooling solution, even when using flammable refrigerants. On cooling circuits using more than 150 g of flammable refrigerant, the standard prescribes the use of ATEX components. However, it is not sufficient to just use a motor with an ATEX label – the complete fan must be approved accordingly. With the ESM, ebm-papst also offers fans with ATEX approval II 3G Ex nA IIA T4 Gc. The fans conform to the ATEX standard EN 60079 and are therefore also authorized for use in large refrigerated cabinets as well as composite and cascade systems using more than 150 g of flammable refrigerant.
GreenIntelligence takes economy and ecology a step further
ebm-papst turns energy-efficient fans and drives into intelligently interconnected complete solutions. "GreenIntelligence", to be presented for the first time at the Chillventa trade show in Nuremberg, is an impressive expression of this.
When it comes to choosing the right drive or fan, it is important to not just look at the product properties such as energy efficiency and performance values, these days the optimum interaction of all components is crucial as well. All products with GreenIntelligence from ebm-papst have IoT capability and can be interconnected with any system – quickly and easily thanks to plug & play.
Condition monitoring courtesy of GreenIntelligence
The AxiBlade axial fan illustrates one particularly impressive example of GreenIntelligence. Condition monitoring permits remote monitoring of the operation of the fans in the condenser and thus early recognition of imbalance caused by dirt, for instance. This makes it possible to avoid bearing damage and so ensure operational reliability. Further advantages offered by condition monitoring include indication of required maintenance work or the automatic de-icing of fans in evaporators by way of heating tapes integrated into the fan housing.Energy-efficient fan operation is thus guaranteed at all times, and there is no risk of the blades freezing to the fan housing.
Fail-safe operation thanks to intelligent interconnection
Modular FanGrid solutions are yet another example of intelligent, interconnected fans. They are primarily employed in situations where redundancy is employed to ensure maximum fail-safe operation. With an appropriate number of fans, the necessary air flow can always be attained even if one fan is out of operation. The speed of the other, interconnected, fans is then automatically increased to compensate for the missing air quantity. EC technology thus permits demand-based, energy-efficient control of an entire installation, and critical – i.e. inefficient – motor speed ranges can be avoided.
GreenIntelligence is self-enhancing
The digital interconnection of all components makes it possible to plan processes more efficiently, detect malfunctioning sooner and optimize the overall interaction of all components. Intelligent control technology means that optimization potential can be recognized and automatically implemented if required. Communication takes place via the MODBUS RTU communication protocol, for example. ebm-papst fans come ready equipped with the appropriate interface.
Eckelmann AG
Hall 5, Booth 5-110
Automation and digitalization in refrigeration today and tomorrow: Where are we heading? At the Chillventa 2018 (Hall 5, Booth 110), Eckelmann AG will be showing trend-setting and benefit-oriented solutions with E*LDS.
Exclusive Chillventa product premiere
Visitors can look forward to many product innovations. Eckelmann will kick off the first day of the trade fair by announcing an exclusive Chillventa product premiere, which future technologies are already using to make inroads into refrigeration technology.
Customers in 27 countries worldwide now rely on E*LDS from Eckelmann as one of the leading control systems for refrigeration systems in industrial and commercial refrigeration.
Embraco
Hall 7, stand 114
Embraco showcases a portfolio for Commercial and Aftermarket & Distribution segments through four different zones: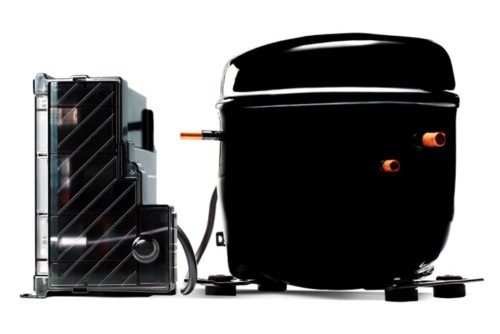 Food retail: solutions for supermarket and convenience stores applications, such as self-contained reach-ins, frozen islands, cold rooms and others. (Plug n' Cool NEW | Silent Unit NEW | FMF line-up – FMFD NEW)
Food services: applications for restaurants and bars, bakeries and equipment for professional kitchens, ice makers and cold rooms. (Sliding Unit NEW | NTX line-up NEW| EMC)
Merchandisers: solutions for sought-after bottle coolers and ice cream cabinets. (EMX NEW model | FMF line-up | FMX)
Complete portfolio: New product launches including the portfolio extension, such as NJX (new 2hp single piston compressor), Scroll, as well as complete solutions in natural refrigerants and transitory alternatives. (NJX line-up NEW | Scroll complete portfolio | all Embraco platforms)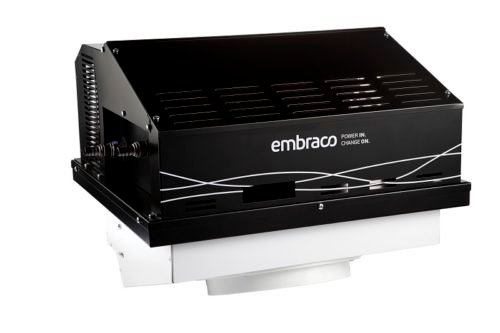 Additionally, Embraco will provide a training session with a specialist in the refrigeration market, Gilmar Pirovano, Sales Senior Manager for Europe, who has 30 years of experience in the segment. The presentation highlights Plug n' Cool, a complete solution for the food retail chain which reduces energy consumption by up to 32%. The training "Plug n' Cool – A new concept in refrigeration" takes place at Chillventa (Hall 7A, stand 7A-618), on October 16 – 1:40pm-2:00pm. Click here to register your participation.
Emerson
Hall 6, stand 318/416
During this edition of Chillventa, Emerson will exhibit the latest solutions to safeguard food across the cold chain and ensure human comfort in residential and commercial spaces. From 16 to 18 October, Emerson will focus on technologies and tools that maximize efficiency and drive profitability.
Navigating the way to future-proof solutions
Tough regulations such as F-Gas, EcoDesign or HACCP standards mandate changes for minimizing the environmental impact. Equipment manufacturers face competitive pressure and time-to-market constraints when adapting and future-proofing their systems, from choosing the best refrigerant fit to selecting the most suitable system architecture. At the same time, end-users request higher efficiency levels and lower operational costs.
Considering all these challenges, Emerson is one step ahead and will present a complete line-up of innovative solutions for refrigeration and comfort applications: developed for a variety of refrigerants, these solutions will support customers to identify the truly sustainable alternative for their system, whether they opt for natural refrigerants, such as CO2 (R744), Propane (R290) or Ammonia (NH3) or for alternatives like HFO blends / A2L refrigerants.
Safeguarding food across the cold chain
At Chillventa, Emerson will highlight its full range of solutions across the cold chain. From Copeland™ Scroll and Stream refrigeration compressors equipped with Alco Controls™ valves, Emerson and Dixell™ electronics over ProAct™ Enterprise Services – including controls and monitoring systems for food service and retail – to cargo and transportation solutions, visitors will be able to discover how food can be protected through Emerson technologies. Cooper Atkins® – recently acquired by Emerson and introduced at Chillventa – will enrich the cold chain offering with its product portfolio covering temperature management, environmental measurement devices and wireless monitoring solutions.
Emerson's commercial refrigeration offering focuses on solutions tailored to all store formats, including centralized, de-centralized and integral display case architectures.
For integral display cases, Emerson will present a new R290 solution with its horizontal variable speed scroll compressor for single-circuit applications up to 500g refrigerant charge. This range extends the current solution offering of the vertical fixed speed compressors for multi-circuit applications. Both options are equipped with mechanical and electronic controllers to offer a complete solution.
For centralized refrigeration systems a CO₂ solution integrating a Stream semi-hermetic compressor with on-board compressor electronics, completed by flow controls and electronic controllers, will be exhibited. Designed for CO₂ cascade and booster systems this solution enriches the operational performance, safety and increases the system uptime.
During the fair Emerson will introduce the next generation of CoreSense™ technology for Copeland™ Stream compressors. It features a modular and scalable design with state-of-the-art electronics housed in a single terminal box. Serving multiple applications, like refrigeration racks and units for food retail and service, CoreSense™ offers new features, which will enable customers to benefit from reduced warranty costs and longer equipment lifetime.
For de-centralized architectures, Emerson will present two solutions: the proven CO₂ refrigeration unit with Stream compressor technology as well as the newly launched large outdoor refrigeration unit released for standard as well as low GWP refrigerants. With its modular platform approach this unit offers a high level of product customization, making it the ideal choice for food retail applications in stores with a size up to 2000 sqm. For smaller formats such as restaurants, cold rooms and catering applications, Emerson will show the new ZX refrigeration unit for medium- and low-temperature applications.
In addition, Emerson will launch its line-up of small scroll compressors for A2L refrigerants for small rack and refrigeration unit applications.
In the industrial refrigeration segment, Emerson will introduce the new Vilter 550 series of reciprocating compressors for CO₂. For ammonia (NH3), the new Vilter screw compressor solutions will be presented – developed for industrial cooling applications like cold storage warehouses. Their functionalities provide customers lower lifecycle costs and higher reliability.
Ensuring human comfort in commercial and residential spaces
To support OEMs facing the F-gas phase-down, Emerson has developed solutions for residential heating with low GWP refrigerants such as R290, R454B, R452B and R454C.
Whether for ground- or air-source heat pumps, these integrated solutions enable increased system efficiency and reliability for enhanced comfort in residential homes.
For commercial applications, Emerson will present a solution with R513A / R450A (low pressure refrigerant) and R454C (mid pressure refrigerant) for process cooling, as well as options for chillers with R32: on the one hand a range of fixed speed compressors that reaches the same operating map as existing R410A compressors, on the other hand an integrated solution with variable speed technology. This Emerson solution not only uses a low GWP refrigerant, but it is also comprised of the latest generation of Copeland Scroll™ variable speed compressors with qualified inverter drives, valves and controllers for intelligent control management.
With this solution, the development time of reversible chiller systems will be shortened, and their efficiency increased.
Epta
Hall 9, Stand 9-213
Epta is participating in Chillventa2018, presenting the concept: "How can natural refrigeration be as simple as it is ingenious? #EptaExperience is the way".
Chillventa 2018 will showcase Epta's innovation in refrigeration systems and cold room design.
Epta supplies the FTE Full Transcritical Efficiency, a revolutionary transcritical CO2 system which merges simplicity and performance, for 10% energy saving and up to 20% lower installation and maintenance costs. FTE is the solution for efficient refrigeration in any climate.
The FTE product is part of the European Commission's Project C4R (Carbon 4 Retail Refrigeration), aimed at finding new technologies and standards for natural refrigeration in retail sector, highlighting Epta's commitment to research and development.
EPTABlue Natural
EPTABlue Natural is the technologically advanced waterloop system for small stores. Housed on top of the cabinet, this simple and smart solution makes it possible to integrate the complete range of cabinets, from vertical to serve-over, even when space for a refrigeration pack is not available.
Epta will also present the ECO2Small Compacta and MultiFresco.
Misa
Misa will also be present at Chillventa 2018 featuring high technology modular coldrooms.  Epta Food Defence, an innovative anti-bacterial system with silver ions available for all Misa solutions, will be displayed. The system is designed to improve the food safety of products stored in cold rooms and can prevent and eliminate numerous species of bacteria, to provide total protection throughout the useful life of the cold room. There will also be a presentation of Freeblock using R452A and the Drop-in solution using R290.
EptaService
EptaService is the aftersales and maintenance division of Epta; the finest support teams complete efficient service and maintenance whilst minimising down time in stores. The technical experts work actively with retailers to offer professional advice and retrofit solutions, tailored to customer needs. EptaService will be presenting its e-commerce platform for spare parts, that allows Customers to simplify purchase processes and directly buy spare parts on line with deliveries guaranteed within 48 hours.
Frigopoint
Hall 7A, stand 307
Frigopoint will take part in the international world specialized refrigeration exhibition Chillventa.
FP plans to present at the exhibition:
Oil separators (PS120 bar) flanged version for transcritical systems operating on CO2. Oil separators combined with oil receivers (PS120) flanged version for transcritical systems operating on CO2.
Filter-driers with replaceable core (PS120) for transcritical systems with a replaceable core of 48 inches. The difference from the standard filters FP-SDF, in addition to the strengthened design of the flange and housing, are steel connecting pipes.
Refillable cylinders for the storage of refrigerant CR-15Y, CR-30Y, CR-60Y (PS35). Vessels are designed for collecting, transporting and storing refrigerants. The vessels are equipped with one- and two-phase valves with a safety valve.
Refrigerant level sensors FP-ELS2 (PS90) are capable of operating at low temperatures up to -45C and an increased class of shell protection, which is especially important when working in transcritical systems
Oil level regulators FP-ERL4 (PS50) in anti-vandal case with increased protection class IP67.\
GEA
Hall 7, stand 502
Main reasons to visit the GEA Booth
To discover the largest range of compressors for natural refrigerants
To talk with experts who really understand your industry, applications and service needs
To celebrate with us 50 years of innovation in screw compressor technology
New items on the booth of GEA
GEA Bock HG series; complete range of 2-, 4-, 6- and 8-cylinder semi-hermetic compressors, suitable as standard for conventional, chlorine-free HFC, low GWP and natural refrigerants
GEA Bock HA series; air-cooled semi-hermetic compressors for low-temperature applications
The environmental friendly transcritical CO2compressors, delivering highest reliability with smooth running and a wide frequency range for superior efficiency
50 years of GEA screw compressors; from the first model to the new semi-hermetic screw compressor GEA CompaX, simplified for air conditioning with NH3
GEA BluQ; low-charge NH3chiller for green and future-proof air conditioning.
GEA Grasso V-HP; high-pressure piston compressor models for NH3heat pumps.
GEA RedGenium; low-charge NH3heat pump for sustainable heating.
GEA AWP Dual-Safety; the valve combination to protect refrigeration systems from excess pressure.
GEA Omni Retrofit Panel (live demonstrations); the intuitive touch for screw and piston compressor control
Güntner
Hall 7, stand 124
By launching the campaign "Chillax. – Rules may change. Safety stays the same.", the Güntner Group takes up the uncertainty prevailing in the market regarding the increasing demands in the refrigeration and air conditioning industry and demonstrates what a competent and reliable partner can do beyond purely technical aspects. Sustainability is the dominant topic that extends from the refrigerant issue to legal provisions on consumer protection such as legionella prevention, and to other legal requirements at national and international levels. The carefully developed products offer the customers durable quality that complies with the rules of the future already today. This way, Güntner's customers can look ahead with confidence – whatever may happen.
Everything's possible – with the V-SHAPE Vario
The V-SHAPE Vario boasts a high power density. Be it as condenser, gas cooler or fluid cooler, and regardless of whether the desired refrigerant is HFC, NH3, CO2, propane or a water/glycol mixture, the V-SHAPE Vario offers everything – plus an extensive range of accessories. In addition to the HydroSpray pre-cooling system, also the HydroPad pre-cooling system is an available option for this product family. And, on top of this, we offer state-of-the-art controls for an energy-efficient motor management and the pre-cooling systems. And the AxiTop diffuser as standard accessory reduces the sound pressure level.
Structured diversity of air coolers – the CUBIC Vario
With its wide range of casing models and material combinations, different fin spacings and optimized tube and fin geometries for refrigerants ranging from HFC, NH3, CO2 and propane to fluids, the CUBIC Vario is suited for virtually every application. Fully in line with the Vario principle, the CUBIC Vario air coolers offer an extensive range of accessories, from repair switches to hot gas defrosting.
Powerful and smart – the Güntner V-SHAPE Compact
The V-SHAPE Compact condenser and dry cooler product family offers maximum performance on a small footprint even when operated in dry mode and is ideal for commercial refrigeration applications. The HydroPad humidification pad for adiabatic pre-cooling enables refrigerating plants to be operated more efficiently, thereby saving money – without necessitating water treatment, labour-intensive maintenance work and wetting of the coil. The Güntner Hydro Management GHM pad determines continuously whether applying water or increasing the fan speed will be more cost-effective.
Well controlled means money saved – with the GMMnext
The new GMMnext is a Motor Management System of the latest generation for EC fans – for high-performance connection to the BMS. The controller is prepared for modern Industrial Ethernet protocols, and a new, intuitive concept makes its operation even simpler. And, compared with the previous GMM EC, the GMMnext has a display that has become three times larger. With customer benefits ranging from operational reliability to real time data analysis and to economic operation, there is nothing left to be desired.
Condensation pipe behind the scenes – the DUAL Compact
With the option of the integrated condensation water pump in the new DUAL Compact, the condensation pipe can be installed out of sight in the intermediate ceiling. The benefit for customers: This saves more time when cleaning, provides more comfort for employees and more transport safety. And, of course, the units are hygiene-certified according to HACCP. What's more, the new tray design allows for hinging the outer tray on both sides. For more flexibility during servicing.
Powerful, with small footprint – the ADC High Density from JAEGGI
At high external temperatures or high plant loads/high fluid temperatures, the new hybrid dry cooler ADC HD is your natural choice. Thanks to the HydroPad humidification pads, the heat exchangers remain dry, and it is possible to cool the fluid down to below the ambient temperature. Control panels, pumps and pads are integrated and wired in a compact cube – this plug-and-play system provides maximum power density on a remarkably small footprint. The new ADC HD rounds off the capacity ranging from the ADC to the HTK.
Millions of types, always unique– the FLAT Vario
With the modular type diversity of the FLAT Vario, Güntner is setting a new standard for the selection of condensers and fluid coolers. From millions of types, the tried-and-tested Güntner Product Configurator (GPC) configures an individual unit in line with the requirements of the customer. The process is fast and reliable and is based precisely on the application. With pinpoint accuracy. The FLAT Vario offers a large number of types in the model range with diverse material combinations, a wide capacity range, availability for all common fluids, an operating pressure of up to 120 bar as a standard for CO2 applications, and operational reliability and leak containment thanks to the well-proven Güntner floating coil principle.
HB Products
Hall 5, stand 120
With increased focus on the use of natural refrigerants, HB Products has developed a new system for controlling all types of evaporators on refrigeration / heat pump systems.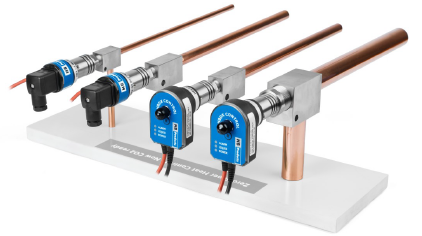 New Patented Sensor Technology from HB Products solves many of the challenges faced by the designers of Refrigeration-, Cooling- and Heat Pump Systems. With our new groundbreaking technology, it is now possible to measure the dryness of the vapor/gas in the suction at the evaporator exit, and to control the refrigerant supply relative to the evaporator load with zero or minimum superheat. The semi flooded operation ensures optimal efficiency as the entire evaporator area is wet enabling the best possible heat transfer. It also minimizes the volume of the vapor/gas and hence reduces compressor load and power consumption. Current Superheat Evaporator Control is based on pressure and temperature measurements.
Control based on temperature measurement are by experience unstable and should usually have a high superheat at 6 to 10 ̊K to prevent the compressor from getting damaged by refrigerant fluid back (liquid hammering). The HBX-XX sensor is based on the Capacitive measurement principle, directly measuring the phase and dryness of the refrigerant. The sensor reacts instantaneously if the dryness of the gas is changed in the suction outlet. Experi-ence has shown that the entire system is in much better balance with minimum variation in pressure. The new technology makes it possible to directly control the liquid injection to obtain zero superheat and at the same time minimize the risk of liquid fluid back into the compressor.
Savings:
Energy ·········· >20%
Installation ··· >30%
Maintenance >30%
Available in 120 bar high pressure copper type K65 or stainless steel.  6 sensor sizes: 3/8" to 1 1/8" with or without integrated PI and stepper motor control. Pre programmed with Settings for all commonly used refrigerants, incl. CO2.
Henry Group
Hall 6, Stand 228
Henry Group is a manufacturer of components for the commercial refrigeration and air conditioning industries.
Henry Group will be displaying a host of new products in Nuremberg at the bi-annual premier global exhibition.  These include: – new safety device products including dual National Board and PED compliant pressure relief valves; coalescent oil separators for trans-critical CO2 applications and an expanded range of ball valves.
Kelvion
Hall 7, stand 204
The company invites visitors to see how Kelvion Heat Exchangers help reduce energy consumption and offer increased pressure rating CO2 products to benefit applications in the retail sector and much more. Today and tomorrow specifiers, contractors, wholesalers or investors have to take sustainable decisions on optimal, high quality K°ooling – including design parameters, energy savings, superior defrosting, material selection, maximum chilled goods protection, narrow thermal profiles and efficiency. Therefore it is good to know that there are innovation experts to help meeting K°ooling demands now and in the future.
Kelvion's heat exchanger coils for data center cooling, process heating, cooling, air handling units, heat pumps and chilled beams, to name but a few applications, work across a broad range of liquids, temperatures and pressures. The compnay will be displaying coils from 5mm through to 22mm in a variety of pitches and profiles to meet the many diverse requirements in applications.
Kelvion's HVAC OEM ranges on display, with tube diameters of 8, 10, and 12 mm, offer lighter, more compact and more cost effective units. The new 8mm coils provide a reduced air side pressure drop and boast a 40% reduced refrigerant charge, compared to 12mm coils.
The second product at this year's CHILLVENTA will be the new gasketed plate heat exchanger NP150X for district cooling stations, midsize data center cooling, and for high rise building cold supply. The adoption of a plate with shallower plate gap (1.8mm) and a smaller pitch ensures the highest heat transfer performance. The New NP-Series withstands an extremely high test pressure of up to 42bar (g) and is fully interchangeable with other gasketed plate heat exchangers.
Underlining forward-looking credentials are the GBH-HP, GKS and GVH brazed plate heat exchangers. GBH-HP, for transcritical and subcritical CO2 systems up to 140bar, features safety pressure factors for supermarket refrigeration. The GKS series is used in heat pumps where its newly-shaped flow cells, ensure a higher turbulence and improved heat transfer. The GVH series, for laser cooling and ammonia use, unifies the brazed plate heat exchanger's compact design and economy, with the benefit of a shell-and-tube heat exchanger.
Another future-oriented and effective new product on show will be the Kelvion CMX blast freezer, available from 13-116kW. An increase of 65% in performance compared to its predecessor.
The electrical power consumption has been reduced considerably, and the air flowrate for blast freezing has been increased by 31% to a maximum of 86.490m³/h. The saved electrical energy contributes to increasing the actually delivered cooling capacity. Precisely matched and even more flow optimized fans and heat exchangers result in an improved distribution of air in the cooler.
The evaporator's surface can now be specified up to 685m².
In addition, Kelvion is introducing a new version of the KDC unit cooler for 90bar (g) – specifically developed for highly reliable and safe transcritical CO2 refrigeration systems. The air cooler is intended for uses in commercial HVACR, cold rooms, and freezer rooms. Its dual air discharge enables uniform distribution of temperature, and two fan speeds allow either high air capacity, or quiet operation. The new 90bar version provides maximum cooling duty of 1.7 to 23 kW.
New V-Bank condensers with multiple tube and fin patterns enable a flexible mix and match from a modular range. With today's increasing demands for refrigeration, air conditioning and data center cooling, coupled with the rising global trend of urbanization, Kelvion customers demand for more cooling capacity per square meter has never been higher. The new range is available with a full portfolio of accessories including fan speed control, smart control and adiabatic cooling.
Additional products and services on display during the show are: new condensers, cooling towers, and Kelvion's updated online product selection tool with new products and more user languages to choose from. Rigorous cooling capacity testing can be experienced at Kelvion's R&D cold room test chamber that will be conducted and presented during the fair.
Nidec Global Appliance Compressors
Hall 7A, stand 208
The products will highlight the company's commitment to energy efficiency, natural refrigerants, and the electronic technology of the variable speed compressors. The booth will exhibit the key products for three segments: Light Commercial, Household and DC-Powered Refrigeration.
Product Highlights at the Exhibition
For Light Commercial applications, the company will be showcasing the top efficiency variable speed compressors DLV, NLV, and SLV with propane (R290). The new NLV can operate using multiple voltages, allowing application on a global scale. The variable speed drive enables a needs-based adjustment of cooling capacity and ensures high efficiency even for partial load operations.
Compared to fixed speed compressors, Nidec-Secop variable speed compressors can achieve energy savings of up to 40 percent. Fixed speed compressors with high efficiency and R290 comprise the DLE, NLE, and SCE series. For robust operation in harsh environments, the DLE and NLE models are able to operate in dual frequency (50-60Hz), in a wide voltage range and high ambient temperature.
The best options for the Household products are the variable speed compressors, which feature unmatched efficiency, silent operation, a compact size, are lightweight, and use the natural refrigerant isobutane (R600a). Going beyond the already established XV line, Nidec will be presenting the new innovative DELTA Variable Speed.
In keeping with the consolidated tradition in the solar and mobile refrigeration market, the DC-Powered products in the BD series are available in different sizes. The new BD50K will be launched and offers increased cooling capacity of the original BD range with the natural refrigerant R600a.
Visitors can experience firsthand the tried and trusted Product Selector at the Nidec booth which offers all technical specifications of any model released by the company.
Panasonic
Hall 4, stand 311
Panasonic will be with an array of new and innovative heating, cooling and refrigeration solutions:
Combined gas and electric Hybrid VRF
Introducing new CO2 Condensing Units
Full Switch to R32
This year, Panasonic continues to celebrate its 100-year company anniversary and 60 years since the launch of its first air-conditioning product. Highlighting the expertise and high regard for environmental awareness that has brought Panasonic to this point, it will preview a range of innovative and sustainable solutions for the residential and commercial HVAC markets.
A key innovation that will be showcased at Chillventa will be the introduction of the new highly efficient Panasonic Hybrid GHP/VRF, which intelligently combines gas driven (GHP) and electric heat pump (EHP) technologies within one solution. Panasonic's Hybrid VRF system steers heating and cooling in a new energy-saving direction, and is an ideal solution for high demand applications, such as hotels, apartment blocks and offices.
Panasonic will also introduce its new CO2 condensing units. Utilising naturally occurring CO2, the range offers a more sustainable option for small to medium capacity applications within the retail and food service sectors, such as small supermarkets, convenience stores and garage forecourts. Furthermore, the range is also ideally suited to provide refrigeration within the restaurant and hotel sectors.
Another big theme for the show is the utilisation of R32 refrigerant. Earlier this year, Panasonic promised a full switch to R32 for its RAC solutions. R32 has a 75% lower impact on global warming, when compared with previous systems using R410A. On the booth, Panasonic will be showcasing its newly designed RAC range including floor consoles, split, multi-split, cassettes and duct units. In addition, it will introduce the full PACi room air conditioning range for commercial use, all compatible with R32.
Visitors to Panasonic can experience the full offering of heating and cooling solutions. This portfolio of new products demonstrates Panasonic's commitment to leading the professional sector with the most comprehensive range of innovative solutions. Panasonic is dedicated to the development of technology which delivers excellence in sustainability, energy efficiency and performance, providing the market with modern and stylish products for residential, commercial and public sector applications.
Sanha
Hall 5, stand 210
Sanha will be presenting piping systems for cooling and refrigeration for all requirements in the sub- and transcritical area. Refrigeration engineers, industrial and commercial enterprises can inform themselves at Sanha's stand without obligation.

Depending on the specific application, the appropriate refrigeration or cooling solution is offered: The NiroTherm stainless steel press system can be used for glycol and similar media in the subcritical range (up to 16 bar, with EPDM or FKM sealing ring).
For transcritical CO2 cooling systems, on the other hand, "RefHP" high-pressure soldering fittings are available: They are ideally suited for pipelines in cooling systems with a maximum permissible operating pressure of up to 130 bar, a minimum temperature of -196 °C and a maximum temperature of 150 °C, at which fluids of group 2 (according to European Pressure Equipment Directive EPD 97/23/EC) are used.
With a view to the market growth of industrial and commercial cooling, we are continuously developing the product range further. In addition to RefHP fittings in 2 1/8″, T-pieces with a reduction to 1/4″ in the outlet have recently been offered, which are especially suitable for connecting measuring instruments to cooling systems.
Sanhua
Hall 7A, stand 308   
Sanhua gives you a new dimension with new solutions for OEM and Installers like new innovative coil for the MDF solenoid valves, which can be installed in a matter of seconds. Every day during Chillventa there is a competition challenge "MDF coil installation" where the faster participant will be awarded.
New Electronic Expansion Valve Controllers will be shown as well as new range of solenoid valves, 4-way reversing valves and electronic expansion valves, pressure sensors and much more.  These components are suitable for HFC (fluorinated hydrocarbons) refrigerants, R32, R448A/R449A, R452A, R450A/R513A, CO2 and flammable fluids such as R290 (Propane). Don't miss MCHE-microchannel heat exchangers as an evaporators and condensers in its various sizes and forms.
In relation to R744/CO2, Sanhua offers a complete range of ball valves for sub-critical applications (CBV up to 60 bar) and trans-critical applications (CBVT series). In this regard, Sanhua valve is made entirely from AISI304 stainless steel, with a valve body made from a stainless-steel casting that guarantees maximum resistance even at working pressures well above 100 bar. A Sanhua patent has also made it possible to create a bimetallic connection on joints so that the inner portion of the connections is 99% pure copper for an easy brazing operation with the K65 copper generally used for the piping on R744 equipment.
Sanhua presents new solution for commercial refrigeration applications: SEC REVO is a revolutionary controller for SANHUA LPF and DPF series. It is mainly designed to control the suction superheat of the refrigeration system with advanced Incremental PD control. It requires 1 pressure transmitter and 2 temperature sensors to work closely.
SEC REVO has an advanced incremental PD algorithm to ensure fast & stable suction superheat control; applicable with 14 different refrigerants and has friendly PC interaction interface with monitoring in the real time of the protection and curve monitor, parameter settings, etc.
Sanhua exhibits such products but as application or solutions: the refrigerated food show case (cabinet) and hot-water heat pump fully assembled with Sanhua products: MCHE evaporators and/or condensers, compressors and al refrigeration line components. Show case and Heat pump will be shown as cut-models, so visitors can see refrigeration cycle installation and using interactive screens moving on installed components they will get an interactive presentation of installed products.
Both has futuristic design using high-technology solutions creating impression on visitor "Sanhua – high-tech company with futuristic vision".
We have an interactive-touch screens and displays on which we present in 3D form our products in applications offering visitors full info about benefits and advantages.
SANHUA team welcome you & visitors
Sanhua sales, technical and some logistic staff will be there from: Germany, Spain, France, UK, Italy, Poland, East Europe, Russia, Turkey, Middle East. Also, there will be some colleges from R&D and product management from China as specialists for certain products & applications.
SCHOTT Termofrost
Hall 9, stand 307
At this year's Chillventa, SCHOTT is exhibiting three new innovative door systems for chiller cabinets. The new SCHOTT Termofrost CRS View will be on show for the first time. The display surface on these glass doors for cold cells and cold rooms has been further enlarged which improves visibility of the refrigerated products. The SCHOTT Termofrost Skyline glass doors for deep-frozen and chiller aisles are another highlight, giving long chiller cabinet fronts a spacious all-glass look.
New point-of-sale impetus in the chiller area 
The glass door system SCHOTT Termofrost CRS View transforms the fronts of cold rooms in fuel stations, cash & carry markets and florists into attractive presentation areas. The door systems are available in two variants both of which offer a significantly improved view of the chilled products. Both systems are available in different sizes and can be installed for floor-level walk-in solutions and on base plinths.
With the SCHOTT Termofrost Ad Door SCHOTT is revolutionising the POS advertising market. The integrated LED display captivates the awareness of the customers and creates a digital purchasing experience directly in the chilled food section. On the transparent screen in the glass door, videos and advertising films can directly promote the products placed behind on the shelf or highlight special campaigns. "Initial tests have already shown that since installing these doors customers now spend more time in the chilled food section. Short adverts or animated presentations raise awareness. This of courses raises product visibility and can in turn have a positive impact on sales," explains Nilles.
SCHOTT Termofrost Skyline gives chiller cabinets and shelves a modern full-glass look. Extra-high glass doors virtually cover the header of a chiller. The long front of the chiller cabinet has the effect of being draped in glass. The large-surface transparent glass doors also increase the visible surface area of the chiller cabinets.
Thermocool
Hall 6, Stand 203
THERMOCOOL in cooperation with Danfoss are going to present joint developments: condensing unit and chiller produced at the new factory – REFCOOL. The new production facilities were organized by THERMOCOOL in the Special Economic Zone "Kaluga", 80 km from Moscow, Russia.
At the booth you will be able to see the represented equipment, technical catalogues, communicate with engineers and new factory management.
ThermoKey
Hall 6, stand 220
The company will be present at the Nuremberg Trade Fair in order to show the state-of-the-art of its solutions for refrigeration, process cooling and air conditioning, among which: the VTower adiabatic DryCooler, the TKSmart microchannel remote condenser and the TKMicroH2O Water Microchannel Core.
In particular, the TKMicroH2O Water Microchannel Core, compared to the traditional fin & tube equivalent, is lighter, more robust and thanks to the reduced air side pressure drops it can be  ideally combined with the condenser in order to become a free-cooling module.
As the development of smart solutions for condensation advances, the range of table-type and VType remote microchannel units expands:
Remote condensers with a capacity range from 13 kW to 476 kW (R404A – DT 15°K);
161 kW modular condenser units (R404A; DT 15°K)
120 kW Liquid Cooler modular units (Glyc.35%; DT 5°K; Ta=25°C).
The arrival of the VTower Adiabatic DryCooler increses Thermokey adiabatic systems range and comes to meet even the most demanding needs for elevated capacities (up to 1960 kW) at reduced  footprints.
The 3 ThermoKey adiabatic systems are:
AFS (Air Fresh System), a water spray system through high pressure nozzles, to solve sporadic capacity peaks
WFS (Wet Fin System), wet fins system, for situations when additional frequent aid is needed.
EPS (Evaporative Panel System) system with wettable panels when high and continuous performance is required.
The VTower is a VType DryCooler of the SuperJumbo family equipped with EPS adiabatic system and its own water and electricity regulation and control system, ideal for continuous use typical in process cooling and data-centre industries.
Among other news, ThermoKey will present its new selection software "Archimede", thanks to which it is possible to identify the best solution between 1500 Evaporators, 1000 remote condensers and 2000 DryCoolers for a total of over 15 million possible combinations between accessories and other options, including the three ThermoKey adiabatic systems.